Discover more from Frankie Tease
Cults in the news. Cult Madness News is reports from a variety of sources by the Frankie Files Podcast host and writer Frankie Tease and Hot Takes of a Cult Kid Podcast.
Yellow Checker Star Vegas Cab Strike Begins Day Two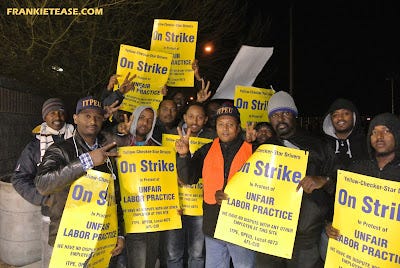 The wind was up this spring night as hundreds of workers began day two of their strike on Yellow Checker Star Cab Company in Las Vegas, Nevada. The headquarters are situated somewhat near the strip at Decatur and Post Road. Some people (females and males) had been there for 12 hours or more striking, and greeting workers who hadn't heard about the strike with chants of "turn around" as they drove in to work. Those who went to work and didn't stand in unity with the striking workers were greeted with "shame on you". What do they want? A raise and respect. When do they want it? Now. View video and photos of my hour with the workers below.
Two different cabbies with the union speak about
why they are striking 
Direct video link http://youtu.be/OjBYKLXsvjc

Drivers who are on strike speaking to 
Frankie on Post Ave. and Decatur
Midnight Mar. 4, 2013
video direct link http://youtu.be/-UQTd8f8oHE




Workers dance to keep warm while winds begin
to whip and cool things down at 1am Mar. 4, 2013.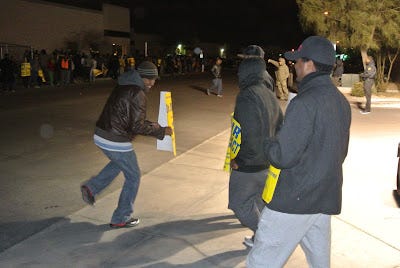 view more photos of Las Vegas worker's strike at
FLICKR SLIDESHOW OF MIDNIGHT 3/4/13

Photo and article by Frankie Tease for
Frankie Tease (online) Magazine based in Las Vegas.
Please send comments or corrections to
http://www.frankietease.com/p/contact.html
© 2012, frankietease.com. All rights reserved. All content copyrighted or used with permission. This content may not be distributed, modified, reproduced in whole or in part without prior permission from frankietease.com.