Discover more from Frankie Tease
Cult Madness News, Frankie Files Podcast, Hot Takes of a Cult Kid Podcast, by Frankie Tease, writer & Morningland #LongBeachCult adult child survivor.
YCS Cab Strike Over, An Interview with ITPEU Shop Steward Dustin Qualls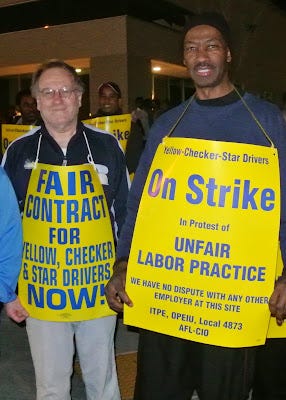 Photo by Frankie Tease of  Workers 
who were on strike Mar. 2, 2013
The first day of the strike was midnight March 2, going into March 3.  A cab job runs various hours, 24 hours a day. It's a "we never close" business. The strike ended Midnight May 1, 2013 going into the second day. That's two months of striking, and it finally ended. On day two of the strike, I went and interviewed the strikers, filmed the rally after midnight, and interviewed my Twitter friend Dustin Qualls. He's Shop Steward for the ITPEU which in plain speak is their union. 
See the first report at http://www.frankietease.com/2013/03/yellow-checker-star-vegas-cab-strike.html. After hearing the strike had ended right before the very busy Cinco De Mayo weekend 2013, I had to call up my cabbie contact and see what had been accomplished after two full months of organized protest with the YCS workers and their union. Here is what DQ had to say (aka @vagascab on Twitter).
FT: What is a shop steward?
DQ: My job is I kinda oversee the day-to-day operations at work. Make sure that the contract is being complied to, make sure the workers are happy and doing what they are supposed to be doing, well. Not just the company. Making sure the contract is being complied to every day.
FT: As a peace-keeper and facilitator every day, what was your role in the strike?
DQ: My role in the strike would actually be strike captain. I had to make sure the drivers didn't get out of line. And, to oversee everything the company wasn't doing. To make sure they weren't doing unfair labor practice like surveying. 
FT: How many workers were there at YCS, and how many went on strike?
DQ: We had over 900 workers at the beginning of the strike, and we had a little over 700 when we finished. 
FT: How many drivers does YCS employ?
DQ: 1700. About half went on strike at the beginning.
FT: What were your goals, and did you accomplish what you wanted?
DQ: We did actually. We were asking for movement on... (I don't know the exact number) I know we ended up getting movement on sixteen issues. At the 11th hour, we sent a notice to the company that we would not end the strike unless A, B, C, and D, were moved upon, and they moved on all four of the items. 
FT: Did that include the long-hauling issue? 
DQ: No it didn't. That has to be dealt with later at the Taxi Cab Authority. 
FT: What then did you accomplish?
DQ: We got a raise, we got our bonuses increased, we got our shifts back to where it isn't mandatory for drivers to work 60 hrs. a week.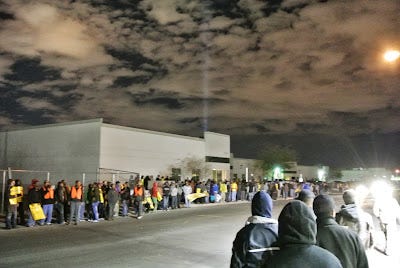 Photo by Frankie Tease, strikers after midnight 
assemble in protest, Las Vegas Mar.2, 2013.
FT: Tell me about how the tension between strikers and non-strikers is on a day-to-day-basis for you?
DQ: It's actually, like I said from day one during the strike: A lot of people came up to me and told me they couldn't strike, even though I don't like it, I respect them for coming up to me and telling me they couldn't. There's going to be a lot of hostility. I tried to make it as non personal as possible. I tried to keep it between union and company, and keep personal feelings out of it. A lot of people aren't going to be able to do that. It could get a little ugly from time to time, and it has. 
FT: So those that didn't strike didn't lose pay like those that did strike who lost pay?
DQ: We did lose our pay while we were on strike, we did get a strike benefit. I don't know that they want me to divulge what the strike fee was, but it wasn't a lot. It was barely over minimum wage. I feel I personally lost $8,000. or $9,000. 
FT: What is your favorite part of being a cab driver in Vegas?
DQ: I make my own hours, I don't have a boss standing over my shoulder.
See the union website at http://www.itpeu.org/
© 2012, frankietease.com. All rights reserved. All content copyrighted or used with permission. This content may not be distributed, modified, reproduced in whole or in part without prior permission from frankietease.com.