Discover more from Frankie Tease
Cults in the news. Cult Madness News is reports from a variety of sources by the Frankie Files Podcast host and writer Frankie Tease and Hot Takes of a Cult Kid Podcast.
Interview Bites with Frankie Tease the Burlesque Hall of Fame 2012 - Hank, Dr. Shocker, Red Hot Annie, The Shanghai Pearl
- by Frankie Tease -
On Saturday, I was roaming the festival before the Tournament of Tease at the Burlesque Hall of Fame. I caught a few interesting interviews ranging from Organziers, to staff, to Performers. Here is what they had to say about who they are and why they love the yearly event.


HANK THE BARTENDER (NV)
Saturday June 2, 2012 
I'm talking with Hank the Bartender (HBT) at the Orleans. He's a show-biz son, and here is his story. He's no stranger to Burlesque or stage.
FT: So tell us about your showbiz parents.
HBT: My mother and father moved here in 1948, and toured with the Follies Berger. They were original cast members that opened the show here in Las Vegas at the Tropicana. I'm a showbiz son, I have two left feet. That's why I worked in theater backstage. I hung lights, did audio and stagework.
FT: You were a workin' stiff.
HBT: Yes I was. My father called me a few weeks ago and said "Are you still doing that crap (bartending)?" and I said "yes Dad, it pays the bills". 
Hank is a friendly bartender at the Casino floor bar nearest the Orleans Showroom. 


DR. SHOCKER (CA)

Saturday June 2,2012 
Dr. Shocker has been involved in the Burlesque Hall of Fame Weekend for many years. I caught up with him to have a drink, get my press pass, and find out what he's all about. He wore many smoking jackets and Fez hats over the weekend following my interview, to which I say "nice job, Dr. Shocker".

FT: I am sitting with Dr. Shocker, aka Mr. Rum and Coke. Tell us your role in the Burelsque Hall of Fame Weekend event.

DS: I am the Volunteer Co-ordinator. Basiclly, if it goes wrong, it's my fault. 
FT: What do you do when you're not at the BHOF?
DS: I am a lobbyist for smokers rights, I am a Graphic Designer, Marketing Guy, and professional Drunk.
FT: What consecutive number is this for you, being involved in the BHOF Weekender?
DS: Five, or six. I can't even remember. Years ago I was at a show in L.A. called Ula L.A., and Dixie (Evans, co-founder BHOF) and Tempest (Storm) were there. Dixie looked at me and said "Are you coming out to BHOF?" I said "I'm not sure I can afford it". She said "Show up". That was my first and I've been back every year. Dixie was unable to be here this year.
FT: Is there anything else you want to add? 
DS: Send money to the Burlesque Hall of Fame. BurlesqueHall.com 
Let's give it up for Dr. Shocker showing us his sock garter. He gives nice leg. Find the man at Dr.Shocker.net


RED HOT ANNIE (IL)
Saturday June 2,2012 

I'm speaking with Red Hot Annie of Chicago (in the Movers, Shakers, and Innovators Show BHOF12, Voted #34 in 2010's 21stCenturyBurlesque.com), and it's Saturday before the Tournament of Tease at the Burlesque Hall of Fame 2012 (Orleans Casino Las Vegas). We're at the entrance of Big Al's Comedy Club - the social go-to venue for the weekend. She agreed to chat and here is what this wonderful performer had to say about the weekend's experience and some of her fellow Chicagoans.
FT:How long have you been performing Burlesque?

RHA: I just celebrated my four year anniversary.
FT: What is your favorite act right now?
RHA: My favorite act to perform, that's completed, is my 'Artiste' act. It's a painting act where I come out dressed in a canvas and paint my clothing. 
FT: How have you enjoyed the Burelsque Hall of Fame 2012 Weekend?
RHA: I am actually completely overwhelmed by it. There is so much to watch, and so much to see, and the stage is gorgeous to perform on.
FT: How do you find the Burlesque scene in Chicago Illinois?
RHA: I love the Burlesque scene in Chicago. There are about 100 performers, many of who are starting to burgeon forth as professional performers. Jeez Louise is from Chicago, Stage Door Johnnys, Dolls of Doom, all of these great performers are all from Chicago, Michelle L'Amour. There is this large source of talent. It's a great community, really a fun one, and very talented.
FT: What is one quote I can take away from you about your Burlesque Hall experience for 2012? 
RHA: I wasn't sure what to expect. I've been to a lot of festivals, and so I expected it would be similar, but the feeling is a lot different here at Burlesque Hall. Everyone has come here and they are coming here to relax and enjoy each other's company. 
Thanx Annie for the chat-up. Please check out this fun performer on her site at RedHotAnnie.com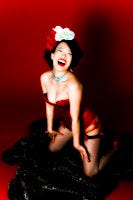 POC Photo 


My apologies to The Shanghai Pearl (Washington State) as our brief interview was completely inaudible from background noise. Miss Pearl was one of two Titans of Tease Outreach Co-ordinators (along with Tigger of NY) for BHOF 2012. She has long been involved in the Weekender Annual event through the Academy of Burelsque in Seattle.
Please find Miss Pearl at http://www.facebook.com/TheShanghaiPearl






The Burlesque Hall of Fame is held the first full weekend in June annually. Announcements of winners and honorees can be seen at the official site BurlesqueHall.com, where you may also purchase tickets to next year's events, find out about the Las Vegas museum, and donate money to keep it all going. 


See more stories by Frankie at FrankieTease.com
© 2012, frankietease.com. All rights reserved. All content copyrighted or used with permission. This content may not be distributed, modified, reproduced in whole or in part without prior permission from frankietease.com.