Discover more from Frankie Tease
Cults in the news. Cult Madness News is reports from a variety of sources by the Frankie Files Podcast host and writer Frankie Tease and Hot Takes of a Cult Kid Podcast.
Viva Las Vegas 16 Rockabilly Weekend Preview- Often Imitated, Never Duplicated - Orleans Hotel March 28-31 2013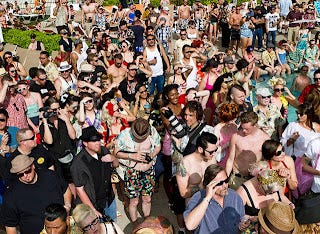 VLV15 photos by Cherry Club Inc.
You've heard about it from all corners of the civilized world, you've seen the cars roll into town, you've seen the vintage attire, but you haven't ever attended the original Rockabilly Weekender held Easter yearly in Vegas? Why not? Let me tell you why you shouldn't miss it this year. Legends, up-and-coming greats, and local favorites, will tear up the stages, halls, and hotel rooms once again at Viva Las Vegas Rockabilly Weekend 16, Thursday March 28 - Sunday 31, 2013, at the Las Vegas Orleans Hotel, Casino and Convention Center. Bring your walking and dancing shoes.
New at VLV 16 for 2013
According to organizer and event creator Tom Ingram, the 16th annual Viva Las Vegas Rockabilly Weekender has some new things to offer. This is the first year a downloadable application is available for the event on Android and Apple. The app holds a full event schedule that is interactive, allowing you to choose and mark your own schedule on your smart phone. Anyone who's tried to keep up with the 65 bands, several burlesque shows and extra curricular evening activities knows this is great news. Another new addition is that there will be a pin-up contest held at the most attended single day event at Viva, the Car Show. The largest headliners play the car show (Little Richard and Dick Dale this year) and approximately 20,000 people usually attend. Another addition this year is the tattoo station. Now you can get a tattoo the very weekend of Viva Las Vegas to commemorate your good time. Following is the breakdown of other events within events that take place at the well-attended annual event.
The Car Show
This year's headliners: Little Richard, Dick Dale, The Rockats, Vicky Tafoya and the Big Beat, will be entertaining as many as 20,000 people outdoors at the Saturday car show, if history repeats itself (many more bands are listed, see below). There are solo tickets for the Car show only (Saturday) which offers the largest vintage vendor collection in the world, food stands, Tiki Drinks and bars, and Rockabilly music acts all day. Tickets are $30 in advance, $35 the day of: Saturday March 30, 2012. This includes all car show access and stage entertainment between 9am-7pm, in a huge fenced-in area at Orleans Convention lot. Please see rules on the website for entering your car into the Viva Car Show (VivaLasVegas.net).
Tickets
If you can do anything about clearing all four days and attending the Rockabilly Party with Music, Vintage Fashion, Burlesque, and Jive Dance, it should never ever be missed. All-access tickets in the 16th year of this event are still only an incredible $115, and a child under 12 is $50. One unique thing about Viva Las Vegas Rockabilly Weekend (created and still run by promoter Tom Ingram), is that video and photography are completely unrestricted at the events. Last year I was excited to see a Mom and her 15 year-old son taking photos of bands. 
Burlesque
"Over 21" adult entertainment areas need an extra voucher to attend, which includes Burlesque entertainment. There are actually three areas of Burlesque entertainment throughout the weekend: Professional Shows in the Showroom, Burlesque Bingo (She strips, you win), and the one-night Viva Las Vegas Burlesque Competition. Submission for the contest is now open. Deadline for entries is December 20th 2012. Finalists will be announced January 7, 2013.  Though there have been internet voting issues in past contests, this remains one of the coveted titles on the International Burlesque circuit for professional and amateur performers alike. Celebrity judges pick finalists, and the audience present decides the winners at the Viva performance by cheer volume.
Vintage Fashion and Swing Dancing.
The fashion show is usually taking place at 1pm Friday, so you can stand in line at noon for your tix to a burlesque show (id required), then attend the fashion show (usually in the huge showroom). If you like vintage inspired fashion, this is one of the highlights of Viva. Men and women alike will be found in attendance at this one-time show, though mostly female models and clothing will be displayed. It's perfect to grab a drink and attend, still exhausted from the late-night performances and dancing until wee hours with the oldest and newest hoppin 'tunes. All throughout the four day event, you will find dance lessons in Swing and a contest that wins you cashola and street cred.
The Pool Party
Pool by day, ballroom at night- the Pool Party with all it's eccentric vintage swim-suit clad attendees, vintage music and tiki drinks is an audio visual sensory massage that will last your "inner-vintage-self" at least a year. Not only are there hula-themed bands throughout the weekend, great old-tune record DJ's, but you can get involved in the vintage single or doubles swimsuit contest (I saw a daddy daughter entrant last year). Make sure to get your 4-day pass for access to the pool though, you won't want to miss it. Almost a thousand people checked out this casual video I made from last year, and we still don't know who this guy was!
[Watch Pool Party Pass Out]
The Bands
The band line-up is still the best and most dependable reason to attend Viva Las Vegas with the steady hand of booker and creator: Tom Ingram. Viva is a veritable who's who of Rockabilly each year. Many bands wait until Viva to launch their new albums to this crowd each year, because it's so pure, high niche and focused. Unlike the economy, this crowd isn't wavering, and knows exactly what it wants: good rockin', rhythm, psychobilly, rockabilly, 50's r&b,  pin-up and basiclly almost anything pre-1963, like the over 800 cars that are showing up each year to be seen at the Saturday event. 
Below are the bands and Record Hops to appear at Viva Las Vegas 16 as currently announced. I have placed ** stars near acts I'll cover, and * star of my must-see first draft, (the ones I have to make sure to get to). It's only my list, one person's opinion. In reality, level of exhaustion and where the band is playing have everything to do with who I get to see. So many bands, so little time...
Rooms go fast so book yours at the host hotel "Orleans", or venture nearby and remain off-strip with Rio, Palms, or Gold Coast. Tickets and complete updates are given at VivaLasVegas.net , including a way to sign-up for reliable email updates as more news is announced. 4 day all-access tickets sell-out fast, so get yours before they do. 

(This bands list was published Sept., see below for updated list).
Headlining Acts:
LITTLE RICHARD *
DICK DALE *
THE ROCKATS
VICKY TAFOYA and THE BIG BEAT *
THE BLUE CAPS with Graham Fenton(a tribute to Gene Vincent)
THE CLEFTONES Doo Wop Legends *
ALTON & JIMMY
ANDY ANDERSON
SID & BILLY KING
LEE DRESSER & THE KRAZY KATS El Camino Real*
International Acts: 
SI CRANSTOUN - UK**
THE HAYSTACK HI-TONES – Holland*
MELLOW JO & THE HI-TONES – Holland
MARY ANN & RAGTIME WRANGLERS – Holland*
GRAHAM FENTON – UK **
KIERON MCDONALD & THE HI TONES – Australia
ANNIE & THE MALAGUETA BOYS – Brazil
Ray Collins' HOT-CLUB – Germany**
THE ROCKETS – Switzerland*
RUBY ANN – Portugal
COOL CAT CRY – UK
Bands appearing at Viva Las Vegas continued:
Janis Martin Tribute with Marti Brom & Rosie Flores**
Rip Carson
The Hi-Q's
Phat Cat Swinger
Rip Em Ups*
Lil' Mo & The Dynaflos**
Nikki Hill
Rockin Roy Orbison Show featuring Marcel Riesco*
Smokehouse Dave*
West Coast Ramblers**
Sabres (Pool party)*
Hi Lo Playboys*
Bands appearing at Viva Las Vegas continued:
Cash O'Riley
The AquaSonics Surf Band (Pool Party)**
Hard Fall Hearts
Rod & The Tone Masters
Ernie Vargas & the Steady Rollers
Dead Zed's Chopper
Rockin Rick & the Rhythm Wranglers
Crazy Joe*
The Devil's Daughters*
Gamblers Mark
Dawn Shipley & The Sharp Shooters
Whiskey Kiss*
Golden West Trio featuring Miss Kay MarieThe Western Starlanders**
Gino & the Lone Gunmen
The Twistin' Tornados
La Cholita & The Kreeps********** (San Diego's Singing Burlesque Beauty)
Straight Shooter
Johnny Deadly Trio
Crown City Bombers*
Jonny B & The Avenues
Danny Kay & The Nightlifers
Eugene Chrysler
The Rayford Bros
Roy Rapid & The Rhythm Rock Trio*
Rattle Rockin Boys
Maureen & The Mercury 5
Jinx Jones
Tennessee Voodoo Coupe**
Dixie Leadfoot & The Chrome Struts
The Poppin' Fire Crackers
The Vintage Vandals
Switchblade 3
Moonlight Trio
Article by Frankie Tease
Related Link: http://vivalasvegas.net




This bands list was copied from vivalasvegas.net
Noon, Sat. Mar. 2


Thursday - 28 Mar 2013
Friday - 29 Mar 2013
Saturday - 30 Mar 2013
Sunday - 31 Mar 2013
Monday - 1 Apr 2013
01:00 AM
© 2012, frankietease.com. All rights reserved. All content copyrighted or used with permission. This content may not be distributed, modified, reproduced in whole or in part without prior permission from frankietease.com.