Discover more from Frankie Tease
Cults in the news. Cult Madness News is reports from a variety of sources by the Frankie Files Podcast host and writer Frankie Tease and Hot Takes of a Cult Kid Podcast.
Viva Las Vegas 15 Rockabilly Weekend - The Guitar is still the Star- by Frankie Tease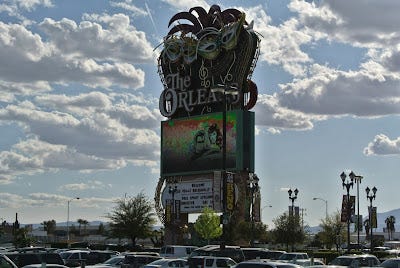 Photo by Frankie Tease 2012

Band after band came on stage throughout the four-day Rockabilly Weekend held annually at the Orleans Hotel & Casino each Easter Weekend. Clearly though, it was the guitar drivin' the ride. There were eight stages in all and shows within shows continuously. Volumes of bands paid tribute to the great inventors of Rock N' Roll of the 1950's decade. If the solid tribute wasn't enough, actual guitar and Rock N' Roll legends also graced the stage in large numbers. Duane Eddy and The Ventures (ie: Nokie Edwards, Don Wilson, Gerry McGee) were among the most anticipated acts at Viva Las Vegas 15. Hundreds of acts were on inside stages day and night for four-day-pass holders who bought ahead, and the one day Car Show and concert was open to day-of purchase and was well attended. 

Cars, vendors, and music began in front of a huge area at the Orleans Arena at 9am and went well after 8pm. The weather was absolutely perfect for the Saturday show. Topping the stages indoors came two UK sensations and first timers to the Rockabilly Weekender, the Jive Aces, and Si Cranstoun. Highly anticipated return Viva acts included Deke Dickerson, Big Sandy, The Big Six, and The Space Cadets. There was Sweden, Brazil, and UK acts, as well as bands from the good ole' U.S. of A. throughout the Rockabilly Weekender.

Music that has been dominating air waves and television themes was aired out and met with enthusiasm by vintage-clad audiences, and regular people were there too, in droves. It was shoulder-to shoulder for all the music performances. Though aging, the legendary acts showed no signs of stopping. In fact it's as if they were being reborn. The Gretsch booth was in the ballroom upstairs continuously mobbed as they allowed people to play and handle the guitars. During the Big Six set, the leader even announced he'd been loaned a Gretsch electric guitar for his performance. "Thanks Gretsch, it's very smooth, I recommend it." said Big Six singer Pat Reyford in his British accent.


Huge numbers of 'new to Viva' up-and-coming acts were playing continuously in the two downstairs venues as well, such as the Moonlight Howlers, The Blue Collar Combo, and the Stardust Ramblers to name three of perhaps 50. The dance floor was always well-placed in each venue thanks to the Jive dance aspect that runs throughout this event by Miss Wolff of London. The outdoor show did not have a dance floor but that didn't stop dancers from hitting the cement to dance to Big Sandy, a California favorite and host of the Ballroom throughout three of four days of Viva 15.

Viva Las Vegas 15, the Guitar is still the Star

The VLV15 fashion show displayed the 'preserve and create from the past' aspect of the Rockabilly lifestyle at a well-attended Friday 1pm show. The tribute to Mami Van Doren was spectacularlycarried by returning host Debbie Dagger. An array of original vintage fashion came across the stage, set to classic rockabilly tunes. Vintage inspired original fashion looks good strutted to Wanda Jackson, really good. All the Designers showing were female. What used to be an Orange County hobby has turned into a Rockabilly enterprise on an International level. The fashion show was sponsored by Secrets in Lace who are the largest distributor of women's nylons in the world.


The Best of Frankie Tease Magazine Vol.1: Jan. - June 2012, Las Vegas

The Jive contest was running among lessons and DJ dances day and night as well. Miss Wolff's Jive contest took place Sunday at 6:30pm where six couples
were chosen to dance from a huge group. The choosers were six VIP judges who took it down to three couples. Next, the three couples danced for 1st, 2nd, and 3rd place, judged by the Clap-O-Meter from audience noise level. Everyone booed the winner announcement among confusion when for a moment the 2nd and 1st place winners were transposed.

Contests are always controversial. Even this one which was very well attended in the main ballroom the final day of events. If all of this wasn't enough, vintage strip-tease Burlesque Shows are almost a constant at Viva Las Vegas. If you aren't checking out Burlesque Bingo, once a day, you can choose from four shows at the Burlesque Showcase which this year was Bustout Burlesque from New Orleans, a saucy show with their own live band, and Host Vincent Drambuie of Seattle fame. The pin-up aspect also entered Saturday's car show with the popular Pin-Up Girl Clothing's Model Lounge. Masuimi Max and other highly notables posed with fans who stood patiently in line under a pink tent.



One of the coveted titles to come out of Viva Las Vegas Rockabilly Weekender is the Burlesque Competition 1st Place, or Miss Viva Las Vegas. Entrants must apply before December of the previous year, and various voting methods have brought finalists to perform for live voting by audience decision during their Viva performance. This year the title was won by a Chicago entrant named 'Jeez Loueez', and produced by a Hollywood Boylesque star "Bobbie Burlesque".


The crowd isn't rude. The crowd isn't wasted. There were no incidents visible. There was literally every age from infant to great grandma and grandpa present at the majority of events. Attendees came from as far as: France, Italy, Germany, England, and Sweden. There was also a huge California presence as the organizer is based in Long Beach, California, a short hop away. The staff at the Orleans gushed about loving the annual event, one bartender even going so far as to say "This is my Wrestle-Mania".

You see, that's what's amazing about the Viva Las Vegas Rockabilly Weekend: not only will you see quality Rock N' Roll that is being made today, you experience the origins of Rock. It isn't dead, thanks to people like organizer Tom Ingram and all the bands. The attendees who've been in this for years say things like 'all the new stuff isn't my thing' or 'I'm here for the music'. But pay it no mind. That's just to let you know they're the veterans who kept this alive for all of the newcomers. Viva Las Vegas Rockabilly Weekend is serious about educating people about Rockabilly lifestyle, music, Rock N' Roll legends, history, and upcoming talent. It just can't be beat.

According to the Organizer, Tom Ingram, Viva Las Vegas Rockabilly Weekend 15 brought in 8,500 prepaid wristband holders, 3,000 of which were International
and 12 music acts were International . The car show had 800 pre-1963 cars, and 15,000 people attended. Tickets went on sale for 2013 starting May 31st 2012. VLV15 was held at the Orleans Hotel April 5-8 of 2012. VLV16 will be held at the Orleans Hotel March 28-31, 2013. VivaLasVegas.net.
Get tix for this year at http://www.vivalasvegas.net
© 2012, frankietease.com. All rights reserved. All content copyrighted or used with permission. This content may not be distributed, modified, reproduced in whole or in part without prior permission from frankietease.com.