Discover more from Frankie Tease
Cult Madness News, Frankie Files Podcast, Hot Takes of a Cult Kid Podcast, by Frankie Tease, writer & Morningland #LongBeachCult adult child survivor.
Veteran Vegas Comic Diaz Mackie Launches "Bad Decisions" Tour, and Won't Tell His Porn Name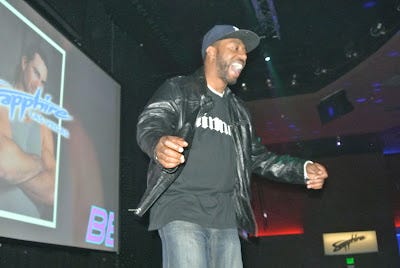 Diaz Mackie at Sapphire Comedy Hour Vegas 
now on "Bad Decisions" Tour - Photo by Frankie Tease



A little over a year ago I saw a couple sets from Diaz Mackie and saw how much he was versatile with every audience. He had been in Vegas working hard for over seven years. Recently he came back to do a week, and I caught up with him at the Sapphire Comedy Hour at Sapphire Strip Club on Industrial. The room was pretty great, and his set was hilarious. I caught some video, photos, and later caught some patio time with this now very national headlining touring comedian. One of the questions is "what is Diaz Mackie's porn name"? Need I say more?
FT: How do you keep your material original, fresh?
DM:They come from me. I come off of my own experiences and exaggerate it. I take something from every day and make notes.
FT:Do you write a lot down?
DM:I don't. I take mental notes.
FT:You don't write your ideas down? Do you have a photographic memory?
MD:I do. Yeah. I can write things down for other people, but when I'm writing for me, I'm too analytical. If it's the first punch line that I come up with, I'll scrap it and start making it too complicated. Whereas if it's the first punch line for someone else, if I think it's funny, I'll just go ahead and send them that.
FT:Do you start with the punchline when writing material?
DM:No, I start with the premise, always. In my head the way it plays out... usually when I have an idea I see a sketch in my head. I take that idea and make a joke. 
FT:So, it's a little story-like then?
DM:That can vary depending upon the amount of time I have for my set. Sometimes I set up punches and really quick jokes, and sometimes I'll put stories in. 
FT:What's the longest time you ever did on stage for one set?
DM:Two hours and 15 minutes. In Michigan.
FT:Why?
DM:I was never lit. I didn't know I was up there for two hours until I said "I should probably let you guys go, I've been up here at least an hour" and someone else said "two hours". It didn't even feel like two hours. I've watched the DVD since then.  It's watchable. It doesn't even feel like two hours.
FT:How has it been travelling since I met you, all over the nation? What are some of the highlights?
DM:2012 ended great just being out in L.A. I got to tape some TV shows. I was on "Guys with Kids", a really cool experience. I got to hang out with Anthony Anderson and Tempestt Bledsoe. They treated me like I was one of the cast. I was one "Go On" with Matthew Perry. He was super nice. "House of Lies" Kristen Bell was really nice, we shared a scene together. I'm S.A.G. eligible. As soon as I decide to pay my $3500. I was on Bill Bellamy's Got Jokes (I think five years ago now). So, because I spoke on there, and it was nationally televised I'm eligible for S.A.G. But, I'll always be a stage performer.
FT:So what about highlights of your touring? Is it fair to ask you what your favorites are?
DM:Honestly, it's not. Because I've basically enjoyed every city I've been in. Chicago, Milwaukee was a blast, Daytona, Primm (NV state line). I enjoy meeting different people, and I make sure to go out with the locals and experience something local. And the relationship with fans. That way when I come back they want to come see me. 
FT:You've been travelling for how long? 
DM:I've actually been travelling for about four years? 
FT:So you call L.A. home now. When will we see you in Vegas and how often?
DM:Usually every two months, whenever they decide to bring me out.
FT:What's your current go-to topic?
DM:Relationships, getting older. I perform in front of people that are older, so I like to build a rapport with them as well. 
FT:What's coming up for 2013?
DM:I'm getting ready to kick off the Diaz Mackie Bad Decisions Tour. I have Tony Valee who's featuring for me and Bob Keen out of Chicago, that kicks off the 25th of April and we'll start in  Chicago and we'll hit Kansas City MO, Omaha and Lincoln, NE, Denver, CO, Albq. NM, Scottsdale, AZ, Vegas NV at Bally's, and back to L.A. I'm headlining that tour.
FT:What's the worst bad decision you've ever made?
DM:I've made so many bad decisions, it's hard to pinpoint one. Probably some of the relationships I've gotten myself into. I've gotten myself into some toxic relationships. Someone who's insecure. Dating an entertainer can be strenuous. It takes someone really trusting and self-confident. They get caught up in the perception of what you're selling, and the reality of what you're living and that you know. 
FT:So Mackie, what's the deal? I recently saw a search that lead to our online mag, and the words were "what is Diaz Mackie's porn name". I kid you not. Did you do porn? 
DM:I did. I was in Irvine, CA. headlining a show. I came out to smoke a cigarette and a lady recognized me from TV, I assumed. She was like "No, I thought you had done porn. I thought that was you but I didn't want to say anything".
When I first started doing comedy in Vegas, I was full-time comedy. I was broke and homeless. With my pride that I had, I didn't want to ask to sleep on people's couch without being able to give them money to sleep on the couch. So I never told anyone I was homeless. No one knew until I had found a place to stay. I started hosting a show and a porn star would come to my show on a regular basis. I had hit on her and she told me she had a boyfriend, but that I was attractive. Later on a couple months later, she said "If you really want to fuck me, I'm looking for some talent". Being homeless in the Vegas summer, I declined it at first, but... I wanted to fuck her, but I grew up in church. I worried about what my Mom would think. I called my Mom and told her about the proposition. I was thinking she'd have sympathy and send me money. My mom was like "as long as I don't have to send you money". I was like "Oooo". 
I called her up and told her I would do it. Her producers told me that I was very professional. They asked me if I wanted to do more and I said yes, but not that genre. They asked me if I wanted to do foot fetish, tranny. So I did BBW, because I didn't think any of my friends would find it. I found out that lots of my friends have fat girl fetishes. So people have seen it. My mom and ex-wife called me on it.
FT:What is your name?
DM:I'll never give a name until they start paying me more money for it.
Now it's difficult for me to watch porn, I critique. Silly stuff you learn. This is the first interview I've talked about that in.

Where can we keep in touch with you?
Look me up on  Facebook at Diaz Mackie, Diazmackielive on facebook pages, and @diazmackie on twitter. My favorite is Facebook. Although nothing beats a good retweet on twitter, it's like a pat on the back. Favorites are like "I thought this was funny, but I'm not going to tell my boss".

Find out more about the comedian at diazmackie.com.


See full "Bad Decisions" national tour info at http://yesiamshow.biz/BadDecisionsTour.
Video of Diaz Mackie live at 
Sapphire Comedy Hour Apr. 2013
http://youtu.be/1ouujDZzats?t=4m12s

Article, photos and video by Frankie Tease
© 2012, frankietease.com. All rights reserved. All content copyrighted or used with permission. This content may not be distributed, modified, reproduced in whole or in part without prior permission from frankietease.com.