Discover more from Frankie Tease
Cult Madness News, Frankie Files Podcast, Hot Takes of a Cult Kid Podcast, by Frankie Tease, writer & Morningland #LongBeachCult adult child survivor.
Vegas Showgirl Artist Karen Jaikowski Hangs at Pinup Pointe Gallery (Grand Opening)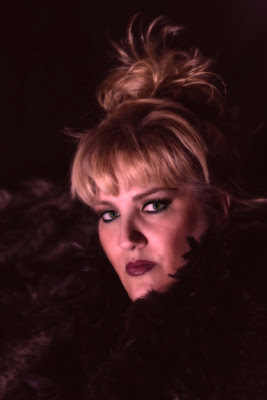 Artist Karen Jaikowski 
Photo by Tony Bertussi
A beautiful balmy spring night lead into the grand opening of the brand new Pinup Pointe Gallery and it was surrounded by Downtown Las Vegas March First Friday attendees. Several artists adorn the walls of the new gallery focusing only on showgirl and pinup. From local and around the globe hung many translations of what a pinup is today. They all had one thing in common: the tease. Pinup photographer Michael Malak was showing a large body of work, from his noir themed Sinister Shadow series to his WWII inspired retro photos from the Wings of Angels series. Featured among Malak's retro inspired work was new star of the Las Vegas strip, Claire Sinclair. Sinclair was also on-hand to sign autographs and mingle just a day before the grand opening of her new show Pin Up at the Stratosphere. A base relief process from Belgium called Artglaz and many artists from other destinations around the world co-mingled with one original figure study by Olivia de Berardinis [eolivia.com]. While Gallery Owner Brent Mizel pointed out many galleries around the world show work featuring pinup art, only a handful are actually dedicated to pinup and showgirl art full-time like this one. I should be so lucky to be in Vegas where one of a few galleries in the world feature only pinup art. 
One artist showing was local showgirl favorite Karen Jaikowski. Her work caught my attention a couple months ago on a mention, and her focus being Vegas Showgirls, what's not to like? Her depiction of the detailed costumes, and whimsical moods was imaginative and etherial. I finally got to see over ten pieces in person at the grand opening of the gallery. Jaikowski is a showgirl enthusiast of many years and artist over twenty. Knowing the city of showgirls is one of her inspirations, but there is much more to her than just feathers. Here is what I gathered in a quick interview at the new Pinup Pointe Gallery Friday Mar. 1, 2013.
FT: What is the medium you work in?
KJ: Acrylic and I also do oil painting, but acrylic has the quality now, and the techniques you do with oil work with acrylic now.
FT: You have many different styles. 
KJ: It's just my mind. I won't want to be categorized in a certain style or anything. I'm like "boom boom boom". 
FT: This large piece is so high-graphic almost Nagelesque. 
KJ: I love Nagel, since I was a little kid. When I was in high school, my teachers wanted me to do Nagelesque kind of stuff, and they were paying me. So my teachers were basically funding my art thing.
FT: Tell us about the inspiration for the green showgirl with the Eiffel Tower behind it.
KJ: It's a Paris inspiration. Someone talked to me about having a show in Paris, and they said "what do you think about having cancan type of stuff?" 
FT: This one is 3-D, lots of crystal looking accouterments.
KJ: I wanted to do something different.
FT: What is the price range of your work? 
KJ: $300-$2-3000 (U.S. Dollars). This one I think it's called "Showtime", some of the people from "Mystere" (the Cirque De Soleil show in Vegas), and they were actually looking at the costume and thinking about it for their show. So I was kind of excited about that.
FT: So you're almost doing costume design?
KJ: If they like it, yeah. The more the merrier.
FT: What is the inspiration for your work and how long have you been in Vegas.
KJ: I've been in Vegas for about 20 years now. I came to Vegas on my 21st birthday and I told my dad (because he brought me here for my birthday), I told him "I'm going to move here". I'm originally from California. I told him I'm going to move here and get a job." Since I was a little girl I've been painting showgirls, feathers and everything. I do commissions. I still do commissions, and the neat thing is for people that don't do dance, if they want to be portrayed as a showgirl or a burlesque dancer, I'll put feathers in front of them. Everybody wants to do something, and maybe they want a painting of it. I've met so many people who love the genre.
FT: Some ballroom dance costumes (I have background in it) remind me of showgirl costumes. 
KJ: I love ballroom, the twirling. I love how they sometimes have feathers just at the bottom of the skirts. I know some of the people who do costume design in the industry. These people have to work their butts off putting feathers on costumes, touching and redoing every single night. I know the industry and I also know some of the dancers and how hard they work and how much they practice. It's not like they have two shows, they have several shows a week, and they have to come in early to practice. I also know the burlesque dancers and I love the whole genre.
FT: Is it safe to say there were more showgirls in Vegas 20 years ago then there are now?
KJ: Oh yeah. We used to have the Folies Bergere at the Tropicana (opened 1959 closed 2009). There are people that come to town from the mid-west still wanting to see that show.
FT: Are you also showing at a gallery across the street from here? 
KJ: There is a little less there because I brought several pieces to this grand opening, but yes I'm at Joseph Watson Collective, 107 E. Charleston Blvd. #115. [Karen points to one of the highly colorful close-up paintings on exhibit] That is Julie. I'm working on another one - a commission from a dancer in Jubilee.
FT: So what is your process, are you working from photo reference?
KJ: Sometimes I do reference shots myself, and sometimes it's totally from my head like this lady Tzarina. That was totally made up in my mind. I'll be driving to work and have an idea, and start sketching it out. A couple people asked me if that was a model and I said nope. 
FT: What is your day job?
KJ: I'm an animator during the day.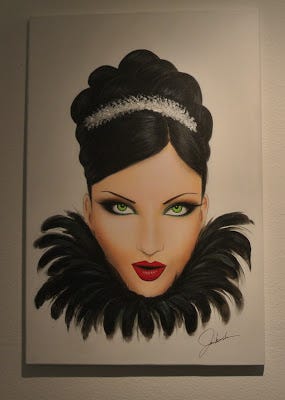 "Tzarina" was Jaikowski's largest piece showing. 
Photo by Frankie Tease
Permalink to Flickr Photo set of Karen Jaikowski showing at the Grand Opening of Pinup Pointe Gallery in Las Vegas. Mar. 1, 2013.
VIEW FULL EVENT 
SLIDESHOW HERE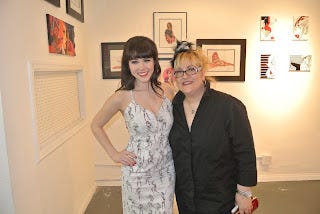 Playboy and Pinup Star Claire Sinclair
with Showgirl Artist Karen Jaikowski
at Pinup Pointe Gallery Grand Opening
Friday March 1, 2013, Las Vegas
Photo by Frankie Tease
Later I spoke to Gallery Owner Brent Mizel to congratulate him on a successful opening, and chat about the concept of a gallery dedicated to pinup art, and his involvement in downtown Las Vegas's art scene.
I have been involved in the Las Vegas Arts District for several years, know many of the gallery owners there, previously volunteered at the Arts Factory, currently am on the membership committee for CAC, and have given tours for the last few years at the Neon Museum/Boneyard.
Why Pinup Pointe?
Primarily, it evokes a sense of old nostalgia that pairs perfectly with hearkening back to the classic, classy side of pinup that some modern day artists are bringing forward. However, it is also the French derivation of the word and is specifically used as a technique in ballet. Many of the very early showgirl productions here were French imports and featured strictly trained dancers. We evolved our own version over time here and the Vegas showgirl was quickly a distinct image unto itself. Ultimately, the spelling hit the mark on everything I was trying to achieve with the theme.
What is the concept?
The concept itself was bred from my own love for classic pinup and Las Vegas showgirls. I got curious last year and started looking for galleries that are dedicated solely to the genre and was shocked that I didn't run across much of anything that was truly dedicated here in the US. Most people have some attraction to the pinup genre because it is timeless and the classic showgirl has developed as the Las Vegas version of a pinup. So, I decided to create a retail gallery space where the public could have access to a wide variety of modern day artists that still are trying to evoke what pinup once was.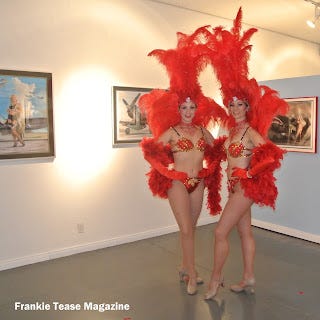 Pin Up Girls for Pinup Pointe Gallery 
Opening by Frankie Tease
Pinup Pointe Gallery is at 4 E. Charleston, in Las Vegas, NV. at Main St., Downtown. It showcases showgirl and pinup art exclusively, and from around the world. Visit the gallery online at pinuppointe.com. Visit Artist Karen Jaikowski online at http://www.jaikowskistudios.com .
Photos and story by Frankie Tease 
except lead-in photo by Tony Bertussi
© 2012, frankietease.com. All rights reserved. All content copyrighted or used with permission. This content may not be distributed, modified, reproduced in whole or in part without prior permission from frankietease.com.