Discover more from Frankie Tease
Cult Madness News, Frankie Files Podcast, Hot Takes of a Cult Kid Podcast, by Frankie Tease, writer & Morningland #LongBeachCult adult child survivor.
Tidbits and Teasers, Winter in Venice, Neon Museum, Vinyl at Vegas Hard Rock
This article was originally published July of 2013 in 
"The Best of Frankie Tease Magazine Vol.2"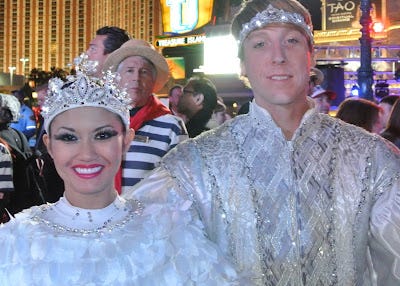 "Winter in Venice" at Venetian spares no expense with elaborate 
costumes, strolling carolers, nightly skate rink performances, 
concerts, and VIP appearances. It's winter in the desert.
Winter in Venice at the Venetian 
(Las Vegas) For the third year, the Venetian Hotel will transform itself into "Winter in Venice". The Italian-themed hotel has an L.E.D. tree spectacular, a nightly parade with the White Winter Queen, and her royal court, and a polymer skate rink (fitting for the desert). Beautiful winter white is dominant, as will be roving holiday carolers throughout the front free nightly show and the entire hotel property. Mmmm, hot chocolate anyone?
Neon Museum Gets New Digs
The Neon Museum, though established in 1996, has been growing steadily in its procurement of signs and acreage. It's newer location includes the lobby building of the famous Las Vegas La Concha Hotel designed by the first prominent African American Architect in the United States, Paul Williams. The La Concha was created in 1961, and housed the hotel lobby until 1963. In 2005 it was stopped from demolition and cut in three parts to be moved to its new location. The Neon Boneyard tours run 45 mins. 10-4pm M-Sat. $18, $12 Students, Seniors, Vets, Nevada residents. Children under 6 are free. (Begins Oct. 27, 2012). The La Concha Visitors Center is open 9:30-5:30 M-Sat. NeonMuseum.org, 770 Las Vegas Blvd. N., Las Vegas, 89101.
Vinyl at Hard Rock
The new venue at the Rock Hotel has been hosting DJ's, novelty acts, and rock and roll legends. The brick and wood floor Chicago looking interior doesn't seem very Vegas, it's a welcome throwback. The sound and lighting are amazing, and it's already been warmed by the likes of Santana, The Who, and more. The 600 person standing rock venue has its green room decorated in vinyl records. It's amazing that they host artists here that actually release vinyl albums. Welcome to Vegas Vinyl. Hard Rock Hotel is located at 4455 Paradise Road. Visit hardrockhotel.com
© 2012, frankietease.com. All rights reserved. All content copyrighted or used with permission. This content may not be distributed, modified, reproduced in whole or in part without prior permission from frankietease.com.