Discover more from Frankie Tease
Cult Madness News, Frankie Files Podcast, Hot Takes of a Cult Kid Podcast, by Frankie Tease, writer & Morningland #LongBeachCult adult child survivor.
Tidbits and Teasers: Pin Up Sinclair, Dice at Vinyl, Rev Horton Heat at LVCS

Pin Up Springs into Stratosphere
The newest show addition to the Las Vegas strip is called Pin Up. The cast and crew are star studded, and so are the producers. Stratosphere Entertainment Director Matt Mascali says the new lighting for the show was delayed in shipping and has happily pushed the opening date from Feb. 25 to Mar. 2, 2013. "We owe it to our performers to make sure every component matches the massive talent on stage" he stated. Who's involved in the creation of the show? Co-Producer and Best Strip Headliner Frankie Moreno, Trumpeter and the show's music composer Dave Perrico (six piece live backing band), choreographer Lacey Schwimmer of DWTS and SYTYCD. The show will also feature many singers and backing dancers who've been in rehearsal for months at the Stratosphere Showroom, where it will be housed.
The show is said to be inspired by classic pin up calendars and stars Claire Sinclair who was Miss October 2010 in Playboy Magazine, and also 2011 Playboy Playmate of the Year. Adding to her arsenal, she has previously been coached in vintage moves by the legendary Tempest Storm, and has been the Bettie Page Clothing spokesperson for several years, including TV appearances. Sinclair made waves in Vegas previously by starring in the (now closed) Crazy Horse Paris Show 2010 and 2011 at MGM. Pin Up is highly anticipated and will surely garner respect from all types of pin up lovers in Vegas and beyond. You can't miss partnering that with a live swingin' beat.
Dice Does Vinyl at Hard Rock Stent
Andrew Dice Clay moves from the Riviera Hotel limited engagement and begins a residency at Hard Rock Hotel's Vinyl venue. A rock venue he will fit into right, he has said "The Hard Rock Hotel has always presented the biggest and best names in music…and I am thrilled to now call this historic property home". This summer, Clay will be co-starring alongside Cate Blanchett and Alec Baldwin in Woody Allen's forth-coming feature "Blue Jasmine." And to this day, Clay remains the only performer banned for life from MTV. For more than 35 years, Clay has sold out hundreds of arenas across the country, totaling more than 12 million tickets. Upcoming Vinyl dates: March 14, 15, 16, 17, 28, 29, 30 and 31 - April 11, 12, 13 and 14 - May 9, 10, 11, 12, 23, 24, 25, and 26 - and Show time is 9 p.m. Tickets start at $54. via www.ticketmaster.com or charge-by-phone at (800)745-3000. 
Reverend Horton Heat at LVCS March
This March 28, 29, 30 you may relish knowing that you have choices to compliment the annual rockabilly party at Orleans, and they are downtown Las Vegas (#dtlv). The long standing Las Vegas Country Saloon has had a bit of booking make-over and seems to be in the game over the last few months bigger than ever. This year they offer Be Bop a Lula which includes tons of bands on three stages with headliner Reverend Horton Heat at the top of the Saturday  night bill, March 29. Gotta catch the Rev. when in town, who remains one of the hottest rockabilly/psychobilly acts in the nation (in their 25th year), continually touring his trio from Dallas, Texas, with their unique live sound (he plays here in Vegas then in Georgia a couples days later). Sidenotes: The Rev's on a new label called Victory Records. Check out my extensive interview and show review with Reverend Horton Heat including tons of conversation about his song writing and humor, in the forthcoming eBook Best of Frankie Tease Magazine Vol. 2 via Nook, iTunes, or Amazon.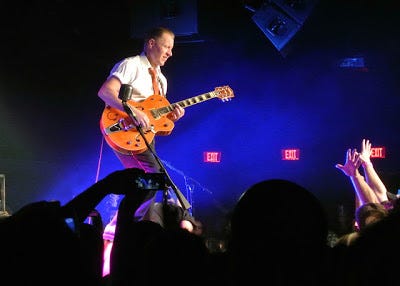 photo by Frankie Tease

© 2012, frankietease.com. All rights reserved. All content copyrighted or used with permission. This content may not be distributed, modified, reproduced in whole or in part without prior permission from frankietease.com.