Discover more from Frankie Tease
Cults in the news. Cult Madness News is reports from a variety of sources by the Frankie Files Podcast host and writer Frankie Tease and Hot Takes of a Cult Kid Podcast.
Tidbits and Teasers: Minaj Goes Pure for NYE, Cee Lo's "Loberace", Fremont live Bands NYE

Minaj Rings in New Year at Ceaser's Pure Nighclub

The Trinidadian-born Nicki Minaj has announced she'll appear and host the NYE event at Pure Nightclub 2013. Pure is located inside Ceaser's Palace on the Vegas Strip. Minaj has made a name for herself in entertainment for bold brazen and sexy music. The evening is priced at $110 according to contactmusic.com, which states that Minaj will throw a "boistrous party with showgoers, and ring in the New Year". Sounds like a great time to me.
Fremont Street Experience Rings in New Year with Live Music
The Fremont Street Experience is everyone's favorite place to rock out, and this New Year celebration is no exception. Live entertainment begins on three stages starting at 6pm. Bands playing under the largest L.E.D. light canopy in the world include: Zowie Bowie, Quiet Riot (c'mon Feel the noise!), Queensryche, Jizzy Pearl, and Arena, to name a few. Want to lead up to the big night? Catch Tributepalooza shows with tribute bands and headliners Fri., Sat., and Sun., leading up to the Monday Show (free). New Year's Eve is the only time there is a required admission of $40 on Fremont Street, and the festivities will lasts from 6pm - 3am. Buy Tickets. Get $10 off with Nevada I.D., 21+ only. You can also ride the world-famous Zipline as shown in the photo.
Cee Lo is coming to Planet Hollywood
Starting Feb. 27, 2013 the Strip will become home to "Crazy" hit song singer, wild out of the box creator, previous "The Voice" judge Cee Lo Green. "Loberace" is the show, and it's described as a "spectacle more than a show" via the Planet Hollywood website. The showroom will house the review with sexy showgirls, cover-songs and originals as selected by Conductor, Ringmaster and Singer Cee Lo Green. The show is listed through April so far. Cee Lo had to have gotten bored sitting among the stodgy TV hosts of the Voice.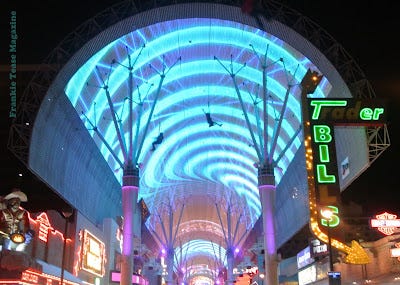 Article and Downtown Vegas Fremont Street Experience photo by Frankie Tease
© 2012, frankietease.com. All rights reserved. All content copyrighted or used with permission. This content may not be distributed, modified, reproduced in whole or in part without prior permission from frankietease.com.