Discover more from Frankie Tease
Cults in the news. Cult Madness News is reports from a variety of sources by the Frankie Files Podcast host and writer Frankie Tease and Hot Takes of a Cult Kid Podcast.
Tidbits and Teasers: Evlis Has Left the Building, Legends Leaves Harrah's, Taylor Exits Zowie Bowie
Elvis Has Left the Building
That's right folks, "Viva Elvis" the flop of Cirque De Soleil has left the building. Did anyone notice? Probably not as the glitz and glam of the new spectacular $22 Billion budget show "Zarkana" has taken it's place at Aria. Viva Elvis' last performance ran Aug. 31, while Zarkana openened at Aria last weekend. I guess flying Elvis's isn't what audiences were after. Looks like it's good that Cirque is sticking with what it knows best: fantasy-world acrobats and circus.
Legends Leaves Harrah's

The "Legends" show enjoyed a record-breaking four years at Harrah's and has announced this will be the end of its run. Though the Legends show is a franchise that may show up elsewhere the last date played at Harrah's for the show will be Dec. 30, 2012. Catch impersonators of everyone who's anyone on the Legends stage, with live-music and vivacious singer-impersonators. From Nov. 23 you will see impersonator acts as scheduled including: Adele, The Blues Brothers™, Whitney Houston, Barry White, Justin Timberlake, Michael Jackson and Elvis, performing at 7 and 9:30 p.m. nightly except Saturdays. Nov. 24- Dec.30 beings the Legends Holiday Tribute for its final Harrah's appearence. 
Taylor Leaves Zowie Bowie Previously engaged Marley Taylor and Chris Phillips came to Vegas 2006 and have been busy ever since. They have had long runs at many venues including Summerlin's Red Rock Casino. After her marriage to the hip-hop power cover bands' bassist in July, Taylor will make her last appearance as one half of the successful duet this Saturday. Zowie Bowie will live on with friends and Vegas Strip singers making appearances at already scheduled shows with the bands' creator and half of the power-duo Chris Phillips.
This column is by Frankie Tease for Frankie Tease Magazine each Monday at frankietease.com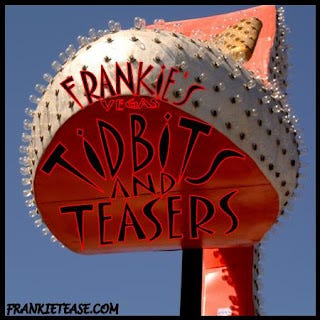 © 2012, frankietease.com. All rights reserved. All content copyrighted or used with permission. This content may not be distributed, modified, reproduced in whole or in part without prior permission from frankietease.com.