Discover more from Frankie Tease
Cult Madness News, Frankie Files Podcast, Hot Takes of a Cult Kid Podcast, by Frankie Tease, writer & Morningland #LongBeachCult adult child survivor.
Tidbits and Teasers: Ent.Tax Kicked to Curb, New Film Incentive Passed, EDC Invades Vegas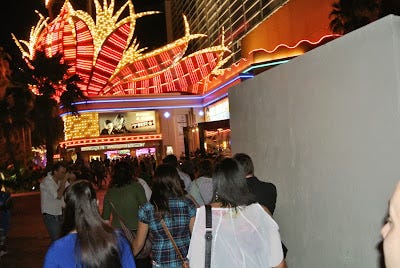 Walking the Strip by Frankie Tease
Entertainment Tax Bill Shot Down
There are many who've been following the recent proposed entertainment bill that would add a tax of between 8-10% for all Nevadans in the industry. Kirkpatrick re-wrote and presented the bill, and it still got shot down. There are small and huge festivals sighing a huge breath of relief including the annual Electric Daisy Carnival (EDC) and the National Bullriding Convention (NBR) to name a couple of ginormous ones. Something tells me that won't be heard about anytime soon, and to think they even were considering taxing gyms as entertainment.
Film Incentive Tax Score
Nevada went a step in the direction of entering the modern world this month when Senator Aaron D. Ford (District 11) successfully got a bill giving anyone who films in Nevada a financial incentive. Find out about the details and how it can create new jobs on this video by the Senator himself. http://youtu.be/AcBMYy0vOuw. Nevada was one of the few states that didn't offer any incentive for directors to choose its amazing famous tourist destinations, lighted neon, or most mountainous in u.s. terrain of desert.
Electric Daisy Carnival Las Vegas
The electronic music rave by any other name is set to invade Las Vegas again June 18-25. Its organizer and head of Insomniac Entertainment is famous for being the father of famed Playboy Playmate Holly Madison's daughter, and also for potential embezzlement, and drug complications leading to the death of a concert-goer [Huffington Post]. Tickets are expensive, mostly sold-out, and the location [LV Motor Speedway] in Vegas has dealt with wind and more in the past. That doesn't stop the party and thousands of people traversing the roads and air to make it to this one-of-a-kind experience with some of the most popular DJ's in the world on roster. Stay safe and drink lots of water though, you'll be outdoors and its a desert out there, for reals. See http://electricdaisycarnival.com/.
© 2012, frankietease.com. All rights reserved. All content copyrighted or used with permission. This content may not be distributed, modified, reproduced in whole or in part without prior permission from frankietease.com.