Discover more from Frankie Tease
Cults in the news. Cult Madness News is reports from a variety of sources by the Frankie Files Podcast host and writer Frankie Tease and Hot Takes of a Cult Kid Podcast.
Tidbits and Teasers: Cowboy Up to the NFR, 12.12.12, Blue Man Wants Locals
Vegas Cowboys Up 'til Dec. 15
Dec. 6-15 the town goes a little bit country as the Wrangler National Finals Rodeo steps up to Thomas and Mack Cenvention Center. Danger and all, these bullies ride bulls for the fastest time. Judged on other skills there is no telling what could happen during a live competition of this nature. MGM, Fremont Street, Monte Carlo, Ceaser's Palace, and many other hotels get in on the action for the ten-day annual festivity. There is even a Miss National Rodeo Contest. But if if it's about the shopping for you, the Cowboy Christmas Gift Show [Las Vegas Convention Center North Hall] is a free and open to the public area to get those family gifts you haven't handled yet. It's over 300,000 sq. ft. should offer just about everything possible for your shopping needs, depending upon your budget. It also carries official Wrangler NFR merchandise, a sure hit for fans. It's open 10am-5pm Dec. 6-15. Check details at http://nfrexperience.com
Vegas Wedding Chapels and Hotels Gear up for 12.12.12
There are sequential dates (11.12.13), there are reverse dates, and there is the crescendo of the year, the grand daddy of them all 12.12.12, the repeating date. Chapels and marriage liscenses are heavily booked for this, said to be as popular as 10.10.10, and 11.11.11, some chapels will be doing as many as 100 weddings in one day Wednesday for the occasion. Repeating dates have proven popular during the Millenium. Check out the upcoming article this Friday at Frankie Tease Magazine about "what happened in Vegas 12.12.12." It'll only happen once in our lifetime.
New Blue Man Show Gives Locals a Break
Celebrate the new home that Blue Man Group built in the luxurious and fun Monte Carlo Resort on the Las Vegas Strip. Only a few months ago the Blue Man Group parachuted through the air to land on the property where it now offers the almost nightly wild music and dance performances that they are known for. I haven't seen the new show yet, but at a two-for-one through Jan. 27, 2013 for Nevada residents, it sounds like a pretty good time. Nothing like a Blue Man, indeed I could need a Blue Man.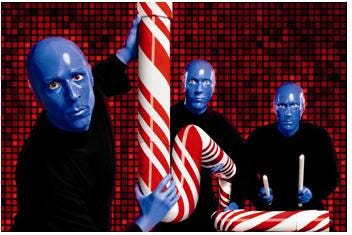 © 2012, frankietease.com. All rights reserved. All content copyrighted or used with permission. This content may not be distributed, modified, reproduced in whole or in part without prior permission from frankietease.com.