Discover more from Frankie Tease
Cults in the news. Cult Madness News is reports from a variety of sources by the Frankie Files Podcast host and writer Frankie Tease and Hot Takes of a Cult Kid Podcast.
Tidbits and Teasers: Bikini Contest Wrap, Snoop D-Oh Double G, Labordizzle - Hard Rock Hotel Las Vegas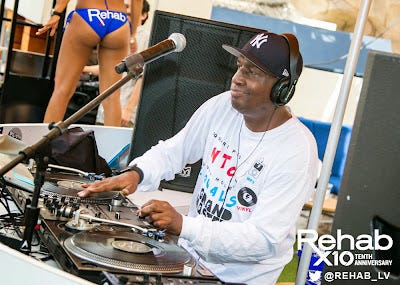 Hard Rock Hotel Las Vegas Bikini Contest 
Grand Master Flash. Photo by Joey Ungerer
Hard Rock Bikini Contest Final Announced
HRH Vegas has been going all out this Summer for its ten year anniversary celebration. A parade of celebrities were involved in the multi-part contest including Zowie Bowie's Chris Phillips, Jennifer Farley (Bravo, Real Housewives of Miami) and the one and only Grand Master Flash, a legend of hip hop (and many other famous titles) was the mega-celebrity DJ in the house.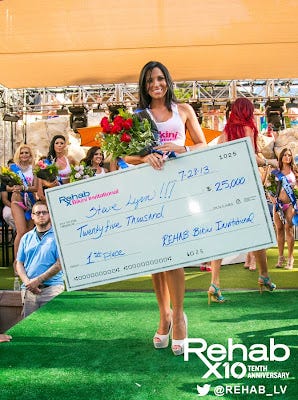 First Place Winner: Stevie Lynn
Photo by Joey Ungerer
Let's see what the winner of the Bikini Contest takes home as quoted by HRH. "The overall winner brought home $25,000 in cash, received representation by a top modeling agency and an entry fee for the Miss USA State Pageant; the runner-up received $10,000 in cash; the three finalists were given $5,000 in cash; the top five received a custom bikini designed by a famed Brazilian designer; and the fourth through 10th place girls received $2,000 in cash. The winners also received Reliquary Water Sanctuary, Spa & Salon packages and were offered an official spot on the REHAB Bikini Team 2014. Overall, a total of $120,000 of cash and prizes were given out to the REHAB Bikini Invitational 2013 finalists". That's some heavy cheese. Congratulations to winner Stevie Lynn who took first place. hardrockhotel.com

View complete album of bikini event photos by Bill Ungerer on our FLICKR.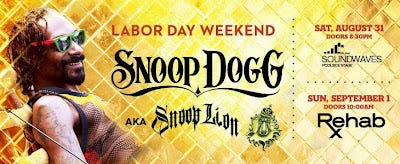 Snoop Dog aka Snoop Lion Labors on Labor Day Weekend at Hard Rock Vegas (longest headline ever).
The sizzling all-summer-ten-year-anniversary-celebration won't stop as Snoop Lion sets up to entertain at the Hard Rock Hotel Las Vegas with the Soundwaves Concert Series. The official hashtags are #ldw2013 and #soundwaves among others, in case you will be playing along on Twitter. One thing is always for sure, Snoop by any name, knows how to throw a party in Vegas, and Vegas shows up for him when he does it. Ain't nothing like a hard rock par-tay. Aug. 30-Sept.1. It's on all weekend. MTV, BET, 213, LBC are just some bits of his resume' and D-Oh Double G promises reggae and hip hop.  
More info at http://www.hardrockhotel.com/labor-day-weekend-2013
© 2012, frankietease.com. All rights reserved. All content copyrighted or used with permission. This content may not be distributed, modified, reproduced in whole or in part without prior permission from frankietease.com.