Discover more from Frankie Tease
Cult Madness News, Frankie Files Podcast, Hot Takes of a Cult Kid Podcast, by Frankie Tease, writer & Morningland #LongBeachCult adult child survivor.
Tidbits and Teasers - Big Swing Week in Little Vegas - Dance Your Nights Away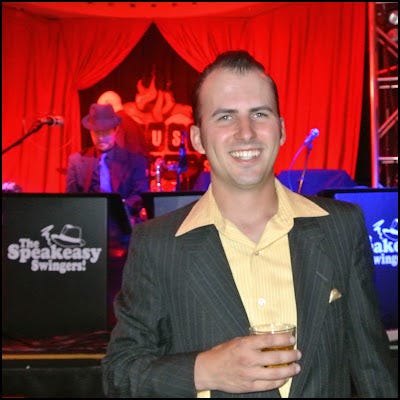 Kyle Kettner has kept people swingin' with  
live bands at the House of Blues Vegas for 8 mos.
Thursday - Sunday, It's JKQ Time Again (uptown)
Catch the Jennifer Keith Quintet and the standards of yesteryear sung in a retro modern Chandelier Bar. Have a cosmo at the Cosmopolitan and dance to some music featuring member of Royal Crown Revue, or listen in the lounge booths and wonder at the swing kids of Vegas who'll be present dancing. Attire not required. The event is free to attend and ample parking will lead you into the hotel's lobby (stunning artwork throughout) where you can meander to the Chandelier Bar to swing your cares away. jenniferkeith.com. Make sure to help me welcome the band back from their stent in Europe correctly. (free)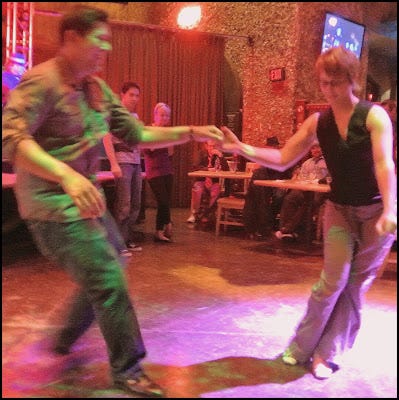 Mark Brunton (L) has kept people dancing on Friday nights with 
lessons and juke music for 8 years at Aruba Hotel Downtown Vegas
Friday Night (downtown)
Come celebrate a massive achievement with the Eight year anniversary of Swing at the Aruba. Instructors will give you moves at 7pm, while dance music starts at 8pm. It's a free entry fee (to be verified), and you can guarantee a showing of dancers for this one. The charming and talented Mark Brunton is your host for the evening. http://arubalasvegas.com/las-vegas-club/ (free)


Saturday Night Stomp (downtown)
The Stomp is sure to keep your feet shuffling and employs a 'Rat Pack' theme. Dressing up is part of the game at this night, and it is said to be very well attended. When I chatted with some of the other event organizers they insisted this weekends' Stomp was going to be huge. The event is organized by Shannon Sheldon. While I can't offer you much more info I do plan to attend to learn more. Please visit their Facebook. This is a monthly event.
911 E. Ogden St. https://www.facebook.com/SaturdayNightStomp for greater details. (6?)
Tuesday at House of Blues Mandalay Bay (uptown)
Let's keep the weekend rolling into Tuesday with Sailor Jerry Swinging Tuesdays at the House of Blues which continues it's weekly run with an L.A. band called Joe Finkle and the 7/10 Splits. Featuring members who've played with swingin' Brian Sezter this rockabilly band is sure to set dancers feet on fire. Swingin' Tuesdays is weekly 9-12 featuring live bands of the genre. Kyle Kettner is your Dean Martin-style host for the evening. He puts the event together, he dances, and he sings. Thank goodness for Kyle in Vegas. Wow, look out because it's almost time to dance at the Aruba again on Friday! About Klye, http://retrorhythmdance.com (Free) 

This below event at Artifice has been cancelled.
Swing Dance Tuesdays (starts weekly May, 7pm) (downtown)
In May, find Frankie Tease Magazine presenting Swing Dance Tuesdays. It's going to be early so we can all join Kyle later at the House of Blues! Get your night started early with 7-8pm beginning Swing Dance Lessons, and 8-9:30 continuous dancing. I'll be playing from my 500 record swing collection, so no repeats. The venue is new to swing dancers at Artifice Bar downtown. That's 1025 First st. at Charleston and LV Blvd. $10, or $5 with industry password (21+). The May password is genekellyrules, and pre pay via https://ticketcake.com/event/swing-dance-tuesdays/las-vegas/2013-05-07, or bring cashola. More at http://www.frankietease.com/p/swing-dance-tuesdays-each-week-at.html. Tuesdays is one of those nights that dancers can get their fill in Vegas if they want to. Tell a friend. ($5-$10)
© 2012, frankietease.com. All rights reserved. All content copyrighted or used with permission. This content may not be distributed, modified, reproduced in whole or in part without prior permission from frankietease.com.