Discover more from Frankie Tease
Cults in the news. Cult Madness News is reports from a variety of sources by the Frankie Files Podcast host and writer Frankie Tease and Hot Takes of a Cult Kid Podcast.
Tidbits and Teasers: Guns N Roses: Paradise City, Cirque Opens Zarkana at Aria, Aviation Nation Air Show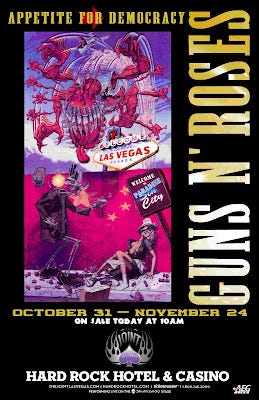 Guns 'N Roses at Hard Rock
G and R kicked off its "Appetite For Democracy," stent at The Joint at Hard Rock Hotel and Casino amid controversy Saturday. Last week in honor of the bands' residency during Nov., City Commissioner Beth Scow named Paradise Road "Paradise City" Road. She bit off more than she could chew when discovering the explicit scene on the poster was not exactly complimentary to women or Sin City. A revised graphic from their Appetite for Destruction album, the scene showed a woman just sexually assaulted, panties around her calves, and robots nearby all under the famous Las Vegas sign. G 'N R play through end of November. It's just art, right? (Breaking News: G N R controversial poster removed (via http://loudwire.com/controversial-las-vegas-guns-n-roses-posters-removed/).
Cirque De Soleil's Zarkana finds home at Aria
A visually stunning acrobatic spectacular, the massive set and expensive cast of Zarkana are now settled into their new home in Vegas at Aria. The acrobat-focused show is character driven not story driven, so that amazing stunts can be revealed, unfettered by a story-line. Hoops, fire, flips, juggling, trampolines, and more aerials than have been seen on the strip since Absinthe, this colorful beatific set is set to stun us at Aria, having just completed its preview shows this weekend.
Aviation Nation
Come-one, come-all. Hosted by Nellis Air Force Base, Nevada on Nov. 10-11, 2012, the free air spectacular is an air-show and open-house intended to celebrate and educate visitors about aviator traditions in America. It is billed as the largest free public event in Nevada.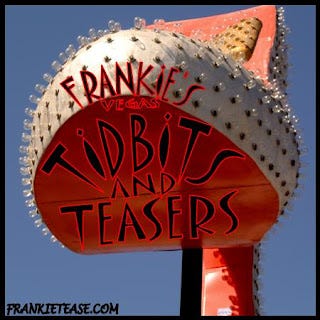 © 2012, frankietease.com. All rights reserved. All content copyrighted or used with permission. This content may not be distributed, modified, reproduced in whole or in part without prior permission from frankietease.com.