Discover more from Frankie Tease
Cults in the news. Cult Madness News is reports from a variety of sources by the Frankie Files Podcast host and writer Frankie Tease and Hot Takes of a Cult Kid Podcast.
Through The Roots V.I.P. Experience Review, Federal Bar Long Beach, CA Mar. 22, 2017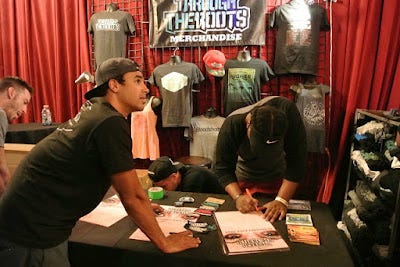 Left to right: Taylor, Evan, Budda of Through the Roots


These last couple years have been fun for reggae. As I settled back into living in my hometown of Long Beach, California, I have found many great reggae shows including live dub, conscious, and roots music events. Many of you may not know but Long Beach (aka LBC: Long Beach California) was a mainstay of live reggae in the early 90's, birthed Sublime, and has always had a ton of islanders as its inhabitants. Lucky us. 
© 2012, frankietease.com. All rights reserved. All content copyrighted or used with permission. This content may not be distributed, modified, reproduced in whole or in part without prior permission from frankietease.com.