Discover more from Frankie Tease
Cults in the news. Cult Madness News is reports from a variety of sources by the Frankie Files Podcast host and writer Frankie Tease and Hot Takes of a Cult Kid Podcast.
Las Vegas Tropicana Resort Makes Southbeach Renovation Comeback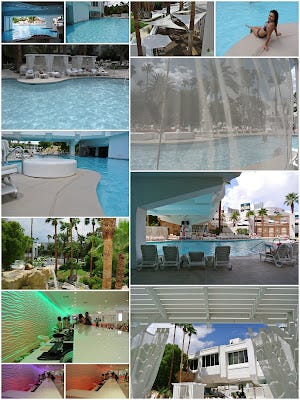 FrankieTeaseFoto of Ness at Tropicana Vegas



The Las Vegas Tropicana Resort & Casino has changed hands many times, but that hasn't slowed its popularity. Located at the intersections of Las Vegas Boulevard and Tropicana, it holds one of the most densely populated hotel intersection corners in the world. It also holds many points of curiosity for Vintage Vegas lovers and new visitors alike.
Since 1957 it has seen many famous films shot on-site including the ever popular Viva Las Vegas with Ann Margaret and Elvis Presley, and The Godfather II. It has never veered very far from its original Cuban theme, and has most recently been bought and remodel by Alex Yemenidjian's Armenco Holdings (2009). 
The $165 Million South Beach style remodel was reported to be a three-phase job from 2009-2011. The remodel has brought a lot of changes including a lot more white. "It's all about the white" one clerk told me as I took photos of the new front desk. The counters, uniforms and lounge areas are all white with ornate colorful accents. It is sure to feel cheery year-round. 
The pool area is a sanctuary whether you will swim, lounge, drink, or gamble. The lush area is filled with nooks in and out of the sun and appears smaller than it is. With a grotto for wading, private cabanas, and rolling grass areas, you can bring a party or bring a book. The red and white detail are a spectacular compliment to an already 50's era property.
There are a lot of attractions besides gaming on-site including a selection of many shows. The new comedy club has just been occupied (Spring 2012) by the Laugh Factory (previously and briefly Brad Garrett's Comedy Club now at MGM). The Laugh Factory is proud to be the #1 comedy club in the country and has a reputation for offering top-notch comedy names from Comedy Central, HBO, or Showtime. The club also offers an early almost-nightly magic and comedy show with international award-winning Celebrity Magician Murray (Pawn Stars, Reno 911). The Trop has also had a long-running live interactive show called the Mob Experience. Apparently willing audience members are asked to carry out mob-like missions, and pay-offs. Hey, it's a job. 
Roaming through its vast halls, it's easy to get lost in Cabana-leafed snuggle-lounge areas begging you to people-watch. But because it was built before the high-rise phase and is quite spread out, it's important to know where you're going before proceeding at this hotel. The property has separate towers on each end, and a vast luxurious pool haven somewhat in the middle. Restaurants and meeting areas are also sprinkled throughout, and a jaunt across the street opens you up to New York New York, MGM, and the Excalibur, in case you need more choices.
The Tropicana has weathered many changes in ownership as well as changes in Vegas tourism wants and needs. The gorgeous hotel property not only isn't backing down to all its new-found competition, it is working to get back to its Heyday in the South-Beach Style Sun. 
Vintage Fact:
Since 1959 the Tropicana hosted the Follies Bergére Show which closed March 27, 2009 just missing its 50th anniversary. The son of one of the stars is the bartender at Orleans. Tell him I said hi.
Related Links: 
Photos and article by Frankie Tease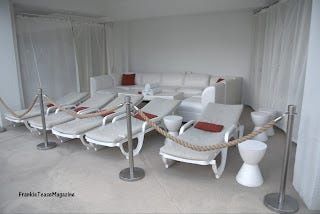 © 2012, frankietease.com. All rights reserved. All content copyrighted or used with permission. This content may not be distributed, modified, reproduced in whole or in part without prior permission from frankietease.com.