Discover more from Frankie Tease
Cult Madness News, Frankie Files Podcast, Hot Takes of a Cult Kid Podcast, by Frankie Tease, writer & Morningland #LongBeachCult adult child survivor.
The Lounge Sound of Jennifer Keith Quintet Revives Vegas Tradition at Cosmopolitan (Monthly)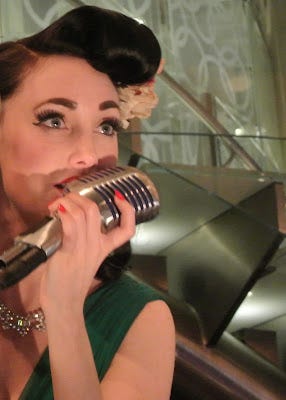 Jennifer Keith Photo and Article by Frankie Tease

Dominating the air waves in late 40's and early 50's you'd have found Patsy Cline, Peggy Lee, Wanda Jackson, and Keely Smith. Cut to present modern-day and I'll show you that the latter has special meaning in this particular story. The story starts in early 90's when a band began to permeate Hollywood bandstands, its name was Royal Crown Revue. Impeccable originals and new takes on oldies took the power-packed band around the world, and they have never stopped. The co-creator of that band is Mando Dorame, and he's the founder and tenor sax player for the Jennifer Keith Quintet. Jennifer Keith is a Los Angeles based singer who's been making waves in Vegas. Her great grandfather put the K in RKO, so her family is familiar with the entertainment business, and more, she's Hollywood royalty. But the talent is where people are raving about Keith, and rightly so.

Dorame met Keith, now his fiance, in the Los Angeles area. The romance bloomed and Mando and Jennifer Keith formed a side project. The side project has grown over five years into what it is now "The Jennifer Keith Quintet". With two members of Royal Crown Revue in tow, the band has been seducing audiences with sultry sophistication for about a year at the Cosmopolitan in Vegas's Chandelier Bar. Parties, dates, singles, gamblers, all come for different reasons and encounter her classic but unique sound. Keith makes it work by singing standars, sporting the pinup look of the day, the attire, and the very sophisticated vocal stylings to accompany her top level collection of jazz musicians. She posesses all the sass you'd expect in a jazz singer, but more class than any I've ever encountered. But wait 'til you hear the entire story that Keith and Dorame had to tell me over drinks at the Chandelier bar one mad March night in Vegas.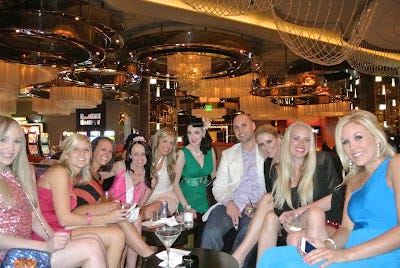 Keith gets out on her break from the two and half hour performance 
at the Chandelier to mingle. This time, with a large bachelorette party.
FT: Where and when did you two meet?
MD: I met Jennifer in Long Beach,CA. and we started working at the Madison which is a supper club in the Pine Area District. I met her there and I thought she had a great look and personality. She was a singer and I was really interested in the way she was singing and the whole vibe that she had.

FT: When you started working together did Keith sit in with Royal Crown Revue?
MD: No that came later. I knew her for a year and we got close, and we realized we had this great love for music. We're very into the same kind of stuff. We got together and wanted to build this band up of something we like doing. We said "let's just go out and play the stuff we love with no pressure". We didn't even think of much, just playin' together. We started off playing at this little place called the Tam O' Shanter for like fifty bucks, at a sandwich shop. We did that for like a year with Mark Cally on guitar as well, and then we pretty much moved to the Queen Mary.
JK: During the same time, our first year of playing together, I'd go see him with Royal Crown Revue. He'd occasionally ask me to get up and sing a tune, and I was too shy. But Eddie (Nichols) the lead singer was really encouraging. He was like "c'mon get up here". So, he'd twist my arm and I'd get up and sing one song. Then one song eventually lead to two songs, and then a while would go down the road - a year or so - and I would sing like four songs. Eventually four or five years ago they just decided to add me as a permanent guest vocalist. Every time they play, I get to sing with them. I went on tour with them, I've been to Australia, Egypt, Europe, and all during that time we were working on a quartet which became a quintet. The whole while we kept working on our side project. We do what we love. I love all the lovely song birds of the 50's. I love Patty Page, Keely Smith, June Christy, Peggy Lee, Connie Francis.

FT: So Mando how then did you connect this project with the Cosmopolitan here in Vegas?
MD: It was really ironic. We were feeling like we had run our course at the Queen Mary. We parted ways there, and literally the same day we got a call from our agent asking us would we think about coming here. And, it was kind of brand new at the time. It was only a year old. They weren't doing much in the Chandelier Room, they were trying things out. So we tried it out, and the Monday we were checking out we got a call for multiple engagements here. It was that fast. We've been here ever since.
It's a pretty simple formula for us. We pick great songs. A lot of us have been playing for so many years. There's Royal Crown Revue members in the band, and there's musicians that have rich jazz backgrounds. We feel like it's come to like a really great marriage between everybody, and everyone can add their input and can make it something different.
There's a lot of bands that do covers songs and a lot of bands that do retro. We just try to do it differently, we try to do it with class and dignity. Mainly classy. She's not gettin' up there and being sleezy, she's got the right amount of edge. The material is good and we try to spin 'em our own way. There's a lot of Royal Crown Revue flavor in there I guess, we can't hide that.
JK: We feel lucky to keep this music alive in a world of DJ's, which is essentially where we are now, it's a world of techno and DJ's. The fact that the newest casino - the new now next casino (this is what's hot) - the fact that they're keeping this music alive is both amusing to me and I'm grateful for it.

FT: How do you like playing this venue?
MD: We've always had this interest in lounge entertainment and we think it's obviously a lost thing here in Vegas anymore. It's been very cool to be able to embrace such a great lounge to do this with. The Louis Primas the Keely Smiths, Sam Butera, there were so many great lounge acts back then.

FT: Jennifer mentioned you were friends with Sam Butera. Can you expound on that and is that where you became inspired to play sax?
MD: No actually my dad played saxophone  so that's kind of where I got it from. I was turned on to Sam Butera in Vegas. I met Sam Butera as a teenager here when he was playing with Keely Smith at the time. It pretty much changed my life.

FT: You guys are like a modern Sam Butera and Keely Smith.
MD: There's influences here for sure.
JK: When Mando and I were dating, the first time I ever saw tears in his eyes is when we went to go see Sam Butera at this little place in Pasadena. We were sitting right up front and it was called Frank and Deans (as in Frank Sinatra and Dean Martin). We're sitting at the the front table and here's Sam Butera in his 80's blowin' the roof off the place, singing, playing the sax, getting standing ovations. And I looked over at Mando and he has just little wells in his eyes.
MD: It was really special. I think that's what we try to do here with her, to bring entertainment into what we do. That's the challenge. Trying to play good music and we try to entertain people too. What is the saying "You have to entertain them all ways".

FT: I really like the unique sound set-up they have here.
MD: The music is piped throughout the entire chandelier and into the upstairs into some of the shops.
JK: We're happy to keep this music alive and grateful to the Cosmopolitan. My father used to live in Vegas for a couple year's and I remember from a local's perspective I know you guys try to stay away from the Strip. I think people that are into old Vegas and classic music that we all love, I think they don't go to the strip because they don't want to hear the DJ's and stuff but if I could just tell them that if you don't mind fighting a few crowds, you can have a little old Vegas right here on the Strip.
MD: There is a definite nod to retro here, and I think they did a fantastic job. If you're gonna come to the Strip you gotta at least check it out once.
JK: At the end of every show I like to quote one of the biggest lounge kings of all Sam Butera who was tenor saxophonist for Louis Prima. I like to close the night with his famous words which are "It's nice to be important, but it's more important to be nice". We're very comfortable here, we're coming up on a year, and it's lookin' like they're happy with us here and we'll be here for quite some time.

Partial Set List:
Is You Is or Is You Aint My Baby
Bill Bailey
Do Right
Slow Boat to China
Fools Rush In
Squeeze Me
Ci Magnifique
Good Day
Sway
Up a Lazy Rizer
Wheel of Fortune
Anything Goes
Two to Tango
Boulevard to Mexico
Honky Tonk
Two Hearts
Start of Something Big
Topsy

Guitarist Mark Cally (also of RCR) told me about his Heritage guitar.
MC: Heritage are a company that branched off from Gibson 20 years ago. Gibson closed their original plant in Kalamazoo MI, and moved down to Nashville. A lot of the older original Gibson craftsman that didn't want to move their families stayed in Kalamazoo, bought the old factory, bought the old equipment and kept on making guitars, and they called themselves Heritage. I like that they keep the tradition of the original Gibson guitars alive. They're a very small American company which I really love. Everything is hand built and it's like a family. I've had Gibson's from that factory - the Kalamazoo factory - and it was more important for me to keep the guitars from the lineage of that factory than to keep the Gibson. That's why I'm playing a Heritage.

The Cosmopolitan has hired this band to play two private party dates in Europe and then fly back to their Chandelier performance Apr. 18-21, don't miss 'em. 

The Jennifer Keith Quintet is made up of Jennifer Keith on vocals, Mando Dorame on tenor sax, Mark Cally on guitar, David Miller on upright bass, and Paul Lines on drums. The Quintet is scheduled to play once a month (Thurs.-Sun.) throughout the year of 2013. The show is FREE and it is in an amazing cocktail lounge at the Cosmopolitan of Las Vegas called the Chandelier Bar. Reservations and bottle service are available. 

Parking is extremely hassle-free, and drinks are mid-range price and exceptional. There is a break-out dance floor that erupts at Keith's shows even though it's carpeted. Visit jenniferkeith.com for complete details and schedule updates. Stay tuned to this site for a full review of  Jennifer Keith's album entitled "Jenny is her Name". Available now. 



PHOTOS AND VIDEOS OF JKQ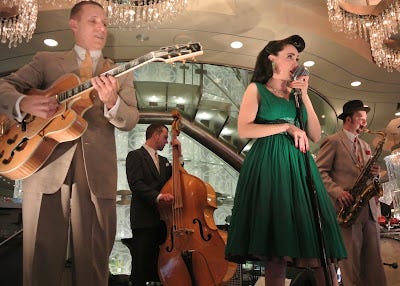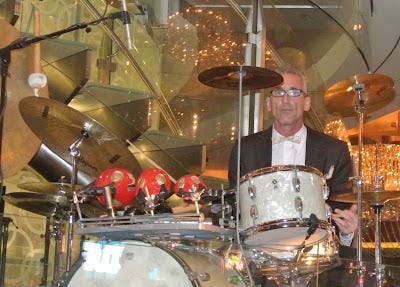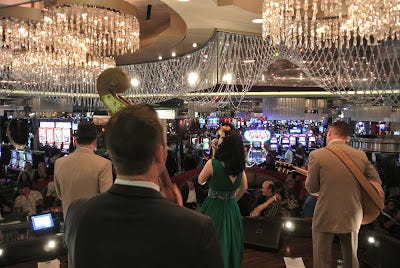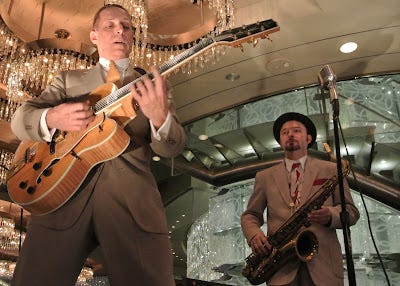 MORE PHOTOS OF THE JENNIFER KEITH QUINTET 
AT THE LAS VEGAS COSMOPOLITAN MAR, 2013.
COMIN' HOME BABY 

 TRAPPED IN THE WEB OF LOVE



 WHEN I GET LOW I GET HIGH


Story, photos and video by Frankie Tease
© 2012, frankietease.com. All rights reserved. All content copyrighted or used with permission. This content may not be distributed, modified, reproduced in whole or in part without prior permission from frankietease.com.