Discover more from Frankie Tease
Cults in the news. Cult Madness News is reports from a variety of sources by the Frankie Files Podcast host and writer Frankie Tease and Hot Takes of a Cult Kid Podcast.
Teaser Quotes from "The Best of Frankie Tease Magazine Vol. 1" - New eBook Vol.2 Update
Well hello readers. It's been a while since we've talked about the eBook series I launched this year. Lets take a second to chat about what you've missed if you haven't read the book yet, via some favorite interview quotes from Vol. 1:

Lisa Lampanelli:
When asked if people understand her comedy:
"I have this thing: never complain, never explain."
Dirty Martini 
When asked about how she got into Burlesque:
"From the time I was in college, I was working with some of these ideas. Even before college, my choreographic pieces and some of my solo and group work pieces were very Burlesque."
Director Mark Mori of "Bettie Page Reveals All" 
When asked what it was like for Bettie fans viewing his film: 
"When I saw their reaction, how emotional they were when they saw the film and how connected - they felt connected with Bettie before the film - but then to actually basically come as close as you can to meeting and encountering and having interaction with Bettie - their emotional reaction - that really meant so much to me."
The Moonlight Howlers
When asked if their albums have original or cover songs Raffael Weatherly said:
"Everything that we've recorded and done on albums is all original material except 'Walking in the Sand' (by George "Shadow Morton" of the Shangrilas)."
Imogen Kelly
When asked what one of her favorite things about Burlesque Hall of Fame was:  
"The dressing room was really amazing thanks to Coco Lectric.
Si Cranstoun
When asked about his famous "Nappy Brown" bassist Stewart Pannaman:
"Stew is the knowledge, he's the man. Seriously. Apart from being a great Double Bass & Electric Bass player, there ain't a thing Stew don't know about the Rockin' Scene & Vintage R&B."
Melody Sweets
When asked where she grew up:
"I grew up in California until I was around ten, and then I moved around a lot. East Coast, West Coast, and then I moved to New York in 1999, because I wanted to party like it was 1999 like Prince said."
Jonathan Joffe
When asked how he chose film score composer Johnny Summers:
"When Johnny came to the sort-of interview about composing for the film, I knew he was the guy. He brought his trumpet, and five different kinds of mute. So that's it, he understood. He didn't come with a synthesizer, a cd. It was a very interesting experience, and he put a lot of hard work into composing the music for this film."
Michelle L'Amour
When asked what her new routine she performed at Burlesque Hall of Fame 2012 "Atlas" was about:

"It's about the struggle and acceptance of your own power. It's about accepting your own power and how difficult that can be."
Then there are the many reviews which are in the book...
Check out the full description of everyone included via the ebook page at http://www.frankietease.com/p/ebooks.html, our book series perma-link. My first effort (Vol.1) contained 30 print size pages, approximately 58 pages in eBook form. The next book in the series will be almost double the size as will all others in the future of the series, and still there will be no ads in the book. It's a book, not a magazine. Editorial is king (though you can advertise on the mag's website).

But what is planned for the new book that's different from Volume 1? First, there will be a lot more content that has never been published. As more people are aware of the magazine and eBook series, we are invited to review and interview bigger and more spectacular events all the time. This means more  choices for the eBook, wonderful pictorials, editorials, interviews, and reviews with shockingly famous stars who play Vegas year-round. The city of Vegas never sleeps. 
Second, we have a quality camera and the will to go get amazing shots that are high rez. Though friend photographers contributed to the last book, there will be more Frankie Tease Magazine photos directly from event access to show you we were there, and what was great about it. The photos are going to blow you away. There is the Viva Las Vegas previews, the confirmed interviews with Frankie Reverend Horton Heat (Texas), Moreno (Stratosphere), Murray Sawchuck (Tropicana), Perle Noir (New Orleans), and the large feature on famous mob daughter Amy Hanley's (Sin City Rules) couture line for 2013, as well as Winter in Venice at the Venetian pictorial. These are just the tail-end of the excitement I've been up to for the June-Dec. Vol. 2 eBook. It's going to be amazing.
Right now I want to talk to new-to eBook or never-heard-of-an eBook people. It's the wave of the future. No print, no waste, and extremely accessible from anywhere. Let's face it, how many times did you wish you had great content to check out while at the airport or non-internet accessible moments? This series is great for that. Your tablet, phone, or computer can access the eBook, and with some vendors, like Copia, you can even pass notes to friends about articles. Most importantly, if you are going to turn a friend or family member on to great new artists by sending the eBook as a gift, you can do it in a click. They in turn, will receive the email to access their eBook delivery. Some services like Amazon even allow you to loan the eBook to a friend for a week, (like real live books).
To those who have read Vol. 1, Thank you and I sincerely hope you enjoy the effort we are putting in to the series Volume 2 (we is me and my helpers). Collect all the books, with a click. They are going to remain affordable at a great under $10 value of $3.99. The effort to show you around fabulous Las Vegas in my second year here will be noticeable  Including: Interviews, Reviews, News, Photos, Burlesque, Comedy, Culture, and Music. Frankie Tease Magazine and the Best of Frankie Tease Magazine eBook series are here to..."Stimulate your Inner Vegas." 
The information and eBook content isn't just for those in Las Vegas, nor just for those who visit Las Vegas. The languages the eBook is available in and the events and artists covered are international and for world-wide readers.
Thank You and Happy Holidays.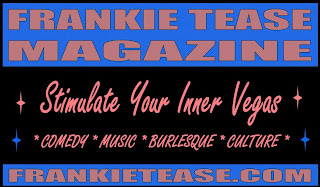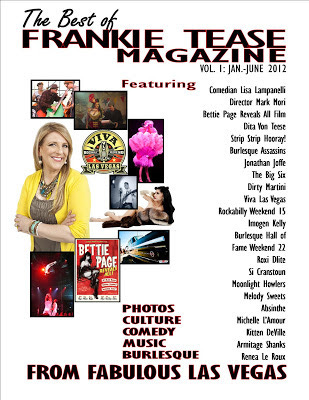 For story consideration please write missfrankietease[at]gmail.com

Related Link: 

eBook Perma-Link and where to buy: http://www.frankietease.com/p/ebooks.html


© 2012, frankietease.com. All rights reserved. All content copyrighted or used with permission. This content may not be distributed, modified, reproduced in whole or in part without prior permission from frankietease.com.