Discover more from Frankie Tease
Cults in the news. Cult Madness News is reports from a variety of sources by the Frankie Files Podcast host and writer Frankie Tease and Hot Takes of a Cult Kid Podcast.
"Surf the Musical" Brings the "Beach Boys" Music to a New Generation and Closes a Month into Vegas Run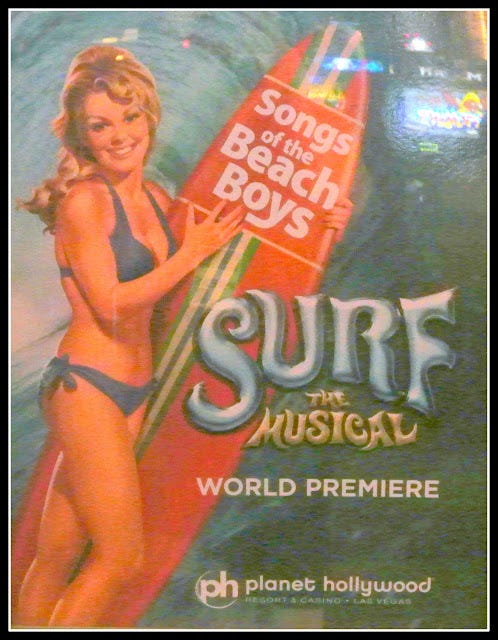 The allure of a musical set to original tracks of the Beach Boys was too much to bare. I decided to go check out the new show on the Las Vegas Strip which rolled out the red carpet July 17th, 2012. But just as I was getting 'on board' the surf hullabaloo, the show announced it would be closing August 15th, 2012, a month or so after it's official opening. Shucks, now I had to rush. 
Ticket sales seem to be the bottom-line reason to close, according to the Las Vegas Sun, which reported that the show would be closing early, and that it was never officially endorsed by the Beach Boys. Could the reason for its' closing simply be the lack of endorsement by the Beach Boys themselves like it's predecessor "Good Vibrations" which only ran a short time on Broadway? I surely hope not. 
A star-studded cast of Broadway & TV performers put their all into this highly modernized production called "Surf the Musical" with its roots in California, 1962. It started strong with "Surfin' Safari" and hot-ticket Tony-winning Broadway Director Kristen Hanggi (Rock of Ages will open at the Venetian 2012 on the Strip) gave us at least 20 other high-level well-sung original Beach Boy tunes belted to recorded (and at times live) music. The show was geared toward every age, with vintage tie-ins that anyone who lived in Southern California in the 60's (even if in the latter half, like myself) would cherish (including life-sized projections of vintage postcards, maps, and shots of the coast and beach). There were fun scenarios that everyone could get behind like surfing-singers, several hot-rod vintage cars, bonfires at the beach, and pretty boys and girls in bathing suits. Who wouldn't watch tan, tone bodies dancing and surfing with huge wave backdrops?
Story? Yes there was a story. It seemed to be a mix of "Beach Blanket Bingo" meets "Grease" meets "West Side Story" at its' core - I was never complaining -  and is based upon the novel by Burton Young. I'm sure it was no accident that some cast members had played Broadway roles in "West Side Story" and "Grease", as well as "High School Musical" (such as  the lead male and female).
The production had enthusiasm, momentum, and so much Broadway-quality singing, dancing, and choreography, that you wouldn't know its' sales had been suffering (local residents took advantage of two-for-one, kids free discounts during the last weeks). But people came out in August post-olympics and the seats looked fairly full the night before closing, August 14. In short, it was: small-town Cali. Girl loves guy, girl surfs with guy, guy announces he has to leave town for big dream record deal, girl gets stolen by bad-boy surfer, boy returns to town, boy gets girl back by singing "Little Surfer Girl". Boy, girl and bad-boy, all make-up and shake hands singing "gotta keep these love good, vibrations a-happening with us", leading into the song "Good Vibrations" as their finale.
For me the strength in the production was it's ability to weave the story so cleverly around already-written lyrics that have stood the test of time, and to interject original scores in-between the classics that weren't too bad. In essence the story was simple and shallow (like many musicals) and I loved it. They brought the song "T-Bird" right into the story by literally having Dad take Brooke's T-Bird away (that was the car her dad bought for her Mom before she died). And when Brooke breaks up with the bad-boy boyfriend (Alex Ringer as Rip (West Side Story, A Chorus Line, Naked Boys Singing), he goes to Rhonda singing "Help Me Rhonda, help me get her out my heart". Or when Rip's car goes racing, it launched the cast into a mean version of "409" with catchy lyrics like "giddee-up giddee-up 409, nothin' can catch her, nothin' can touch my 409".


This heart-lifting production made the annoyance I had with the inundation of Beach Boys music as a little girl, just melt away. This musical showed the Beach Boys sang timeless music, which is generationally enduring. The Father-Daughter duet of "In My Room" was spectacularly carried off by Tony Award Nominee Robert Torti as Paul the Dad (Starlight Express - and many other originating roles), as well as the lead female Brooke (Lauren Zakrin (Wicked). The harmonic song, (which had always seemed romantic to me) fit perfectly as a daddy-daughter moment, and was precious. It seems the ballads stole the show because the other real stand-out moment was when Tanner (Marshall Kennedy Carolan) and Brooke sang a duet, walking on the pier at night (ah, memories). The duet was dominated by the vocal delicacy of Carolan when he sang  (from "Wouldn't it Be Nice") "...happy times together we'd be spending, I wish that every kiss was never-ending..." at which  time he hit a peak note that would have made the Beach Boys' Brian Wilson proud. The audiences couldn't resist a huge applause-break mid-song as he hit the note. It was great. He and his girl were ascending in a hanging car seat floating up the rafters, as a huge electronic backdrop of a Ferris Wheel shone behind them. It was a prize moment of the show, maybe the most outstanding. But it also competed with many heart-throb moments of solos with Riley Costello (13: A New Musical, Bye Bye Birdie) who played Brooke's younger brother Nelson. This is a young  man who's soprano voice and spot-on skills wowed the crowd many-a-time, grabbing minor attention from the stars. 
A cast break-out was Nikki Tuazon (Charlies Angels, Hanna Montana, CSI) who stole the show as a triple-threat offering superior acting, dancing and singing. Nikki played Rhonda. You know, the "Help Me Rhonda" Rhonda. She vindicated all who were ever named Rhonda. Her overall presence brought a lot of joy and spice to her part. The supporting cast were all stunning, including lime-light actor Adrian Zmed as Nick (T.J. Hooker, Chicago, Bachelor Party) who was the mentor to all the surf kids via his "Surf Shop". He did a cover of the song "Heroes and Villains" a lesser-known tune of Brian Wilson and Van Dyke Parks and it was received half-heartedly by the audience, unlike his other singing scenes which were received well.
The show was young in nature, spectacularly digitally colorful, and never stopped moving at a very fast-pace, even if predictable. Hey it's a musical - of course it's predictable. What I loved is that Director Hanggi did not medley-ise the show until the end. We got mostly whole performances of the original score-sheets of the Beach Boys hits, but super young, talented voices doing it. That in itself was an adjustment - the really young part.  It just made me think... "Wouldn't it Be Nice?" if the show were to come back somewhere, sometime, soon?
Visit SurftheMusical.com and fawn over cast photos.

Photos by Frankie Tease
I met a couple young ladies attending the show who willingly posed for the camera. See, it does appeal to today's youth!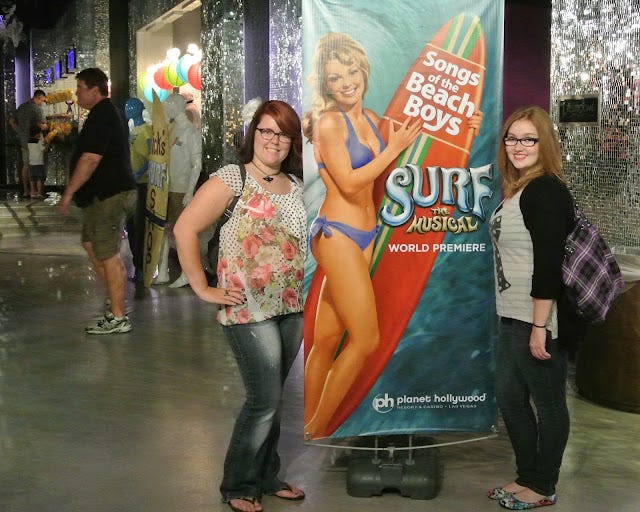 After the show I caught the same young ladies with their souvenir beach balls thrown by cast to audience at the end of the show. I also saw grown men carrying beach balls covetously.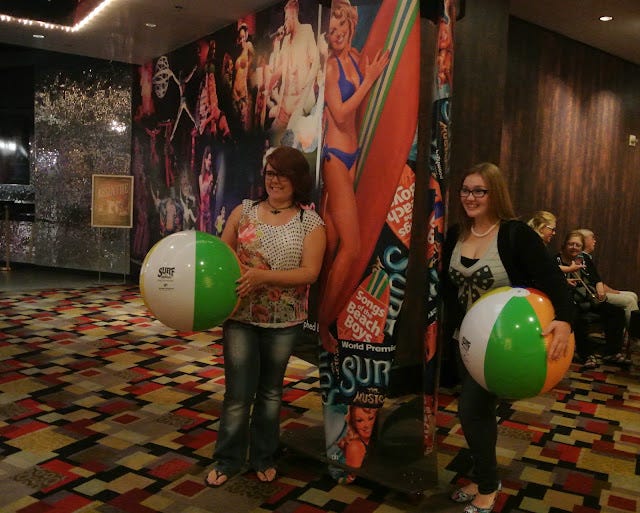 Tickets sales for "Surf the Musical" ceased 8/15/12 at Planet Hollywood Resort and Casino, Las Vegas. The Planet Hollywood Showroom houses adult-themed evening show "Peepshow" almost nighty starring Holly Madison of Playboy fame.



























Photos and article by Frankie Tease of Las Vegas
© 2012, frankietease.com. All rights reserved. All content copyrighted or used with permission. This content may not be distributed, modified, reproduced in whole or in part without prior permission from frankietease.com.