Discover more from Frankie Tease
Cults in the news. Cult Madness News is reports from a variety of sources by the Frankie Files Podcast host and writer Frankie Tease and Hot Takes of a Cult Kid Podcast.
Skyvue Observation Wheel to Join Vegas Skyline by 2013
Skyvue Observation Wheel to 
Join Vegas Skyline New Year of 2013
A Preview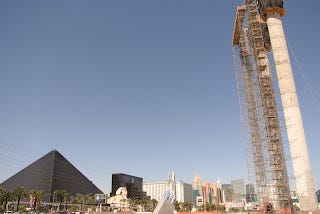 There is a new addition to the Las Vegas skyline making its way to completion very soon. The massive 40 car observation wheel and event center will sit at the South Vegas Strip end, at the intersection of Mandalay Bay Drive and Las Vegas Blvd. The groundbreaking ceremonies were held May 23, 2011, with a promise to see the wheel come to fruition in 18 months. The new structure will be on the East side of the  Las Vegas Strip, the same side as McCarran International Airport. In fact, the wheel may well be the first thing you see flying into Vegas now, perhaps in competition with its neighboring light beam into space coming from the Luxor. Other neighbors to Skyvue include Mandalay Bay, The Little Church of the West, The Las Vegas Sign, and the Luxor who can't be complaining about new business the big wheel in the sky will attract. 
Taller than Mandalay Bay (that's tall!), the hanging Gondolas on the observation wheel will hold up to 25 people each, and will be the size of a typical room in a home. Rooms are glass-enclosed and the ride will take approximately 30 minutes, and what a view.
The Skyvue encompases a 30,000 sq. foot L.E.D. screen at its center which will present a show on the hour. Promotions claim it will be the largest show on the Las Vegas Strip. Skyvue will be viewed by more than four million visitors to Vegas each year, while 37 million planes taking off from the nearby airport will see the glowing L.E.D. observation wheel. Concerts, product promotions and events will be launched at the new location according to Skyvuelasvegas.com. New Year's Eve will be tele-casted all over the world from Skyvue, but it's still not clear if that means 2013's New Year. The Skyvue plans to outdo the landmark 445 ft. London Eye across the pond in England by a height of 50 feet.
Keep an eye on the website and announcements and hey, maybe you can be one of the first to ride Las Vegas's first ever observation wheel. How romantic.
Photos and article by Frankie Tease
Related Links
Virtual fly-through video tour http://vimeo.com/41367518
KLAS 8 Groundbreaking story http://tinyurl.com/9evl6lf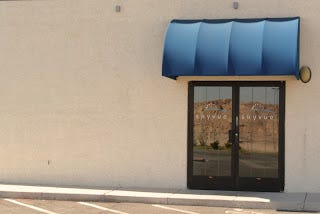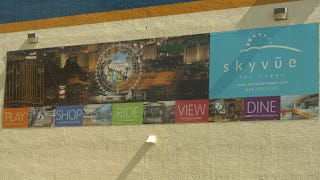 © 2012, frankietease.com. All rights reserved. All content copyrighted or used with permission. This content may not be distributed, modified, reproduced in whole or in part without prior permission from frankietease.com.