Discover more from Frankie Tease
Cult Madness News, Frankie Files Podcast, Hot Takes of a Cult Kid Podcast, by Frankie Tease, writer & Morningland #LongBeachCult adult child survivor.
Singer Mark Giovi Takes Vegas By Storm Almost Nightly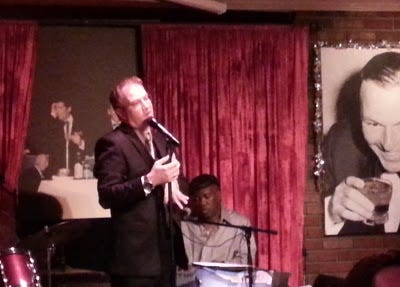 I encountered Mark Giovo while on assignment photographing Ann Marie's 90th birthday party at the world famous old style Vegas Italian restaurant "Casa Di Amore". The unassuming restaurant is hidden way off-strip on East Tropicana. The 150 or so capacity dinner house has a small stage and sound system as well as more seating at the bar, where you can also take in dinner. This particular night was full of about 100 guests for the birthday party, and there was also a just-married couple who chose to spend their night at Casa Di Amore.
I was so busy with the party photography that only part of me was focused on the singer on stage backed by the house drummer Clyde Dual and keyboardist Ronnie Payne. The singer in question? Mark Giovi. Mark is disabled, (his left arm is shorter than his right) but you only notice it for about the first 15 seconds of seeing him. After that, all you'll ever notice is his boyish good looks (at age 44) and that voice. Possessing the power of a rock singer, and the finesse of an opera singer, he received a full standing ovation that night for his rendition of "Music of the Night" from Phantom of the Opera. I bet he gets that a lot. I couldn't personally believe my ears. It was epic. That's when I decided this singer was much much more than he appeared. I arranged the interview, and here is what he had to say.
FT: Hi Mark it's a pleasure to speak with you. My first question is an obvious one. When did you start singing?
MG: I started singing when I was about seven years old. My grandparents had a restaurant in New Jersey. My father's band used to play Thursday, Friday, Saturdays. I would go into the restaurant and start singing with his band around age seven or eight. The first song I ever sung in public was "You Light Up My Life" (Joe Brooks). 
FT: Was this an Italian restaurant?
MG: Yes.
FT: Would you consider yourself a traditional Italian singer?
MG:  I wouldn't say that because I do sing songs in Italian, arias and things like that, but I don't speak Italian. 
FT: When did you migrate to Vegas?
MG: It'll be nine years in March that my wife and I decided to move from New Jersey. I had lived in Los Angeles prior to that for about ten years. I traveled the world as a back-up singer and tour manager for major recording artist Aaron Carter (brother of Back Street Boy's Nick Carter). Aaron was a teen age pop star who sold over ten million records. I was his road manager. I met my wife back home in New Jersey and I moved back there to be with her and we got married. I couldn't take the winters any more, because I was used to living in California. I didn't want to deal with the snow and cold weather. So we moved out here about nine years ago.
FT: Did Vegas call your name because of all the stage opportunities? 
MG: Yeah, I wanted to get out of the tour managing and get back into the singing. I said "Let's try Las Vegas". We came out here, and we're doing okay. I came out here we had no place to live really, because we were just going to stay with a buddy until we got our feet wet. I had no place to live, we had no jobs and she was pregnant. 
FT: Now that's love. She followed you.
MG: She did yeah.
FT: Where did you get your start on the Vegas stages?
MG: The first few months that I was here, I couldn't get a job doing anything, not anything. Not just singing alone, not anything. A friend of mine who I met who was in the entertainment business out here had a production company and he also owned a concrete company. He gave me a job with his concrete company. I started working doing that and then little by little I got more and more gigs singing and I was able to stop doing that. Then, I was asked to be at the show which was at the Stratosphere called "Bite", and I was there for six years. (The topless show has since changed formats and moved from the Stratosphere to the Plaza downtown). 
FT: I never got to see that show. What kind of music did you sing in it? 
MG: That was all classic rock music. We did a version of "Come Sail Away". I did rock version of "Moondance". And then a medley of the Opera Nessun Dorma and into "Stairway to Heaven". 
FT: How has life after "Bite" been?
MG: Life after Bite has been really good. I also was one of the Las Vegas Tenors. We started the group the Las Vegas Tenors. We sang opera at the Hilton and Suncoast for a bit. I haven't been doing that for a while now. But everything has been really fantastic. I'm working four nights a week at Casa Di Amore, and I also do an open jam night thing at the Tap House which is on Charleston just east of Jones, every Monday Night. That's been a success, I've been going for about a year and a half.
FT: I imagine you get a lot of VIP's coming to your shows.
MG: Some, yeah. Well I've had people from the rock world. Paul Shortino (Rough Cut, Quiet Riot) has been in. I've had Rich Little who's come through. Steve Rossi, they come in. Next weekend coming up I'm going to be opening up for Brad Garrett at his MGM comedy club. I'm opening up for him Friday Saturday and Sunday of next week. '
FT: What will you sing?
MG: Mostly blues. I'll do two or three songs, and then the comedians come out. Brad heard me sing at an event and then asked me to come down and open up for him when he's in town. 
FT: You get your gigs after they hear you sing then?
MG: Yea a lot of times they hear me and ask if I can do a date somewhere else.
FT: Your range is shocking.
MG: I've been a heavy metal singer, I've been in the Las Vegas Tenors doing opera, and I also do R&B and blues, a little bit of everything. 
FT: Is Casa Di Amore part of underground Vegas?
MG: To be honest with you it's definitely a well known local place, but it also is.. last night we had a party of 36 from Washington state. We get a lot of tourists, and a lot of people from the strip. They want to come to the "old time Vegas".
FT: The Tap House is an event you host right?
MG: Yeah I usually get about 20 different singers, five to ten different musicians come in. I have a full band I work with there but we get anywhere from five to ten different musicians coming in. Sometimes we end up with a whole horn section. It's a lot of fun.
FT: Well it's great to talk to a working artist. Congratulations, and stay busy.
MG: It's great to be a working artist. Thank You.
See Mark Giovi at Casa Di Amore  Wed-Sat. 6:30-10:30pm, 2850 East Tropicana Ave., (reservations recommended) (702) 433-4967.

Catch the Open-Mic where other professionals jam with Mark Giovi as host at the Tap House, Mon. 7:30-11:30, 5589 W. Charleston Blvd. (reservations recommended) 702 870-2111.

Mark Giovi opens for Brad Garrett Jan. 25, 26 27 at Garrett's Comedy Club at MGM Resort, and other dates. Tickets 866-740-7711.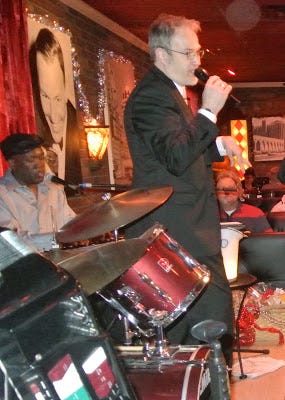 © 2012, frankietease.com. All rights reserved. All content copyrighted or used with permission. This content may not be distributed, modified, reproduced in whole or in part without prior permission from frankietease.com.