Discover more from Frankie Tease
Cults in the news. Cult Madness News is reports from a variety of sources by the Frankie Files Podcast host and writer Frankie Tease and Hot Takes of a Cult Kid Podcast.
Si Cranstoun's "Dance Halls and Supper Clubs"? The Boys Done Good.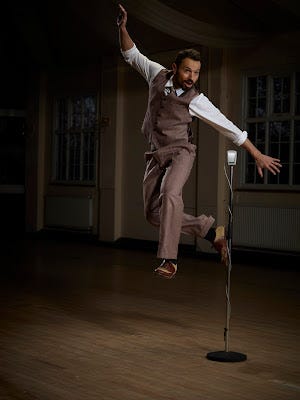 In 2012, Si Cranstoun came to Las Vegas and played the Viva Las Vegas Rockabilly Weekender as his first ever U.S. gig. (It was love at first tune for both fans and band, and he's billed again for 2013). That's when I saw the wild audience response to the man and his band. Is it possible to experience instant nostalgia for that which you have never heard? Such was the case for me with Si Cranstoun (UK). His live show is like a recording of Doo Wop or Swing Music by Jackie Wilson, Nat King Cole, or at times the power vocals of Sammy Davis Jr. 
Si Cranstoun has just released his new album "Dance Halls & Supper Clubs, Limited Edition" (2012 Galley Music) featuring ten songs and two bonus tracks. What's fascinating about it is that Si is the Composer, Vocalist, and Producer [Engineered by Jon Radford and Si Cranstoun, Mastered by Guy Davie of Electric Mastering], and with all that autonomy, it still sounds amazing. His fifth album effort including a single in 2010, Si Cranstoun has remained prolific with his new outfit. He keeps writing and recording amid a steady touring schedule at -you guessed it - dance halls and supper clubs throughout Europe. 
Review
The album starts with one of those upbeat straight-ahead vocal gems that sounds old, but isn't. "Coupe De Ville" is a rocker with a nice back beat, back-up horns, and harmonic 50's vocals. There is also some Boogie-Woogie piano thrown in by slick-handed Paddy Milner, who's a UK music star in his own right. Just to be clear, every single song on this album is an original creation of Si Cranstoun, and it will stand up to any of the purest purist's scrutiny for musicianship, composition, execution, and style.
The album then switch-hits to a soulful rhythmic song that could have aired 1961, Mowtown USA "Run Free". A beautifully gritty song that soars with horn solos from Don Faulkner and Bob Dowell, while never losing the dance beat. As refreshing as a crisp spring day, Si moves on to "Italian Eyes", a song that spends time fawning over a woman with classic beauty and features. Jon Radford's torrential trumpeting fits in magically. Si masterfully slows it down for his audience next with "Daddy's Gotcha". An endearing traditional slow-dance Doo Wop song who's hook is (for me) the way he pronounces daddy, not to mention the Barritone Sax bopping in the background, sigh. 
That slow-down didn't last long. Every mid-century fanatics dream is to have the 50's come to life. In "Tweet on Twitter" this dream comes true. Merging a very modern social media activity with infectious 50's bopping dance beats, this song would have driven Dick Clark mad. My favorite line is 'I don't care if they're tweetin' about me with you'. Be careful this song is so catchy it has the potential to be the next "Party Rock Anthem" by LMFAO.
In a similar vein, stay on the dance floor because here comes "Ella Hula Hula". Upbeat 50's Rock N' Roll, this is a song about a beautiful hula dancer that captivates Si. Then, everybody knows "Nightime" (is the right time), and in this original six-minute song, we get to hear Si doing spectacular classic blues with some of the best musicians around. Time to be manically happy and upbeat again with "Bella Principessa" where Si sings deeply and masterfully in Italian (reportedly Sinatra's favorite language to sing in). Singing quietly during the bridge, Si is a candid gentleman confessing deep desires. I would definitely say that the shuffle beat maintained on this song shows off Mez Clough's complex drum talent very well.
In a complete departure of style "Rise and Shine" has all the earmarks of a traditional mainstream vocal hit, while still feeling totally early sixties. A sing-along that doesn't get old (ask my Mom who sings it at all our meetings now), this little ditty moves right along with a small A Cappella vocal part handled with ease by classic full-ranged Si Cranstoun talent, limerick-like lyrics, and big horns.
Back to my favorite stuff: a shuffle beat with romantic melody and storyline. Talented composition and handling of tasteful horn accents in "Moon & Stars" let's you know where the group has found their home: being a dance band. If you dance East Coast Swing and Jive this will ride high on your list. I really enjoy the solid Double-bass talent throughout this and every song by legendary Stewart Pannaman (worked with the Nappy Brown). 
One of two bonus tracks "Dynamo (Big Band Cut)" (Si's first solo-release single in 2010, with B-side "Skinny Jeans") is a new version of an already successful song. Dynamo is not only fashioned after Si's vocal hero Jackie Wilson (who's album collection he owns), but he even tributes the man with lyrics saying "someone that can celebrate the Jackie Wilson Rock N' Roll" while singing about his dream girl. Bonus track number two: "Lonesome Heart Bandit" was one of my favorites live, and the album version does not disappoint. A song about a man who's heart has been stolen and there's nothing he can do about it, but set to a super upbeat (but not annoying) shuffle beat. Lonesome Heart Bandit at times feels like Hollywood Western Swing. Mixing major and minor chords, with modulation, and amazing saxiphone leads, it's a dancer and a toe-tapper showing off massive vocal power from the man.
How can you be sexy, suggestive, and never use expletives or put women down or offend young listeners? Check out Si Cranstoun, the massive musical talent. Oh, and take it from a woman, this is date night and dance-party approved.
Si (sigh) is no stranger to success. His first music career was with the cherished UK Ska and Reggae band "The Dualers" who enjoyed three chart-topping 20-something hits on The UK Top 100 Chart. In 2010, Cranstoun went solo leaving his brother and band. Si and his band of five other musicians make up their road band. Guests were added for this recording. 
Si Cranstoun "Dance Halls & Supper Clubs" 
(2012) Galley Music Publishing
$10.00 via http://www.sicranstoun.com/
Score: ***** (5 OF 5 STARS)
Highly Recommended by Frankie Tease Magazine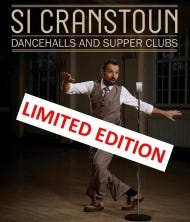 Personnel:
Pulisher: Galley Music Publishing

Producer / Composer / Songwriter / Singer / Guitar: Si Cranstoun
Trumpets: Jon Radford (who also helped chart horn section)
Sax's: Dan Faulkner
Trombones: Bob Dowell
Double Bass: Stewart Pannaman
Lead Guitars: Jay Gipson
Drums: Mez Clough
Pianos: Paddy Milner 
Review by Frankie Tease of Las Vegas
Related links: 
www.sicranstoun.com
http://www.frankietease.com/2012/05/si-cranstoun-brings-jackie-wilson-to.html

Si Cranstoun's Official Video "Coup De Ville"
Released Oct. 12, 2012


Here is a new video edit 
of Coupe Deville
as of Mar. 2013
© 2012, frankietease.com. All rights reserved. All content copyrighted or used with permission. This content may not be distributed, modified, reproduced in whole or in part without prior permission from frankietease.com.