Discover more from Frankie Tease
Cults in the news. Cult Madness News is reports from a variety of sources by the Frankie Files Podcast host and writer Frankie Tease and Hot Takes of a Cult Kid Podcast.
Si Cranstoun brings Jackie Wilson to life during Viva Las Vegas 15, 2012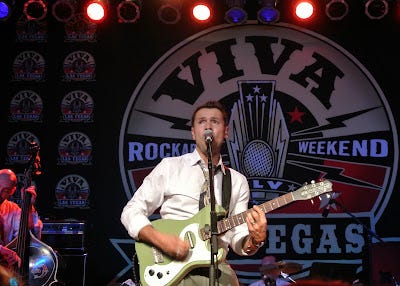 Stew Pannaman and Si Cranstoun at Viva Las Vegas
Rockabilly Weekend, Las Vegas, 2013.
Before Viva Las Vegas 15 (Rockabilly Weekend held April 5-8, 2012 in Vegas), I had never heard of Si Cranstoun (Si is short for his birth name Simone). It turns out I had heard of a 50's style singer from the UK who worked with a Portland,
Oregon area Pin-up a few years back, though I never new there was a connection.
I stumbled into the Bienville Room for the first set that Si Cranstoun played at Viva Las Vegas, and to my pleasant surprise I found a man with the ability to belt out tunes with utter style and control, backed up by a masterful band. Oh, and the man can dance. He played his voice like the instrument so many 50's Rock N' Roll stars used to do. Vocals weren't auto-corrected by top-notch producers in a studio, back then they were laid down clean. 
By Sunday of his visit to Viva Las Vegas at the Orleans Hotel, a mass amount of people had heard about Si Cranstoun and that they shouldn't miss his finale' performance in the Ballroom. I caught his second performance too and it was met with a thunderous applause from the audience, and three encores. The set was electric and like so many this year at Viva, I became a Si Cranstoun fan. With musical influences like Jackie Wilson, Sam Cooke, Elvis Presley, Nat King Cole, Perry Como, Nappy Brown, Frank Sinatra, Luciano Pavarotti, and having written his first song over 16 years ago, Si is meant to be heard by more than just a few British across the pond, he's poised to be world-wide. Here is my exclusive interview via email waves, of the "Sensation from Surrey" that is known as Si (sounds like sigh) Cranstoun. During our conversation he made sure to tell me, he will always be a music fan first. 
FT: Are you currently married with children in the UK in the city of Surrey where you were born?
SC: Yes, it's wonderful here.
FT: Your stage show is so very energetic and impressive. It's obvious you stylize your moves after Jackie Wilson and Elvis. What training have you had to create those steps?
SC: Wow thanks for the compliment. Erm- wella wella wella. I've had no training. In fact I'd really like some. I just love the rhythms and the no nonsense melodies. When a man is smack bang in the middle of what he loves, he's not thinking. He's just reveling, and reveling is all I do if the music is good !
FT: Can you explain your song-writing experience working with famed Grammy winner Graham Lyle (wrote for Michael Jackson and Tina Turner)?
SC: Graham Lyle offered a huge amo+unt of encouragement when I was teenager in my first school band - he really turned the path I was heading down into one of musical study. I was originally going to join the services, the RAF or the Navy.


FT: You've experienced some commercial success in the UK in your previous Ska duo project The Dualers. As a solo artist do you find overseeing everything including the recordings more organic, fulfilling, and autonomous? If not what's the difference for you? 
SC: It has been incredibly rewarding to have free reign on the music but it did take a while to really feel completely at ease with it. My brother is and was a huge talent and I early on I felt there was this big empty space on the stage, but after a while it became more comfortable.


FT: Was Viva Las Vegas 15 your first tour to the states?
SC: Yes!
FT: Both your scheduled performances were received with great enthusiasm [at VLV15], what was it like to play that crowd?
SC: Well thanks very much again for your complimentary question. Having been an outsider to the scene up until a few years ago, it struck me how this scene was so much more than just being about the music. It was and is a complete
lifestyle. In particular, (being a red-blooded male) what also stood out were the stunning Rockabilly Pin-Up Girls. These girls had the dress, the hair, the shoes & the figures. So, I was compelled to write about it. Bernie Dexter and her legendary husband Levi Dexter had become friends and supporters of me and we all got together in England one day and Bernie agreed to be in the video. I remember she came onto the set in her jeans looking lovely, went into wardrobe, and came back out a little while later and BAM! Everyone on the set was drawling and gawping - She looked outrageously good.
FT: How does having Nappy Brown's original bass player Stewart Pannaman help set the tone of your band?
SC: Stew is the knowledge, he's the man. Seriously. Apart from being a great Double Bass & Electric Bass player, there ain't a thing Stew don't know about the Rockin' Scene & Vintage R&B. The band are serious. There's no drugs or alcohol here—we are on stage to serve the public to best of our abilities.


FT: You are describing the new album "Dance Halls and Supper Clubs" (July 2012) as having the "melodies up-front, and the pulse dance friendly." That's a great niche to hold. Can you tell us more about it, and what musicians are featured on on the album?
SC: On the album we have a super talented piano player Paddy Milner. This man can play the piano, WELL! I'm talking about hitting the right keys in the right order at the right time! Paddy is gifted and I'm so proud and lucky that he was in the country to record for me. We also have a my mighty mighty brass section Dan Faulkner-Sax, Jon Radford-Trumpet, and Bob Dowell-Trombone. These guys could make a racket like a great big band and then go on to sound like they were out on stage with Louis Prima. Then there's "Mez" Mighty Mez on drums thumping down the beats. Yeah baby - thump that rhythm - cuz the feet's got to dance!
FT: When can we expect to see Si in the U.S. again? Please say soon.
SC: Well I really hope we can get something together. We'd love to tour the west coast, we just need to source the right promoter. Someone sensible that can make it cost effective for the venues and of course my band and myself. If you're out there contact the website immediately [SiCranstoun.com].
Si Cranstoun is scheduled to play at Viva Las Vegas Rockabilly Weekend March 28-31, 2013 Orleans Hotel, Las Vegas.
This interview was originally published in the eBook 
The Best of Frankie Tease Magazine Vol. 1

Related Links:
www.sicranstoun.com
© 2012, frankietease.com. All rights reserved. All content copyrighted or used with permission. This content may not be distributed, modified, reproduced in whole or in part without prior permission from frankietease.com.