Discover more from Frankie Tease
Cult Madness News, Frankie Files Podcast, Hot Takes of a Cult Kid Podcast, by Frankie Tease, writer & Morningland #LongBeachCult adult child survivor.
Sexy, Sultry, Playmate Claire Sinclair is the Jewel of Pinup at Stratosphere Las Vegas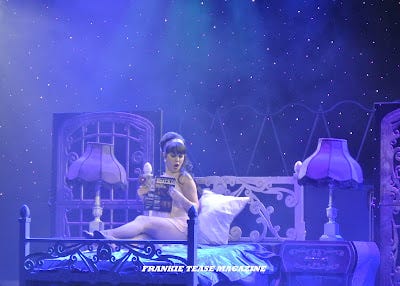 The long awaited Pinup Red Carpet event finally came. Two months into working it out the show buzz had been going strong about what type of late night Vegas show this was going to be. First, the show's star Claire Sinclair is perhaps the youngest on the Las Vegas Strip. Though Sinclair has been featured in a suggestive show (Crazy Horse Paris, MGM) this is the first time she's a resident star. With this, she has accomplished going from Print Media to carrying the weight of a Vegas show, all before reaching 22. Delightfully, Sinclair acts as the host of a retro romp through a virtual year of Calendar Girls using the maelstrom of talent in the six piece backing band featuring Trumpeter and Music Director David Perrico, as well as a spectacular singer Anne Martinez. The cast is filled out by four dancers, one lead male, six band members, one singer, and star Claire Sinclair. That's a "lucky 13" cast members.
The show creators Drew DiCostanzo and Frankie Moreno (the latter of which is no longer involved, nor is Lacey Schwimmer as choreographer) have created an amazing musical trip through the 40's-60's, with wonderful song selections. The show uses Frankie Moreno's mega-hit "Tangerine Honey" early on and moves on to a mostly vintage song set. The 75 minute show includes titles (in order): In the Mood, Dr. Feelgood, 13 Men, Come Fly with Me, I'm Only Happy When it Rains, Sing Sing Sing, You've Gotta Have Heart, Sleepwalk, Misirlou, Fujiyama Mama, Salt Peanuts, I Put a Spell on You, Jump Jive and Wail, Caravan, Calendar Girl into a medley of Girls Girls Girls, and Teenage Dreams (to name most all the music played). If you're a fan of the era, you'll be in heaven with only a couple departures in modern songs.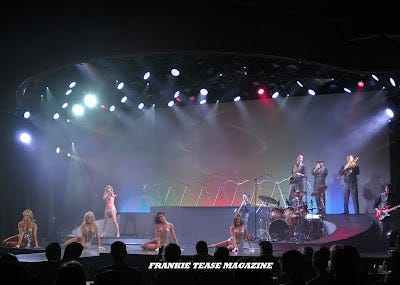 Band, Singer Ann Martinez and female dancers of Pinup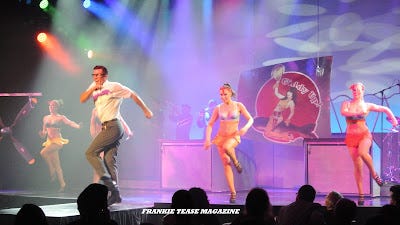 Solo Male Dancer Ryan Kelsey of Pinup
A couple of "why?" questions did come up for me. Why would you include a pole routine in a pinup vintage-era driven show? (Though, I adored the outstanding performance). The second was why did they choose zero nudity? But that also was overcome by talent, and by the second routine I was hooked. Perhaps Claire has done her exposing and is ready to be taken more seriously? Perhaps we shouldn't assume she'll be topless in her career. I'll tell you that after viewing the show, there are many more upskirt shots, than any bosom reveals. You're going to see more 'swing dance panty' than you ever bargained for. If you're in the front row you might abandon any lust for toplessness altogether and find new love in legs with ornate garters and fanny panties.
The show's worth? Yes you'll definitely get your money's worth in the lovely booth-clad renovated showroom as it does justice to the music it covers and there is literally never a dull moment. Even between numbers when our hostess Sinclair comes out to chat, she keeps it brief and very cute.

The mechanics also made a play for the audience's hearts. Machine noises that play a lead-in to the Rosie the Riveter tribute were fun. The riveters were working on "Claire Air" a super cute part of the imaginary show world of Pinup. One dancer even did ballet theatrics on a luggage cart to play the theme out. And there were magic tricks. Sinclair was a projection and voila, she's live and in person, not a flat screen. Once, Sinclair is shocked when reading in bed, as a pillow continues to snuggle up to her as it comes to life. The finale' of this routine was a shake of the bed sheet to reveal two other girls under the covers fading into a pillow fight. How'd they do that? We could see under the bed, and it was a mystery.
The producers, including Chris Townsend, sure got their money's worth in the band too. The most underrated performer has got to be the drummer who held everything together between numbers and even played drumsticks on the stage and some hapless patron's drinks in the front row. He playfully tinkled, while Sarah Short tap danced and each rhythmist tried to be victorious, but both won. The decision to make every single note played in the show live is an extremely exciting element.  It harkened back to a time in music union days when recorded music would have never been allowed in a show production. Oh how times have changed, as the majority of shows in U.S. and on the strip use non-live backing tracks. Great job on this decision guys.
Including the audience is a wonderful part of the experience. Dancers were performing in the crowd often to start numbers, and also Sinclair descending from stage to interact with patrons was a crowd pleaser. In addition, other fun tricks were included like interactive screen shots of performers mixed with live performers, which left us, the audience, wondering where they were coming from. The many movable props, a portable pole and additional staging also made the stage unrecognizable from its earlier show-friend in the same room, Frankie Moreno Live (in its second year).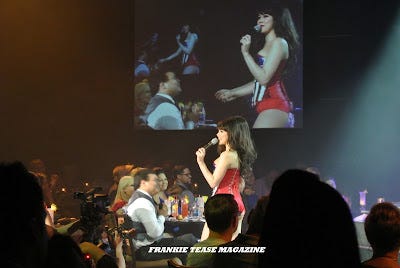 Sinclair goes into the audience to give a patron a gift.
The show was filled with deep talent. All types of dance shoes were needed (and an array of beautiful shoes were used for each scene) such as tap, ballet, jazz, swing, and even some adagio. The success is that it doesn't look borrowed for the show, the performers owned it and flaunted it, as they well should. Many dazzling formation routines were highlights of the show for me, but particularly December. There may not be a weak link in the production of Pinup - it knows where its going and it seems to have figured out how to get there, including the many wardrobe choices and changes. If you make a good soup, you start with top-notch ingredients, which this show has very much done, including the premise.
Sinclair is spectacular at being a figurehead, and wears a myriad of sexy outfits, educates you about her trip down fame lane, and doesn't try to be a trained dancer, when she's not. It's cool. Realy cool. The stellar dance team features only one male Ryan Kelsey, who is the right man for this job. He transforms himself with many looks and feels for the show, which really works. There were many broadway elements in his theatrics and more swing dance aerials than I've ever seen in one night, and I've been into swing dance shows and instructed for 15 years. That's a lot of aerials. At one point a dancer flew into the air sideways and he caught her mid-splits. The hits just kept on coming with that guy. This is the level of dance you long to see in many shows here on the strip, but never do.
Pinup is a high production value show that is cheeky while sexy, but never crosses into tawdry, not even a little. Any age over 21 would have a great time at this show, if only partly to encounter the beauty and happy girl aura of Claire Sinclair. She's a doll, a delight, a princess, a cute little 'girl next door' type that just happened to have been Miss October and Playboy Playmate of the Year for Heff. With the current oversaturation of so-so burlesque here in Vegas and throughout the nation, I believe the sexy and suggestive non-nude approach to this show will be just the reveal you are looking for, and you'll be toe-tapping the night away at Pinup. Bring a group or a date, either will work. 
Stratosphere Theater, TH-MON 10:30pm, $49.99 general, $59.99 VIP. (702) 380-7777. http://www.stratospherehotel.com/Casino/Nightlife/Shows/PIN-UP . Hotel Guests receive two for one show tickets.
I'll cherish this tweet from the Pinup Star sent to me about this review:
@frankietease Thank you so much for the very sweet "Pin Up" review. So glad you were able to make it to media night :) — Claire Sinclair(@ClaireSinclair_) May 3, 2013
Full Red Carpet and Show Slideshow
Red Carpet Event Video
© 2012, frankietease.com. All rights reserved. All content copyrighted or used with permission. This content may not be distributed, modified, reproduced in whole or in part without prior permission from frankietease.com.