Discover more from Frankie Tease
Cults in the news. Cult Madness News is reports from a variety of sources by the Frankie Files Podcast host and writer Frankie Tease and Hot Takes of a Cult Kid Podcast.
Seth Meyers comes to the Mirage March 2012
Going into his Eleventh season as head writer on the long-standing SNL comedy act 'Weekend Update', Seth has always had an excellent sense of sarcasm and biting observation in his writings and presentation of the faux-weekly news. He has had a long history of funny with the show during sketches too but seems to claim the longest running solo anchor and head writer position for the longest running segment of SNL above Chevy Chase and Dennis Miller who also sat on the throne.
Meyers has one night planned to hit the nail on the head here in Vegas and it should be exciting to see how his delivery differs in the stage arena vs. TV. Though not a newcomer to live performance, he'll be going from the highly scripted Saturday Night Live TV environment into this one-man show performance out of the TV news dialogue box. This show is presented as a part of the Aces of Comedy Tour at the Mirage. Terry Fator Theater at the Mirage Hotel and Casino, 10pm Mar. 23, 702 792-7777 or 800 963-9634, Mirage.com.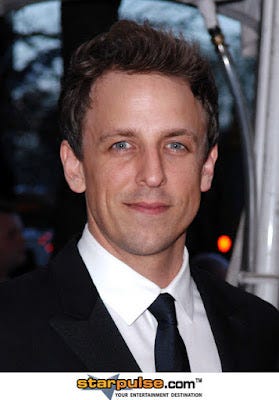 © 2012, frankietease.com. All rights reserved. All content copyrighted or used with permission. This content may not be distributed, modified, reproduced in whole or in part without prior permission from frankietease.com.