Discover more from Frankie Tease
Cult Madness News, Frankie Files Podcast, Hot Takes of a Cult Kid Podcast, by Frankie Tease, writer & Morningland #LongBeachCult adult child survivor.
Rock and Roll and Soul Reappear in Vintage Trouble - A Vegas Show Review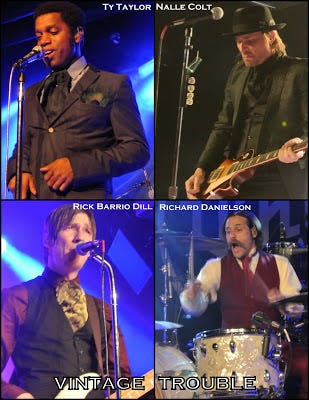 photos and article by Frankie Tease
The band are four. The band are powerful. The band are merciless in demanding you participate with them in celebrating great music. The show was Feb. 9, 2013 at Vinyl at Hard Rock Hotel Las Vegas, and was one of several shows they did that weekend. For the one I attended, they opened for Band of Skulls, but I would not have known they were the opener were it not billed so. They owned this room and owned this stage. And the fact that the music is written by all members of the band shows its sustainability.
During their stent at Hard Rock they opened for legendary UK Rock Gods the Who, which presented the Quadraphenia album in its entirety. Not bad. They've toured England and back, and are an L.A. based band who have been creating "trouble makers" (as their fans are known) for over two years. They've released one studio album entitled "The Bomb Shelter Sessions" featuring 14 original rock and soul songs. The band conjures Cream, AC/DC, Wolfmother, and other American 60's music combined at times with spiritual ballads, traditional rock and roll and blues. 
Each of the band members play a supporting role in the entire sound, though singer Ty Taylor anchors it with his absolutely astounding vocal range, and soulful sound. He has one of those gorgeous facial structures meant to sing and when he open his mouth, glory be, you might feel as though you've come to Jesus. Heart-stopping arpeggio displays happen mid or at end of song letting you know this ain't his first rodeo. 
What stands out during the live performance is Taylor's no-mercy approach to his audience. He wants you to dance, hold his hand while he croons, clap, throw your hands in the air, and move out the way because he's coming into the crowd to rile things up to the highest energy level possible. This guy isn't just filling space, he's there to touch the show goer directly. Taylor seems to understand what we want as audience members, to be handled. Not only can he rise to the challenge but he can fuck the shit out of his audience. The effect is that you come away completely satisfied, like never before. 
He is graced with the soul and dance moves of James Brown, the octave range of Al Green, the unabashed sex aura of Prince, the stylish footwork and surprises of Jackie Wilson, and the amazing voice of Lenny Kravits and of his own self, Ty Taylor. He is preaching between numbers, saying things that mean something, saying uplifting words about the "dark times" we are living in, and telling people to shake their negative energy out with him. He's making it happen without one second of half-assed shit we see so much in performers today. This guy's got soul, he's got it all.
Nalle Colt is extremely tantalizing with smoking hot rhythm and lead guitar and lending back-up vocals. I felt some Credence Clear Water, heavy blues of Led Zeplin and his crazy flipper fingers tearing up and down the neck. His licks stand alone and compliment the deep rich psychedelic sound produced by just four men who make up the quartet. The Gibson electric guitar he's workin', along with vintage amps are just what the doctor ordered to create a Jimi Hendrix style purple haze back-drop for Ty's amazing vocals and soulful or rocking tracks. He's never inattentive to the crowd - flirting, kneeling, coming down and rising back up to dance - while playing. He never stops.
Rick Barrio Dill not only sets the electric bass on fire throughout the entire set while hip thrusting to the deep beat, but he's got moves goin' all over that stage. Singing back-up and doing that vintage bass thing, he really lights up stage left with his presence, leaving no beat untouched. His boyish smile mixed with his passionate ferver let you know he's engaged, and is helping create the unique sound that these guys have. 
Handle-bar mustache wearing Rhythmist Richard Danielson dance-drums his way into all the audiences hearts. He's not your ordinary drummer, he's Richard. He's got an unexplainable style that involves a ton of bass drum with no shortage of hi-hat and crash ride cymbols. This all creates a unique rock sound that lets you know he's there but seamlessly compliments the rock opera they put out.
In tracks we got "Nancy Lee" which the band just performed on their late night talk show circuit including Conan and David Letterman. This is a song the band wrote about the story of how his mother and father met. Showcasing his wide range, he can get down and climb way up in octave to the point of stunning. During the song we see the antics which Taylor has become known for as he whirls in a circle mid-stage holding the mic stand upside down as he does so. Next "Total Strangers" was a song introduced as a story about how sometimes if you need to spice up a relationship you can pretend you don't know one another. 
"You Better Believe It" is a rich sing-along that Taylor told us was written about an ex-girlfriend who's name he left out thanks to the coaxing of Nalle Colt during the writing process. Good call Nalle. "Run Baby Run" is a straight southern sounding rock tune and fast enough paced to get your heart going and the crowd dancing in place and in circles, as well as clapping along. Then came a ballad called "Nobody Told Me" about the weight of the world, masterfully delivered slowing things down just long enough to let us think. They played several other songs from their debut album, and a few features from their upcoming album. 
Taylor said in closing "We love playing large arenas, that's a kid's dream. But playing smaller venues like this is an adult dream. You can't smell the titty sweat in an arena" as everyone laughed. The band finalized the set with "Strike Your Light" ...right on me. A super funky rock song with driving treble guitar riffs that are so catchy you find yourself shocked when it's over. The band jumped (literally) off stage to do a meet-and greet for their fans outside the venue. People crowded the receiving line to get albums they just bought signed, arms signed (I did) t-shirts signed, and to shake hands with the men. I met "trouble makers" who'd driven from California and one from Washington state who said she goes to as many shows as possible. The band has a devoted and growing following. The second album is coming and the band's momentum is really gaining strides. I can't recommend them highly enough. Go to the show and buy the album, keep this rocking outfit around. Vintage Trouble have a lot of style in dress-code and even more in music. 
Video Photos and article by Frankie Tease
PHOTO SLIDESHOW OF HARD ROCK VEGAS SHOW
FRANKIE'S VIDEO SNIPPET OF 
HARD ROCK VEGAS SHOW
"TEARDROPS"
THEY PLAYED LIVE -
"BLUES HAND ME DOWN"
"DAVID LETTERMAN"
DEC. 7, 2012 
GET TO KNOW VINTAGE TROUBLE 
 PART 1 INTERVIEW
(from 2010 - credits on film)
 GET TO KNOW VINTAGE TROUBLE 
 PART 2 INTERVIEW
(from 2010 - credits on film)
© 2012, frankietease.com. All rights reserved. All content copyrighted or used with permission. This content may not be distributed, modified, reproduced in whole or in part without prior permission from frankietease.com.