Discover more from Frankie Tease
Cults in the news. Cult Madness News is reports from a variety of sources by the Frankie Files Podcast host and writer Frankie Tease and Hot Takes of a Cult Kid Podcast.
Rob Riggle creates more than a Giggle May 10-12 at the Paris, Las Vegas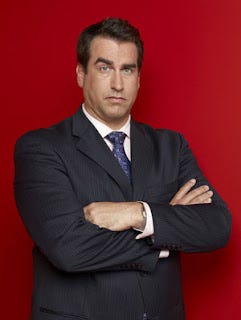 Photo courtesy of ParisLasVegas.com
Rob Riggle has a manic professional talking head style of hilarity that can crack anyone's smile, make them proceed directly to giggles, and lead them promptly to gut laughs. His successful jump from sketch comedy to Stand-up came in 2006, when he toured nationally with now famous John Oliver and other Daily Show writers. Sarcasm is his middle name, and his delivery never falters. You may have also seen him on Saturday Night Live circa 1994/5, among the many other TV appearances and roles he's played. Rob Riggle Jr. has also appeared in several box office success films including 'The Hangover'.
He's known for tying in jokes and skits about his actual role as a Lieutenant Colonel of the U.S. Marine Corps. He uses his knowledge to act as the 'Military Analyst' on the Daily Show with John Stewart, a character that gets endless mileage and laughs. His stand-up videos indicate he's a top-notch story teller. His life leaves him no shortage of fascinating things to talk about, including the 'first draft' of his hypothetical Academy Award Acceptance speech with lines like "the world is my toilet". 
Riggle was born in Midwest United States, and his go-to topics include Sports, the Military, Politics, and the News. His hilariously written stories about real and fake happenings have kept the Riggle fan-base growing from his early 90's work to his current stand-up. His role with Will Farrel in the film Step-Brothers didn't hurt much either. Comedy geeks may remember UCTB (The Upright Citizens' Brigade') in which Riggle and his hilarious partner Rob Huebel performed their two-man show 'Kung Fu Grip'. Riggle also appeared often with his partner on Late Night with Conan O' Brien for comedic sketches during the '90's. He's worked with the best.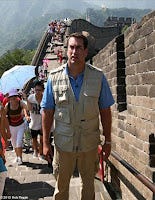 Photo courtesy of RobRiggle.com
His recent projects have included a collaboration with long-term partner Robert Huebel and Paul Sheer, including Seasons one and two of HBO's Designated Driver and Death Hunt 2010 and 2011. With organizations like NFL, HBO, SNL, Comedy Central, CBS, Nascar, Bravo, and the Marine Corps on his resume', Riggle has shown his mass appeal, and longevity through many outlets. He's just five years into traditional stand-up, but decades in comedy. This is one of the funniest observational comedic sarcastic writers and character comedians around. His insights are original and familiar at the same time. Riggle's three night stent at Paris will be a brush with a professional long-term comedian, who has avid fans throughout the United States, plus his name, Rob Riggle, is super fun to say.
May 10-12, 2012. Empire Comedy at ParisLasVegas.com, $39.99-$59.99, (702)777-7776.
© 2012, frankietease.com. All rights reserved. All content copyrighted or used with permission. This content may not be distributed, modified, reproduced in whole or in part without prior permission from frankietease.com.