Discover more from Frankie Tease
Cults in the news. Cult Madness News is reports from a variety of sources by the Frankie Files Podcast host and writer Frankie Tease and Hot Takes of a Cult Kid Podcast.
Rita Rudner Remains Vegas Stand-Up Champ after 50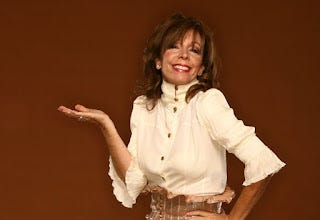 Rita Rudner (58) Courtesy of lifeafter50.com 

The longest running, most-successful one person comedy show in the history of Las Vegas is Rita Rudner. Having sold over 50 million tickets to her shows, she's doing something right. Creating believable, intrinsic, observational humor, Rita has entertained audiences in droves and shows no signs of slowing. Unlike a lot of comedians today, she hasn't come through SNL or Comedy Central. Crediting Woody Allen and Jack Benny as her inspirations, she has a biting wit and sarcasm spoken in a warm friendly tone.
But Rudner didn't get her show biz start in comedy. Once a New York Broadway dancer, she saw how short-lived their careers were and made the move at age 25 to 'learning to talk'. She encourages people to be realistic and not always follow their dreams now. "Is your dream your nightmare? Be realistic" she quipped in a Conn TV interview. That's advice from a woman who has practiced what she's preaching. 
Being a female comedian who is sexy and funny isn't something you see every day in America either. There are very few who can boast that title. There are even fewer who have won the coveted "Gracie Allen Award" from the American Women in TV & Radio. A stand-out stand-up, Rita has been doing this a long time, and like wine, is only getting better with age, according to her audience crowds.
She stays busy between stage performances writing books. She's written four so far, the most recent: "I Still Have It, I Just Can't Remember Where I put it: Confessions of a Fiftysomething". She made the move to the Venetian a year ago and has many November and December dates left in 2012. Her humor reminds me of the old vaudeville one-liners delivered from an imaginary perfect world where everything is under control. It's a pleasure to see a woman not only in the business, but giving the boys a run for their money.
Rita Rudner performs ongoing various dates at the Las Vegas Venetian, 8:30pm Venetian.com
Related Links
Tickets venetian.com
Rita on conn TV 
Rita's official very funny website (she's made a comic strip too) ritafunny.com

Article by Frankie Tease of Las Vegas
Photo courtesy of LifeAfter50.com
© 2012, frankietease.com. All rights reserved. All content copyrighted or used with permission. This content may not be distributed, modified, reproduced in whole or in part without prior permission from frankietease.com.