Discover more from Frankie Tease
Cults in the news. Cult Madness News is reports from a variety of sources by the Frankie Files Podcast host and writer Frankie Tease and Hot Takes of a Cult Kid Podcast.
Reverend Horton Heat - Let Me Teach You How To Eat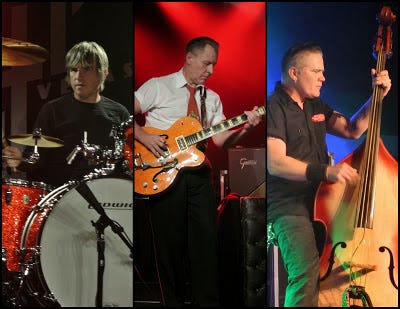 Scott Churilla, Jim Heath (aka the Rev) and 
Jimbo aka Jim Wallace photo by Frankie Tease (Vegas 2012)
Today the Revernd Horton Heat released his new music video leading to the forthcoming album entitled The Rev, to be released January, 2014. It features the Duchess of Chicago, Michelle L'Amour. Oh yeah. Visit reverendhortonheat.com for details and tour dates near you.
© 2012, frankietease.com. All rights reserved. All content copyrighted or used with permission. This content may not be distributed, modified, reproduced in whole or in part without prior permission from frankietease.com.