Discover more from Frankie Tease
Cult Madness News, Frankie Files Podcast, Hot Takes of a Cult Kid Podcast, by Frankie Tease, writer & Morningland #LongBeachCult adult child survivor.
Reverend Horton Heat Concert Review Vinyl, Las Vegas, NV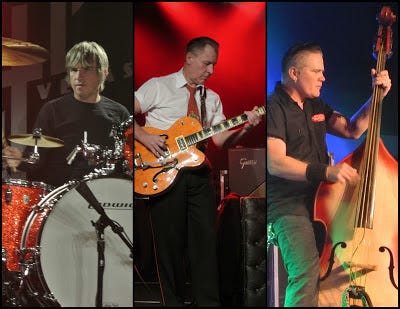 L-Scott Churilla (long time rock drummer extraordinaire returned), C- Reverend Horton Heat aka Jim Heath (Founder, Composer Namesake, Guitarist, Singer), R- Jimbo Wallace (Upright double bassist longest term member other than the Rev.) Photo by Frankie Tease Dec. 28, 2012. Read the Reverend Horton Heat Interview HERE.
I arrived at the Vinyl at Hard Rock (Las Vegas) to tons of people getting ready for the revival to start. I missed the opening band Tijuana Panthers, and arrived about ten minutes prior to the Reverend Horton Heat (Texas) taking the stage. I found my place at front of stage and started to get anxious with the rest of the crowd. A lowish stage, and hanging speakers were great conditions. The sound was amazing with just the interim recorded music. 
The house lights go down and a stage-hand leads each band member to their place on stage with a flashlight. As the stage lights go on, we are treated to "Hey Las Vegas, it's a Psychobilly Freakout" spoken by Singer and Songwriter Jim Heath. The slap upright bass crackles maniacally to our right with long-time side-kick and band member Jimbo Wallace (since '89). He smiles, and energetically jumps while playing his huge upright double-bass. Drummer "Psychobilly" Scott Churilla handles the percussion with precise rolls, bangs and bops. Next, we are toured through a winding path of songs from the band's earliest (Subpop) releases to the most recent (Yep Rock) album.
One of my faves The Devil is Chasing Me (Subpop '93) rang out with a sound quality heard from no other band. Shredding more than anyone I've ever seen on any guitar, the audience sang along with Mr. Heath and showed a hypnotized quality. They came to worship. You stand out if you don't know the words at a Reverend Horton Heat concert, but that's okay. Everyone is just glad you have finally been baptised. "Comin' out of my rear-view mirror, looks like Satan's limosine. You sell your soul to the devil to give you everything you see, when the devil comes collecting, you're gonna be payin' for eternity, the Devil is chasing me" Heath scowls. Ripping through upper and lower neck guitar solos like he's teaching a lesson.
"The Baddest of the Bad since you've been gone, the baddest of the bad since you've been gone, I lay around here and I just drink beer", sang the crowd with the Rev to a triple-time speed that tore up the mosh pit, and found every type of person feeling the revival (kids were present too). One of the best break-up songs ever (Sub Pop/Interscope '96).
Heading to more cherished stuff we got Martini Time (Interscope '96). Instructional and fun, the Rev patiently explains how important martini time is. Jungle drums, jump swing, slap bass, set the tone with surf guitar elements as the Rev informs us the martini will be "Made with Alero, the vice of its time" in his sexy and deep tone.
The Jimbo Song (Interscope '98) is a sing-along and is met with the fervor of the devoted. Jimbo Wallace is a superior upright slap double bassist with the versatility to boggle any musician. His zany personality mixed with humility over the years, have garnered him many undying fans. Not to mention, he still tears it up on stage. Yelled one letter at a time, this tribute to: J-I-M-B-O describes his "Pompador skull tattoo on his arm, but Jimbo never did nobody no harm" which cued Jimbo to roll his sleeve up to display the tattoo. "Nature boy Jimbo get in your pick'em up truck, go cruise around with Lady Luck J-I-M-B-O, J-I-M-B-O". Then the song's star gets right back to ridiculously fast bass, slapping a triple beat. The best sound ever. Fists are in the air in tribute to Jimbo as the song comes to a halt.
Time to chat. The Rev. confirms by announcement that his longest-time drummer (11 years) has just come back to the Rev from playing with the Supersuckers for many years. The audience cheered, as did I. This guy can really rip up a drum kit. A welcome return, as five year touring drummer Paul Simmons has left the band. The RHH label is changing too. "The new label Victory is out of Chicago and is well-known for punk and harder rock music" Reverend says. He also mentions (as advertised) that special guest Jello Biafra will be coming on stage to perform later. Exciting stuff. But I just wanted more Rev now.
I got more with smash hit Party In Your Head, (Timebomb,'00) another searingly upbeat tempo with dramatic drum rolls and precise musical stops. The song races like you're high speed in a first generation '53 Pontiac Chieftain on open road, so smooth. Stunning guitar and upright double-bass solos, as well as manic drum demonstrations dominate every cell of the air while we hear "why the gala ball at the party in your head?" echo ominously. 
Band mate Jimbo Wallace 'assumes the position' and lays the bass on the floor sideways while Reverend Horton Heat steps up on top of the bass creating a wild and continuous reaction from the crowd. A traditional rockabilly trick that's ever-so-satisfying to see this duo perform live every time, it never gets old. He plays the guitar lick while yelling "Yeah"! triumphantly. All the cell phones come out.
Rev played the number-one-fan game and started taking suggestions for the next request. He went through many and landed on Where the Hell Did You Go With My Toothbrush (Sub Pop, '99). The band went straight hee-haw with "you left with my very best friend our dog Smokey" during verse, moving to "And where in the hell have you been for the last three days?" making sounds of slide guitar nonchalantly. A real hilarious honky tonk and country crowd-pleaser, and actual true story for Jim Heath, down to the name of the dog - a slickly sad and yet really funny song.
The train kept a-rollin so hard it smashed right into Galaxy 500 (Time Bomb '00). "You take the dog, I get the Galaxy 500" launched into a punk-rock rhythm to lift the whole lid off the place. "I'm in my own Galaxy-1973... you probably woulda wanted this too, but it's not air conditioned" were impeccably sung by Rev and every person in attendance. This turned up the mosh pit to high, and everyone in the crowd let loose. The song is highly recognized by many from the band's appearance on Dave Letterman, circa '96.
A kick-ass rock lament with scorching surf-guitar-like licks and passionate story telling (Yep Roc '04) was next from the "Revival" album. Lyrics like "Really didn't know until the bitter end... heroine stole my Indigo Friends" topped smoldering minor chords, chunky guitar strums, and hot stops for a fun and heavy trip.
An announcement was made that even though it's a few days after Christmas, Jimbo wants to play a Christmas song , so they decided to switch guitar and bass for Run Run Rudolph (Yep Roc '05). The Rev sang while Wallace played the guitar and everybody knew the words and had to sing along.
Hilarity returned with Please Don't Take My Baby to the Liquor Store (Yep Roc '09) which is a song written by someone other than Heath, as an exception. Jimbo Wallace's song and story is hilarious with "it's not that kind of bottle he's been cryin' for" keeping the joke going amidst classic 50's guitar rhythms that were unshakable. A transition audio is met with darkness while public service announcements from the 50's play, sometimes mixed with female vocals.
But then we were in for a treat as the hard rockin' trio became the backing band for Jello Biafra (Dead Kennedy's). A dramatic entrance was a purple shiny super-hero cape and voila, Biafra had arrived. Amazingly, he sang with the Rev's band for several songs, so we got to hear the very capable band playing punk rock and with a legend. Anyone who'd held back had to get wild now with Jezebel a melodically complex song where Biafra teased the crowd as though he'd jump into it. Rev's band had also covered this song on Liquor in the Front's album (SubPop/Interscope '94). John Dillinger came next, then Guantanamo School of Medicine and onto Holiday in Cambodia as Biafra tore up the house and had everyone giving him punk energy right back. During the crescendo he sang Too Drunk To Fuck and we saw a stage dive by Biafra like no other. It was a sight, and something to tell your grand kids about. A small band at front of stage kept time with fists and words and made virtual love to Biafra like no one but true fans could. As he left the stage the Rev said "Stick around, you never know what could happen". You got that right Rev.
I asked for a set list, and was told it wouldn't be right, they change it all the time. Rockin' to one of your faves can distract you a lot while reviewing. The band played a couple more songs and then came back to stage as the audience demanded an encore. 
The trio got right into the hot tempo pace of Big Red Rocket of Love. Every member took a solo including the longest drum solo ever from Churilla. He was finally the star of the show as he ravaged the skins in front of him leaving every drummer dreamer in the crowd star struck, and the rest of us in complete admiration. Wallace ripped it up next on upright bass, but not for too long - anxious to re-introduce Heath. He says "Do you want to know a secret about the Rev? He loves country" as the Rev begins to shred the custom Gretsch guitar which is named after him, to the song he made famous by an appearance on Late Night with Conan O'Brien in the 90's. Hearing the song live leaves nothing to be desired, except seeing it again soon. This lead to a famous little cover tune called Folsom Prison Blues (SubPop '99) by Johnny Cash for their closing encore. 
I left the venue thinking "How different the show is from the point of view other than the front of the stage", and "How did these poor folks stand being in the back?" I vowed to go right back up-front at the next show where I belong. I thought about all the upcoming Colorado dates. "Mmmm... If I got 400 Bucks together, maybe I can see him again soon". That's an amazing show that gets you planning your return upon exit, after your 16th time. Ah, but that's the "Rev Effect". After the huge honor of interviewing the Reverend Horton Heat for an hour earlier that day, I was already flying high and feelin' blessed. Turns out there is a cloud ten after all. I wondered if the Rev would Remember Me and how many people present would be Callin' in Twisted to work tomorrow. Good times.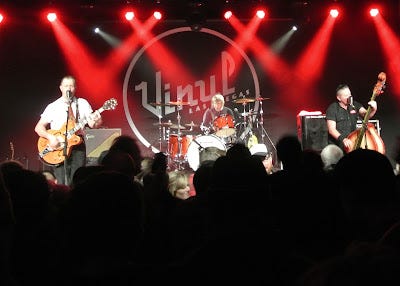 Reverend Horton Heat at Hard Rock's Vinyl Photo by Frankie Tease


See the Reverend Horton Heat Exclusive Interview on this site here with details about his new label Victory and album release in 2014. This show review was originally published in The Best of Frankie Tease Magazine Vol. 2 in 2012 (Bookbaby). See about the ebook here http://www.frankietease.com/p/ebooks.html. Check with the tour dates of this power trio at reverendhortonheat.com.
© 2012, frankietease.com. All rights reserved. All content copyrighted or used with permission. This content may not be distributed, modified, reproduced in whole or in part without prior permission from frankietease.com.