Discover more from Frankie Tease
Cult Madness News, Frankie Files Podcast, Hot Takes of a Cult Kid Podcast, by Frankie Tease, writer & Morningland #LongBeachCult adult child survivor.
Rehab Celebrates its 10 year Anniversary with "Sublime with Rome" at Pool Party, Las Vegas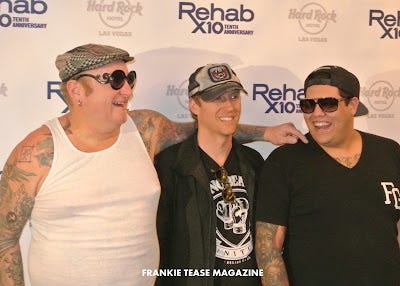 Eric Wilson (bass), Josh Freese (drums), 
Rome Ramirez (vocals/guitar) now make up 
Sublime with Rome. On red carpet for Rehab 10.
The DJ music rang out as cheering bikini and beach-attire-wearing fans gathered for the Sublime with Rome performance Sunday Apr. 21, 2013. Sublime with Rome set the tone for a summer experience with all the references to Long Beach anyone could fit into a musical set. Original founding member Eric Wilson (bass) is the only one left of the power trio, but the band plays music of deceased Bradley Nowell (1996) with new members Josh Freese (drums since '12) and front man Rome Ramirez (vocals/guitar, since '09). The music of Sublime is kept alive and in tact, as anthem-like songs ring out during their performance and at least 1000 people sing every word. It's what they grew up on around Cali. 
The occasion was the 10 year anniversary of Las Vegas's most naughty pool party, Rehab, and the best and first ever dayclub. Lasting durability is due to fanciful beach atmosphere bars, pools, and cabanas, the classic Hard Rock swanky vibe, and super high-level DJ and musical performances for special occasions. One can get in with a room key to most events, but there are packages and entry fee for the big events like this one. VIP and grammy award winning artist Sean Paul apparently made an appearance on the grand opening 10th, to chill.
Sublime with Rome are putting out the raw sound that everyone fell in love with still, don't worry. If you go to a Sublime with Rome show, you're going to get a lot of traditional Sublime. Watching the way they riled the crowd let me know they've still got it, and the sound was great. The power short set included the following tracks (Lover's Rock was crossed out and replaced by Doin' Time right before the show):
Date Rape
April 29
Wrong Way
Doin' Time
What I Got
Santeria
The band's epic star hit parade set gave way to a DJ and we'll never know if the crowd wanted an encore, as the agenda rolled on. Rehab was an amazing venue, sound and setting for crowd and crew. The cabana stage allows patrons to view the band in a 360 degree view, for further immersion. It's safe to say that Rehab and Hard Rock Hotel know how to throw a party, but you knew that.
The band had a large posse of men and women (lots from Cali) for their processions from the red carpet to their private cabana. A running path allowed servers to keep the full bar stocked, and the rock star's needs met. A huge tray of delectable food was served to the 50 or more friends and crew of the band, while cell phone pictures were posed for, pre-show. Ramirez posed for a camera to announce they'd be touring all summer, various dates. While very scantily-clad concert bunnies mingled with the band. During the set, right around "What I Got", I noticed it smelled a lot like Long Beach in Las Vegas.
VIDEO OF ROCK WALK TO 
VIP CABANA PRE-SET
REHAB10 LAS VEGAS
VIEW FULL SLIDE-SHOW OF PHOTOS
© 2012, frankietease.com. All rights reserved. All content copyrighted or used with permission. This content may not be distributed, modified, reproduced in whole or in part without prior permission from frankietease.com.