Discover more from Frankie Tease
Cult Madness News, Frankie Files Podcast, Hot Takes of a Cult Kid Podcast, by Frankie Tease, writer & Morningland #LongBeachCult adult child survivor.
Recap of Vegas AIDS / HIV Fundraiser - Help & Donate Now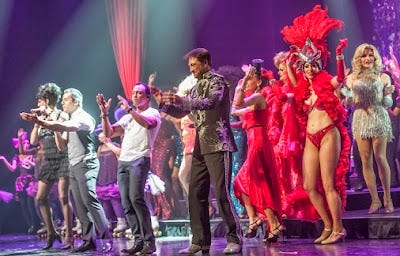 27th Golden Rainbow Ribbon Of Life Cast at Smith 
Center Vegas, Photo by Tom Donoghue
Rather than try to cover already covered ground, I thought I would republlish the press recap of an important Southern Nevada charity helping men and women living with HIV AIDS.
Golden Rainbow celebrated 27 years of service to men, women and children living with HIV/AIDS in Southern Nevada at its 27th annual "Ribbon of Life" fundraiser at The Smith Center for the Performing Arts on Sunday, June 30.
"Ribbon of Life" raised more than $152,000 and drew in a crowd of 1,424 attendees. The extravaganza's lineup included world-renowned, two-time Grammy winning singer Jon Secada, NBC's "America's Got Talent" star Michael Grimm, and cast members from the Las Vegas Strip's premier shows. TV personality Chris Saldaña and Edie of Cirque Du Soleil's Zumanity hosted the spectacular that featured special tributes to legendary artists Elvis Presley, The Beatles, Stevie Wonder, Simon & Garfunkel, Billy Joel, The Bee Gees, Stephen Sondheim, Burt Bacharach, Hal David, Liberace, Kenny Kerr; NBC's "America's Got Talent;" films "Dirty Dancing," "The Lion King," "Funny Girl," "Nine;" and Nkosi Johnson, a South African child who made a powerful impact on public perceptions of HIV/AIDS and its effects before his death at the age of 12. Aside from Secada and Grimm, this year's acts included performers Clint Holmes, Josh Strickland, Wes Winters, Frankie Moreno and Reva Rice; vocal groups Mo5aic, The Las Vegas Tenors, Human Nature and Celebrity City Chorus; members from Jubilee! and VEGAS! the Show; and many more.
In addition to the fundraising spectacular, Golden Rainbow hosted a silent auction with exclusive prizes including tickets to some of Las Vegas' top shows, dinner at the city's best restaurants and trips to premier destinations. The celebration continued at Mingo, Kitchen & Lounge for the official "Ribbon of Life" after party where cast members and guests came together to honor the success of the show. For every "Sweet Sensation" drink purchased, Mingo, Kitchen & Lounge donated $2 back to Golden Rainbow.
All proceeds from "Ribbon of Life" benefit the nonprofit's efforts in providing housing and direct financial assistance to the Southern Nevada HIV/AIDS community. As a result of the last year's fundraising efforts, Golden Rainbow provided 8,184 nights of shelter, 527 days of utility assistance, 1,054 days of transportation and medical and dental assistance to more than 500 households in 2012.
"Ribbon of Life" 2014 is set to return to The Smith Center for the Performing Arts in July. For more information on Golden Rainbow or to order copies of this year's "Ribbon of Life," please visit www.goldenrainbow.org.
About Golden Rainbow
Golden Rainbow is a nonprofit organization that provides housing and direct financial assistance to men, women and children living with HIV/AIDS. Founded by members of the entertainment industry in 1987, Golden Rainbow is committed to serving the HIV/AIDS community through fundraisers like Ribbon of Life and HIV/AIDS related education. For more information, visit www.goldenrainbow.org or call 702.384.2899.
Follow Golden Rainbow on Facebook and Twitter for the latest news and updates.
© 2012, frankietease.com. All rights reserved. All content copyrighted or used with permission. This content may not be distributed, modified, reproduced in whole or in part without prior permission from frankietease.com.