Discover more from Frankie Tease
Cults in the news. Cult Madness News is reports from a variety of sources by the Frankie Files Podcast host and writer Frankie Tease and Hot Takes of a Cult Kid Podcast.
Raak N Roll show racks up the fun times - as unpublished by NP Magazine Oct. 2011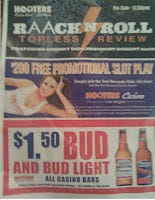 by Miss Frankie Tease


Raack N Roll is a new topless review in town at the Hooters Casino. In a sentence, this show is the quintessential American Stripper experience with not an ounce of sleaze. Four amazing dancers, and Comedian Impressionist Robert Nash make you forget quickly that only five people and a stage hand make up this show. The intensity during the almost two hour show did not stop, and the music was impeccable, if not just a tad too loud for the older set, though all ages seemed present.


The intimate showroom holds approximately 300 people and it attracted all types including: groups, singles, and couples. The dance numbers  included  solos, duets, trios, and the full quartet. The synchronized dance routines were all mesmerizing and strong, not excluding the exhilarating opening number to AC/DC's "For those about to rock", which was in short four topless girls with guns, dancing in tandem. Who could ask for more?
The show was well produced with projections that gave background and ambient lighting while recorded music was seamlessly intertwined going from one top rock and roll song to another. The dancers never let you down, and the crowd was right with the show and quite vocal the entire time. It was fun. Comedian Robert Nash was a sideshow of impressions and wardrobe changes including in order of appearance: Robert Dinero, Rodney Dangerfield, John Travolta (Saturday Night Fever and Grease), Micheal Jackson, Scarface, Kermit the Frog, Austin Powers, Darth Vader, Christopher Walken as Darth Vadar, Dirty Harry, Johnny Cash, Larry the Cable Guy and Jeff Foxworthy. Nash used his first time out on stage as Dinero to engage in audience participation and warm up the crowd.
Choreographer Kimberly St. Claire is behind the heart stopping dance routines, while dancers Daniel, Traci, Lisa, and Rain are the RAAk N Roll girls. One particularly oustanding routine should be named "bottoms up", involving nothing but legs in the air synchronized like swimmers, to rock and roll of course, a bottom or foot fetish dream.
Raak N Roll features the music of: AC/DC, Jimmy Hendrix, the Beatles, Black Crowes, Alanis Morissette, Heart, and Metallica, to name a few. Mentionable numbers include: the shower show, a trapese solo, and the closing number 'Back in the Saddle Again' by Aerosmith. Chills. There were several wardrobe changes, but the dancers' bodies and talent stole every performance. The stage included a large staircase, and several numbers started from the back, a nice surprise. Be careful, this show might make you fall in love with American Rock all over again.
Score:  Four of Five stars - almost perfect - just a tad too loud
Price: $50 VIP (includes performer photo opp.), $40 general
Run: One show nightly Fri. - Sun. 8:30pm
Tip: $1.50 Bud and Bud Light available
Hooters Casino  115 E. Tropicana Ave., Las Vegas, 89103
Review by : Frankie Tease - http://MissFrankieTease.com
As of May 2013, this show has reopened at the D Hotel, Downtown Las Vegas.
© 2012, frankietease.com. All rights reserved. All content copyrighted or used with permission. This content may not be distributed, modified, reproduced in whole or in part without prior permission from frankietease.com.