Discover more from Frankie Tease
Cults in the news. Cult Madness News is reports from a variety of sources by the Frankie Files Podcast host and writer Frankie Tease and Hot Takes of a Cult Kid Podcast.
Photo Focus: D Hotel and Fremont Street Las Vegas
Downtown continues its revitalization with hotel name changes and make-overs led by previous mayor Oscar Goodman and CEO of Zappos Tony Hsieh (who are encouraging others to invest in Downtown). The D Hotel and outside bar shown here on Fremont Street are recent newbies taking the place of Fitzgerald's Casino (previously and no longer an Irish-themed property). Dancers shown are atop the bar at the opposite end of Fremont Street West at the Golden Gate, which claims to be the first hotel in Vegas (themed after the Golden Gate Bridge in San Francisco, CA.). Many other developments, small bars, and hotels are renovating and bringing in new jobs and more downtown tourism to compete with the Las Vegas Strip. Fremont holds free outdoor concerts, parades and festivities and is often a preferred destination for locals above the Strip. Weekends are always busy, but street vendors and performers are out seven days a week at this artsy mecca. You can also drink on the street a popular activity for many. The walk-up Fremont street bars sit below the canopied and largest L.E.D. light show in the world, which airs musical light shows several times per night on the hour, free. Kids are allowed in the area, but a caution should go out, there is adult entertainment allowed right on Fremont street, and they may get a real eye-full. After all, it is Las Vegas- the city of sin- right? The street also serves as a gallery of some of the most well-crafted beautiful neon vintage signs for the city of Vegas as pictured. If you want to follow the happenings of Downtown Vegas on Twitter, just use #dtlv.
Article and photos by Frankie Tease

Map of Downtown Las Vegas by LV1.com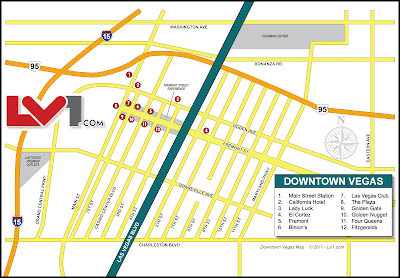 Map of Las Vegas Strip Casinos are somewhat accurate to 2012 on this map.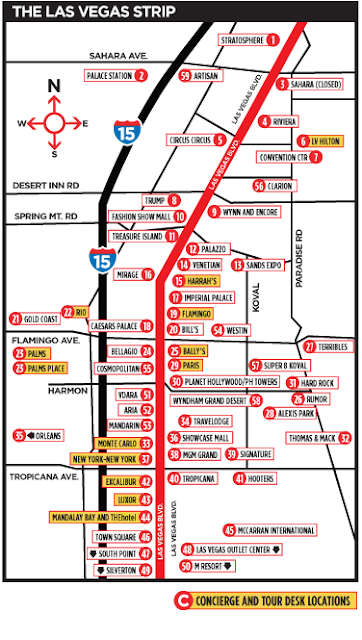 © 2012, frankietease.com. All rights reserved. All content copyrighted or used with permission. This content may not be distributed, modified, reproduced in whole or in part without prior permission from frankietease.com.