Discover more from Frankie Tease
Cult Madness News, Frankie Files Podcast, Hot Takes of a Cult Kid Podcast, by Frankie Tease, writer & Morningland #LongBeachCult adult child survivor.
Photo Focus: Sublime with Rome, Hard Rock Hotel, Rehab 10 Yr. Anniversary, Las Vegas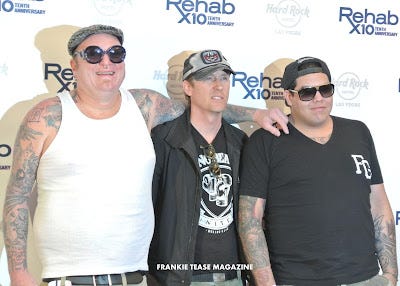 Eric Wilson (L-bass Original Sublime member), Josh Freese (C-drums since '12), Rome Rameriz (R-vocals and guitar since '09).


Sublime with Rome fans got a treat for Rehab's 10 year anniversary at Hard Rock Hotel Las Vegas. Full event coverage will follow on this site, stay tuned. Photo by Frankie Tease.

SEE FULL COLLECTION OF 
EVENT PHOTOS OF SUBLIME
WITH ROME AT REHAB 10 YR.
ANNIVERSARY PARTY, HARD
ROCK HOTEL LAS VEGAS 


© 2012, frankietease.com. All rights reserved. All content copyrighted or used with permission. This content may not be distributed, modified, reproduced in whole or in part without prior permission from frankietease.com.