Discover more from Frankie Tease
Cult Madness News, Frankie Files Podcast, Hot Takes of a Cult Kid Podcast, by Frankie Tease, writer & Morningland #LongBeachCult adult child survivor.
Photo Focus: Pinups for Patriots Calendar Casting Event at Pinup Pointe Gallery - First Friday May, 2013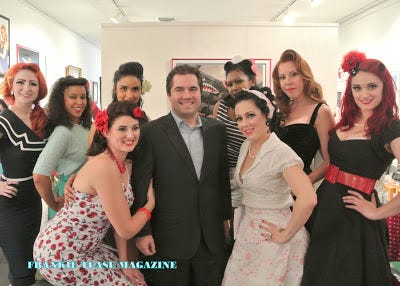 This first friday was pretty special for the troops and for a few lucky Las Vegas pinup models. Organizer Darby Fox (pictured right) facilitated a casting call for the 2014 calendar and a few judges (including two military men) helped figure out (pun intended) who should be in the calendar.  Host Pinup Pointe Gallery which specializes in showgirl and pinup art from local, national and international artists got pretty packed with fans and onlookers throughout the night. The national organization has several branches. Many of the entrants who were involved in the competition were actually enlisted military or belong to military families. This isn't just a rouse, it's the real deal. Patriots serving overseas and all over the world have their spirits lifted by these beautiful girls. To buy the calendar or get involved and find out more about the orginization, please visit http://www.pinupsforpatriots.com/. 

As their mission states, it's not just a calendar, it's a community. The wholesome and alluring pinup is timeless, as are these ladies who were chosen (pictured). Find out about pinup model, and extrordinary woman Darby Fox on her facebook page at: https://www.facebook.com/darby.fox.79. Check out the Pinup Pointe Gallery which is a new addition to Downtown Las Vegas as of March 2013 at http://pinuppointe.com, and 4 E. Charleston.


VIEW THE COMPLETE PHOTO SET ON 
© 2012, frankietease.com. All rights reserved. All content copyrighted or used with permission. This content may not be distributed, modified, reproduced in whole or in part without prior permission from frankietease.com.