Discover more from Frankie Tease
Cult Madness News, Frankie Files Podcast, Hot Takes of a Cult Kid Podcast, by Frankie Tease, writer & Morningland #LongBeachCult adult child survivor.
Photo Focus: Las Vegas Neon on the World Famous Strip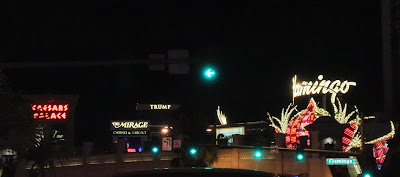 Photo by Frankie Tease - click to enlarge on FLICKR.com
Does this make you want to walk the strip? Taken in June of 2013, you can see the famous neon lights of Caesars, Mirage, Trump Tower, and the Flamingo. But don't be fooled, it's well over 100 degrees this week, so bring that bottle of water if you dare to walk the strip. I recommend a tour on a air conditioned bus, personally. One of the most densely travelled intersections of any tourist destinations in the world, this is shot from the street at Las Vegas Blvd. and Flamingo heading North on the Strip. Some things don't change like the neon beauty of Fabulous Las Vegas. 
© 2012, frankietease.com. All rights reserved. All content copyrighted or used with permission. This content may not be distributed, modified, reproduced in whole or in part without prior permission from frankietease.com.