Discover more from Frankie Tease
Cult Madness News, Frankie Files Podcast, Hot Takes of a Cult Kid Podcast, by Frankie Tease, writer & Morningland #LongBeachCult adult child survivor.
Photo Focus: Jennifer Keith Sings at Cosmopolitan Las Vegas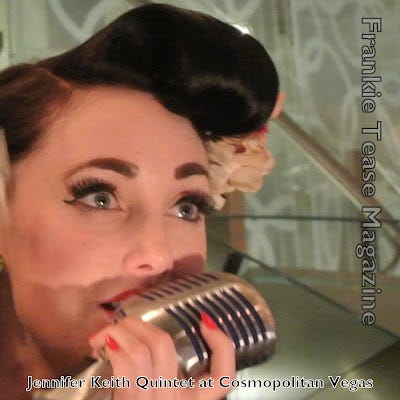 Photo by Frankie Tease
Jennifer Keith has all the sass you long for in a Jazz Singer with all the modern style you hope for in a woman, and by modern I mean mid-century.
Go see the Jennifer Keith Quintet at the Chandelier Bar at Cosmopolitan when you are in Vegas next. Visit jenniferkeith.com for calendar dates. View our interview with the band with more photos at http://www.frankietease.com/2013/04/the-lounge-sound-of-jennifer-keith.html.
© 2012, frankietease.com. All rights reserved. All content copyrighted or used with permission. This content may not be distributed, modified, reproduced in whole or in part without prior permission from frankietease.com.