Discover more from Frankie Tease
Cult Madness News, Frankie Files Podcast, Hot Takes of a Cult Kid Podcast, by Frankie Tease, writer & Morningland #LongBeachCult adult child survivor.
Photo Focus: "Hipster Hater" at First Friday May 3, 2013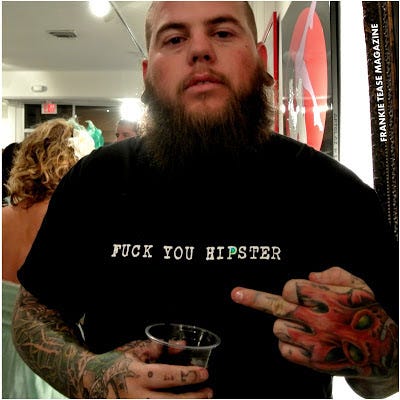 This Las Vegas local and tattoo artist is serious about his hipster hating. I just laughed at his t-shirt, and snapped a pic. When I did so, he began to tell me that he rarely makes it downtown anymore because it's becoming overrun with hipsters. Wow really? I didn't know that. This guy had a pretty strong opinion about it though. Now you know. Mr. Moore is a senior tattoo artist and LV local. 4.3.13.
Photo by Frankie Tease
© 2012, frankietease.com. All rights reserved. All content copyrighted or used with permission. This content may not be distributed, modified, reproduced in whole or in part without prior permission from frankietease.com.