Discover more from Frankie Tease
Cult Madness News, Frankie Files Podcast, Hot Takes of a Cult Kid Podcast, by Frankie Tease, writer & Morningland #LongBeachCult adult child survivor.
Old and New Vegas Vibe, Unscripted, Uncensored - Sapphire Comedy Hour Has it All
Video of Mon Dre performing at 
Sapphire Comedy Hour by Frankie Tease.

I finally found a show as raunchy and classy as I like it, and it's at the world's largest strip club, Sapphire Las Vegas. The club is well-known in town, for topless entertainment and great bottle and V.I.P. service. It also just opened a topless (pastied) pool and dayclub which is very fun. But even more new, they have been rolling out a show in the state-of-the art (wicked comfortable) Sapphire Showroom a few feet from the main entrance. I attended the Media Night for Sapphire Comedy Hour, hosted by the Producer/Director of the show Brett Feinstein (son of the owner). Feinstein's associates are Decade-Long Las Vegan, Douglas "Lefty" Leferovich  who is creative director, magic consultant, and featured entertainer, while Philip Peredo, head of Tickle Me Entertainment, books the majority of the comedians and brings up the third slot in this pyramid of power.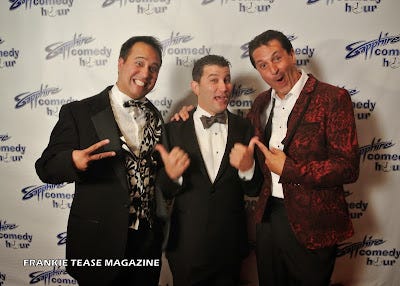 Peredo, Feinstein, Leferovich run Sapphire Comedy Hour.
Photo by Frankie Tease
The Media Night Friday July 12, 2013, saw red carpet visits by many Vegas celebrities including Tim Molyneux (Bite), Bizarro (Magic Castle), Ben Stone (London Palladium), Anthony Cools (Paris Hotel), Robert Nash (Raak N' Roll), Jasmine Trias (Amercian Idol), Amy Hanley (Mob Doll, Sin City Rules), Jarret and Raja (AGT), Hard Nox (Vegas Rap Artists), and many more. Of course friend of the show, and fellow performer to Lefty, Murray Sawchuck made an appearance and was placed in V.I.P. seating along with his wife Chloe Louise Crawford (See below photos of red carpet). 

The 300 seat showroom was full of media representatives and friends. With an introduction and thank you by Feinstein, and a duet pole performance by Sarafein and Charisma, the show kicked off with a bang. The two used three poles, then both used one pole at the same time, creating stunning patterns of strength and symmetry. This performance was to remind us we were in a strip club, I think. Mission accomplished.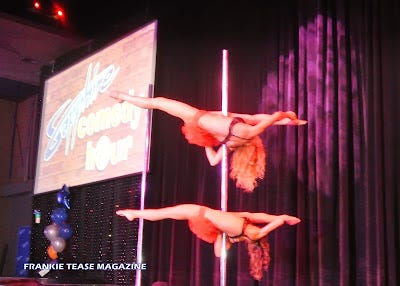 Charisma and Sarafein pole routine opened Sapphire
Comedy Hour Media Night. Photo by Frankie Tease.

Crazy, Potty-Mouthed Sean Carlin then took his role as host and proceeded to unfurl the next performers in the star-studded lineup. The wow factor came out again with Chris Scandal Randall, who did things with floss and his throat that people will be talking about for a long time. He let the audience know he's a native of Las Vegas, and that yes "people do live here". He warmed it up in there quick getting all kinds of reactions from the crowd, and calling on audience participation. There'd be a lot of that before the night was over. Scandal is a must-see act.
Angie Krum was introduced as running the longest, ongoing comedy open-mic night in Vegas, of all time. She was digging deep and getting the laughs as she proceeded to say everything a woman's not supposed to say. Lookin' good, she told us about dates gone awry in Vegas, beard-burn on her ass, and not being able to remember guy's names. Krum is like a south-west edition of Lisa Lampanelli with a well-developed voice. Next, Mon Dre who wears the clothing style and swagger of the Artist known as "Prince", showed us birds, batons, balls, and a cat, in his world-class (Siegfried and Roy recognized) act (during which doves "didn't" cry). Multiple applauses and gasps were heard during the music-accompanied transition of tricks. It will nag at me how he did those. Mon Dre is the first magic act I've seen using animals, and the animals looked happy to have a job. I've seen this act twice, and I still don't get it. First birds, then a cat?
Time for a Millennial Comedian Steven Briggs (note the non 'ph' spelling of Steven).  Briggs started in and right away was heckled by a drunk man in the front row. I mean, really drunk. You always see the depth of a comedian in how he handles a heckler. To my surprise he brought the guy onstage and drew a dick on his forehead. The man was happy it happened, he didn't have much to say after he took his seat. He was seen later having washed his face free of the artwork. So college. Briggs then proceeded to demonstrate his beatbox talent, which was as strong as his funny bone. He had everyone thinking "what will he do next?"


Steven Briggs beatboxing dub-step. All he needs is one mic.


The only other person in the show weekly besides Host Sean Carlin then took the stage to show off her burlesque talents and features. Her traditional heavily-rhinestoned pinup couture and feather-topped hat, turned into a feather-fan-dance as she eloquently used the t-shape stage with long gates, visiting every inch. Pieces dropped to the floor as Kokonuts shown in blue light slowly revealing her assets, and looking like a 1940's magazine cover, show poster, or imagined other-worldly beauty. Her acts are ever-changing and always a good time, I've seen her about five times now I believe. We'll soon be doing a long-overdue interview with the long-time Vegas performer and burlesque star.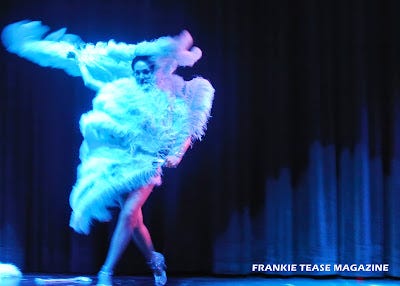 Kalani Kokonuts on stage during Sapphire Comedy 
Hour Media Night. Photo by Frankie Tease.


Wheels Parise (Wheels Pah-reez-ee) was our headliner who was escorted to stage by several strippers. He was wheezing and eased right into being out of shape, food habits and fat people. He moved on to Asians, and Italians (he's from NY), and went right back to the 1000 pound guy being so in-shape at 700 pounds. "What do you say to him? You've really trimmed down?" They say a professional demands laughter from you every fifteen seconds, this one did. People were chuckling and gut-laughing as he used his 'guido' accent like a weapon. "They'll cook you anything at a Chinese restaurant won't they? I like to challenge them and go in and say 'do you have Fruit Loops?"


Wheels Parise live at Sapphire Comedy Hour Media Night

By far my favorite adult variety and comedy show currently in Vegas, the Sapphire Comedy Hour has entertained me personally three times, during its run into the official Media Night 7/12/13, and I didn't have to walk past a bank of slot machines to get there. It's easy to park and safe, I love this venue (right behind Circus Circus on Industrial). 
Sean Carlin – Host, five-time College Entertainer of the Year.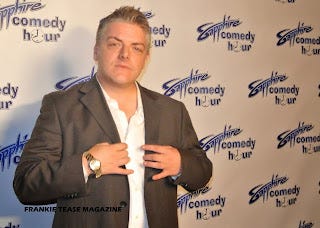 Chris Scandal Randall – Sleight of Hand Magician, The Masters of Illusion TV show, Performed at the Magic Castle in Hollywood, CA. Featured in Magic Magazine, Genii, MUM.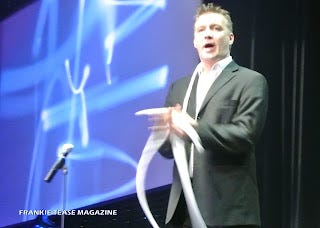 Angie Krum – Feature, ABC and Showtime, FX.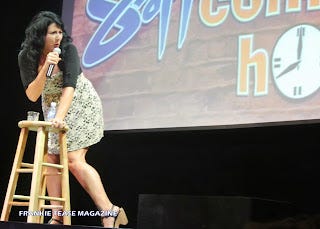 Kalani Kokonuts – 'The Showgirl of Burlesque', Miss Exotic World 2009, and five-time Playboy Centerfold and Cover Girl. Seen on red carpet wearing her own clothing line.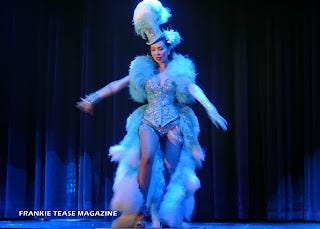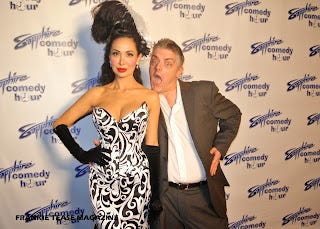 Mon Dre – Magician, has performed at the Magic Castle in Hollywood, CA and The World's Greatest Magic Show in Las Vegas. Winner of the Siegfried and Roy Bronze Lion's Head, First Place in the Grand Prix Magiques De Monte Carlo. Mon Dre is pictured next to dancer India of Sapphire.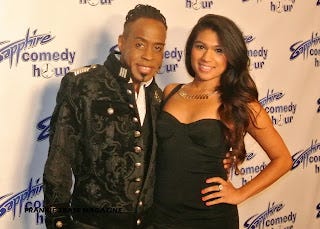 Steven Briggs – ESPN, The Social Network. Steven is pictured first next to the heckler he handled with ease. Steven Briggs on Twitter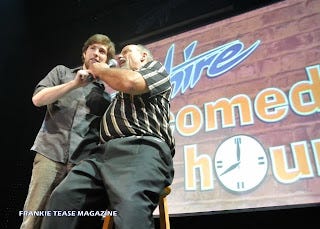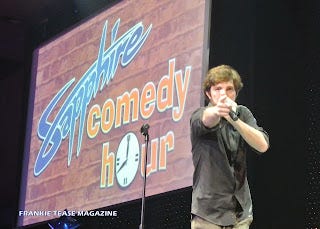 Wheels Parise - Rollin' with Dice and Wheels Podcast (with Andrew Dice Clay) Wheelsparise.com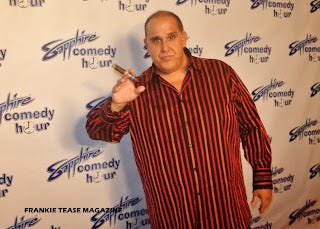 The Sapphire Comedy Hour is held each Friday and Saturday (dark some Saturdays for fight nights) at 8pm, at Sapphire Gentlemen's Club, 3025 Industrial Road, Las Vegas and is a 21+ venue. Tickets are $40 at the door, while free transportation is available to the club, and presale tickets and V.I.P. tickets are available via This Link.
For reservations and bottle service information call (702) 869-0003 
Related Links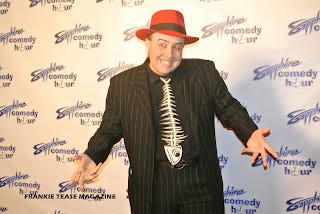 Bizarro at Sapphire Comedy Hour Media Night
VIEW RED CARPET SAPPHIRE COMEDY HOUR PHOTOS BY FRANKIE TEASE ON FLICKR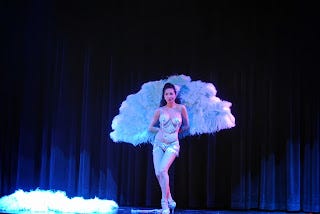 Kalani Kokonuts performing at Sapphire 
Comedy Hour Media Night
VIEW SAPPHIRE COMEDY HOUR MEDIA NIGHT SHOW AND POST-SHOW PHOTOS BY FRANKIE TEASE ON FLICKR


"At the Sapphire" Smash Hit Rap Song by Hard Nox (nsfw)
Sapphire LV Twitter
Sapphire Comedy Hour Website and Tix
Douglas "Lefty" Leferovich Website
Philip Peredo Website

Words and Photos by Frankie Tease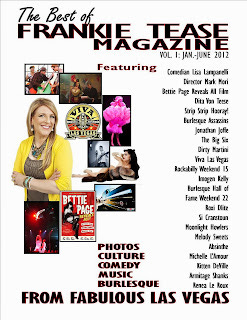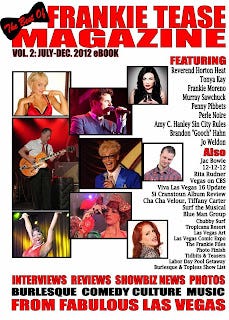 © 2012, frankietease.com. All rights reserved. All content copyrighted or used with permission. This content may not be distributed, modified, reproduced in whole or in part without prior permission from frankietease.com.