Discover more from Frankie Tease
Cults in the news. Cult Madness News is reports from a variety of sources by the Frankie Files Podcast host and writer Frankie Tease and Hot Takes of a Cult Kid Podcast.
New Vegas Comedy Show at LVH "Comedy After Dark" Stays Strong in Third Month with Host Anthony Padilla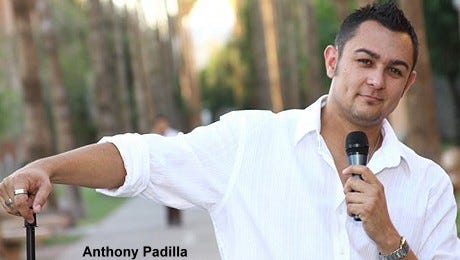 photo courtesy of lasvegas-nv.com

What's it take for a local professional comedian to get a gig in the town of Las Vegas? It takes talent and hard work. Spending over a year opening for Louie Anderson at his own club, this stand-up gent finally has his own gig. Anthony Padilla headlines the new show (a few months old) called Comedy After Dark Thursday through Sunday at the Shimmer Lounge at LVH, just off-strip. Now he gets to make fun of the times he spent with Louie Anderson, and to bring his compadres and travelling mega-comedians from all over the country. Though he introduces other guests this doesn't diminish the talent he brings including his famous biting wit and story-telling.
Padilla has previously appeared on The CW Network, A&E, The History Channel, and Lifetime to name a few. Now, he has his own headliner show and also does a radio show weekly with Scott Prichard on Vegas Video Network (a show about sports betting). Padilla knows a thing or two about sports after enjoying a baseball career. A serious injury ended his baseball career and sent him right to comedy.
The Comedy After Dark show is presented by Bonkerz Comedy Productions which hales from Orlando, Florida, coming to Vegas with banks of success after acquiring 24 locations nation-wide. Bonkerz has remained star-studded featuring  recognizable names from Showtime, Comedy Central, MTV, Fox and America's Funniest People.
Just changing from the Hilton franchise to the LVH (and bought-out from previous ownership) the LVH still offers many dinner choices to go with your show, including the famous Japanese focused culinary delight: Benihana, among many others. You might even run into the ghost of Elvis at the LVH. Just before he was to start a contract performing at this hotel, he left the earth. They say he lingers, trying to complete his last show. 
Comedy After Dark plays Thurs.-Sun., 10pm (21+) $39.95, the Shimmer Cabaret at LVH,  LVH.com, (800 )222-5361 for tickets. 
Related Links:
Anthony Padilla on Twitter @padillacomedy
http://www.anthonypadillacomedy.com/
© 2012, frankietease.com. All rights reserved. All content copyrighted or used with permission. This content may not be distributed, modified, reproduced in whole or in part without prior permission from frankietease.com.