Discover more from Frankie Tease
Cults in the news. Cult Madness News is reports from a variety of sources by the Frankie Files Podcast host and writer Frankie Tease and Hot Takes of a Cult Kid Podcast.
The 2012 Newly Crowned Reigning Queen of Burlesque is: Imogen Kelly of Australia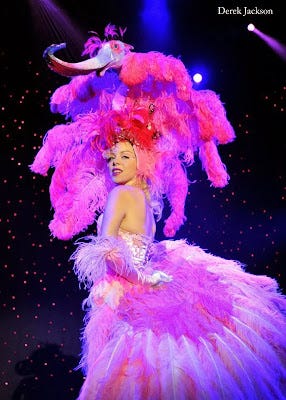 Imogen Kelly by Derek Jackson

And the New 2012 Reigning Queen of Burlesque is...
On June 3, 2012 the new Queen was congratulated by Imodesty Blaize of London (Europe's Top
Showgirl, Best Debut BHOF 2006, Miss Exotic World 2007 ), with this online Twitter post
(syc): Congrats Imogen Kelly for winning Reigning Queen 2012! Worked with her in '04- innovative,
unique, and old school too. Love her! X #BHOF12 .
Sunday night I spoke briefly with the new Queen of Burlesque to ask about her plans for her
reigning year. I wanted to know how she planned to handle the year of duties as the new Queen,
like the Queen's Tour, here in the states? She told me: "We are talking about spending a year in
the States." When asked what has been the best part of performing here at BHOF12? Imogen
Kelly said "The dressing room was amazing, thanks to Coco Lectric."
RELATED LINKS
For more about this event visit BurlesqueHall.com
Photos for this story were provided by Blue Hair Media
For more about this Australian Performance Artist visit http://www.imogenkelly.com.au/


This story is available in Frankie's ebook. Please see http://www.frankietease.com/p/ebooks.html 
© 2012, frankietease.com. All rights reserved. All content copyrighted or used with permission. This content may not be distributed, modified, reproduced in whole or in part without prior permission from frankietease.com.