Discover more from Frankie Tease
Cults in the news. Cult Madness News is reports from a variety of sources by the Frankie Files Podcast host and writer Frankie Tease and Hot Takes of a Cult Kid Podcast.
Celebrity Magician "Murray" Show at Laugh Factory Pleases Avid Fans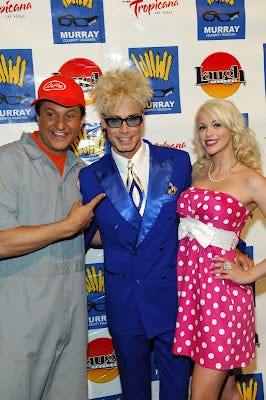 Murray Sawchuck (39) exemplifies being hungry to perform and raise the art you're involved in to the public's eye. The prolific TV and film star only takes a break from his grueling almost daily Las Vegas show appearance schedule to do more shows - this time in Australia- and that's after he just filmed five episodes of a new kids TV series called "The Jadagrace Show". Not to worry. Even though the show goes dark until its Oct. 1 return, Murray will still offer his spectacular magical madness at the Laugh Factory at Tropicana. Put this quirky talked-about show on your calendar as a local Vegas favorite.

Known for his record-breaking finale' trick on Amarica's Got Talent (making a ginormous model train disappear) before over 20 million fans, Murray has appeared as a headliner at Hollywood's "Magic Castle", and is an annual host at Alice Cooper's Arizona Christmas charity. Murray John Sawchuck was born in Burnaby, British Columbia, and accomplished becoming an American citizen two years ago.

Murray brings his celebrity status and his wild magic tricks six nights per week to Vegas with his guest host Magician "Lefty" and his lovely female assistant "Chloe". Very tweeted about, this artist has appeared on beloved Cable T.V. series such as "Pawn Stars" (magic expert), VH1's "Celebracadabra", as well as Comedy Central's "Reno 911", "Celebrity Blind Date", "Last Comic Standing", "Tough Love", to name a few.

Murray's live show is also supposed to be pretty hilarious and audience-interactive. Murray has appeared on TV and stages alike with his amazing magic tricks, and according to his reviews and blurbs he's a tough act to follow. Apparently this 360-degree-view stage will show you everything and leave no doubts. Murray has been said  to quell even the most magic-suspicious audiences.

At age seven Murray was given a Siegfried and Roy magic kit that changed his life. How ironic is it that he performs on the same Strip where the famous act used to perform? Very. Murray envisioned himself as a magician that sang and danced, and with his musical talent in several of the woodwind family, he could still pull that off. With over 24 awards currently as a magician, Murray also holds the title of "World Champion" internationally and has performed from the Playboy Mansion to Monaco and Paris.

This is one of those shows on my must-see list so look for photos and a review soon. This show is all ages and family friendly. In addition to the new Laugh Factory, check out the "South Beach" inspired remodel of the Tropicana Hotel while you're there. It's amazing.
Celebrity Magician Murray, Sat.-Thurs. 7pm. $22.95-$49.95, Laugh Factory at Tropicana, Las Vegas. Reopens Oct.1, 2012. troplv.com murraysawchuck.com

Article by Frankie Tease of Las Vegas
Photos courtesy of MurraySawchuck
© 2012, frankietease.com. All rights reserved. All content copyrighted or used with permission. This content may not be distributed, modified, reproduced in whole or in part without prior permission from frankietease.com.