Discover more from Frankie Tease
Cults in the news. Cult Madness News is reports from a variety of sources by the Frankie Files Podcast host and writer Frankie Tease and Hot Takes of a Cult Kid Podcast.
The Moonlight Howlers: Psychobilly, Rockabilly, and Family - by Frankie Tease
Announcement added Oct. 24, 2013:

[SEE MOONLIGHT HOWLERS AT THEIR ALBUM RELEASE PARTY 

NOV. 7 FLAGSTAFF ARIZONA
NOV. 8 FLAGSTAFF ARIZONA
NOV. 9 PHOENIX ARIZONA

NEW LINE-UP
NEW ALBUM
SAME BROTHER AND SISTER]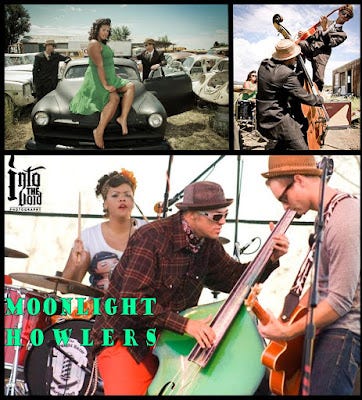 Moonlight Howlers - Psychobilly, Rockabilly and Family
The Best of Frankie Tease Magazine Vol.1: Jan. - June 2012, Las Vegas
The Moonlight Howlers are a seriously hard-working, young, talented, trio out of Arizona. The band is made-up of Composer and amazing Stand-up Slap Bassist Raffael Weatherly, aka "Bones", aka Raffe (Male 23), Drummer and Singer Aeriel Weatherly, aka "Siren", aka Ari (Female 21), and Guitarist and Singer Tory Putman, aka "Lee Terror" (Male 27). The band all has two things in common: they have names that could be super heroes in a comic book, and they are family. I saw the Howlers on a really cold wet night in November of 2010 in Portland, Oregon, and immediately loved their music and danced all night to it. I recently missed their appearance at Viva Las Vegas Rockabilly Festival 15, but saw Raffael at Viva in the hall, and requested an interview once the band returned home, by phone. I had been corresponding with his Mom ever since I filmed a candid video for them to capture their live show in Portland.
"Rocket to the Moon", their 2011 album, describes the musical career path they've been on best: they are shooting to stardom in the rockabilly scene. Borrowing from Roots, Rock, and Psyochobilly, the band's energetic and power-packed original music and cover tunes will stick with you, and never let you go. On Sunday April 29th, Raffael Weatherly and Aerial Weatherly (brother and sister, Bassist and Drummer respectively-Tory who was not present is the Cousin) were available, and here is what they had to tell me from Arizona to Las Vegas through the telephone wire. I'd like to add that since this interview, I've decided that Aerial is a the 'Rockabilly Rihanna' (but only in looks). You can use that. The Moonlight Howlers: Rockabilly, Psychobilly, & Family
The Best of Frankie Tease Magazine Vol.1: Jan. - June 2012, Las Vegas
FT: When was the band formed and how did it become all family?
RW: The band started with a completely different line-up, about four years ago. We had a different
guitarist and drummer. We played in the garage and around the house for about two years.
Then my sister joined after we kicked the other guy out. I started showing her how to play drums,
and we've been doing this for about three years professionally now.
FT: So Raffael, you're the band leader?
RW: Kind of yeah [chuckle]. I'm the one that sets most the stuff up, so I take the lead on most of
it.
FT: So since I saw you on tour in Portland circa 2010, you've toured Europe. That's amazing, how was that?
RW: It was pretty cool. We went over for about a month, a little over a month with a company called "Surfing Airline Productions" they're based out of Belgium. We played Holland, Belgium and the Netherlands, several cities in each. It was awesome, we had a good time. We're going back over in February.
FT: You'll have a new album to promote at that time right?
AW: We're hoping that we'll have a new album out.
FT: Can you tell us what albums you have out now?
RW: Yeah. We had a five song LP that we put out, we just put out 'Rocket to the Moon' late last year and we're working on this new album now. We're setting up a website and it'll be available on that with all our albums and merch.
FT: Can you tell me about the song 'Stagecoach' and how it became included in the Viva Las Vegas 15 CD Compilation, an honor reserved for only 26 bands?
RW: We got an email before the event asking if we could submit two songs and they'd pick a song if they felt that it would be appropriate for the CD. We picked two songs out for them, and sent them, and after Viva they presented to us that we'd be on the album.
FT: Congratulations. Is the song that was chosen, Stagecoach, original?
RW: Yes. Everything that we've recorded and done on albums is all original material except 'Walking in the Sand' (by George "Shadow Morton" of the Shangrilas). 
FT: Who's involved in the writing? Aerial are you involved in the writing?
AW: Mainly Raffe and Tory will figure it out and then I will give input, but we all write together.
FT: Who's the lyricist?
RW: All three of us.
FT: I love the song Oppa.
AW: [Ruckus laughter]. That song started as a mess-up. We messed up on another song and it became
the beginning of Oppa and we wrote it in like ten minutes. It's fun.
FT: Your vocals are amazing Aerial, and they remind me of the female singer Exene of the band "X" at times. It's nice to have a female in this genre, because there's not a lot of them. Does having a female drummer in the band as gorgeous as yourself get the band extra attention?
AW: [Laughter] Yeah it has, especially when we played in a prison in Europe? It was kind of weird, but it was fun. [Laughter]
RW: It was awesome.
FT: You've experienced so much success over this last year, can you tell us one highlight out of that for each of you?
RW: Mine would probably have to be Viva (Las Vegas 15). It was such an honor. We've only been playing in the scene -as we are right now- for almost three years. So, for us to make it to that and to be put on the (VLV15) Compilation was a huge honor. We've played shows with Wanda Jackson, Jr. Brown, and we're playing with some amazing Icons (which can't yet be mentioned) coming up in September (2012). We've played with the Misfits, Mad Sin, The Quakes, The Koffin Kats, CreepShow, and Big Sandy. We're playing with really big acts and really filling in our career, so hopefully we can keep it up.
The Best of Frankie Tease Magazine Vol.1: Jan. - June 2012, Las Vegas
FT: Aerial what about you? This last year sounds like it's been a whirlwind.
AW: Mine would have to be Europe. It's not really like a job to be paid and be there with my family, it was amazing.
[AW FOR] TP: Tory isn't here right now, but I know one of his highlights would
be receiving his Gretsch guitar. He's now playing with a Gretsch guitar. He's got two, a White Falcon and a Chet Atkins. The sound is amazing. He's worked hard for them. We're not sponsored by Gretsch but one of the representative of Gretsch is giving us a helping hand. We can't say we're Gretsch endorsed, but they're helping us.
FT: With regards to equipment, do you use old or new?
AW: I play a 1955 Slinger, and I also have a newer drum set that I play.
RW: I play -it's an older Bass- the Bass that the original bass player of Bill Haley and the Comets played. It's called a "German Tank". I also play a Victory, it's a Chinese-made bass.
FT: Is it considered a Double-Bass?
RW: Yeah, it's a Double-Bass, I play a 3/4 size, but it's a full size Double-Bass.
FT: I really look forward to the new album. Who's producing the album, and what label are you on?
RW: We are not signed to any label as of right now. We're looking at three different studios to record the next one at. I think we'll probably end up recording a song at each place, maybe the same song to see if we get the sound we really want. The last one [album] had a good sound, but it wasn't exactly the sound we wanted. So, hopefully this one has a little bit more punch to it.
FT: Which brings me to my final question. What is your sound besides 'hitting the
spot' for me? How do you describe what you do?
RW: I don't know Frankie, we call ourselves Rockabilly. I wouldn't say we're a traditional Rockabilly band, we're definitely influenced by it. But if you listen to the albums there is some Psychobilly stuff on there, we've got Honky Tonk, original Rockabilly, and we have a lot of Polka influence. We kind of play what we feel like playing at the time, and we make it our own. Like the song 'Hobgobble' for instance, that's a really funny song. It's a comedic song.
Check out the Band's Reverb Nation site at
http://www.reverbnation.com/moonlighthowlers
Buy the Viva Las Vegas 15 CD Compilation at
http://www.libertyvintage4thstreet.com/product/viva-las-vegas-rockabilly-weekend-15-cd
This exclusive interview with Moonlight Howlers 
is was featured on the ebook 
The Best of Frankie Tease Magazine Vol. 1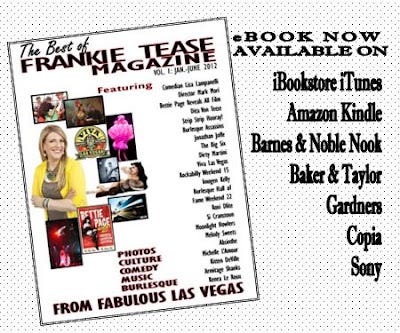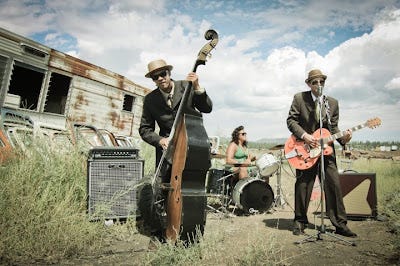 Band's Reverb Nation site http://www.reverbnation.com/moonlighthowlers
VivaLasVegas 15 CD http://www.libertyvintage4thstreet.com/product/viva-las-vegas-rockabilly-weekend-15-cd
MOONLIGHT HOWLERS OFFICIAL
'ORIGINAL' ROCKET TO THE MOON VIDEO - 2011















Related Links: Moonlight Howlers
"Stagecoach" was written by the band and
featured on the VLV 15 Compilation Album
 http://www.youtube.com/watch?NR=1&feature=fvwp&v=3hdz8z5deQU


A LITTLE SHOW IN PORTLAND, OREGON
MADE ME AWARE OF THE BAND IN
2010
© 2012, frankietease.com. All rights reserved. All content copyrighted or used with permission. This content may not be distributed, modified, reproduced in whole or in part without prior permission from frankietease.com.