Discover more from Frankie Tease
Cults in the news. Cult Madness News is reports from a variety of sources by the Frankie Files Podcast host and writer Frankie Tease and Hot Takes of a Cult Kid Podcast.
Masuimi Max to appear at Viva Las Vegas car show 2012 4/7/12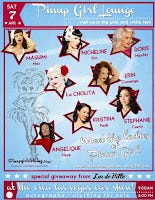 Musuimi Max is a racy international fetish pin-up model who will be making a rare appearance at the Viva Las Vegas car show Saturday. Some may know her from her internet photos and videos with her 'go-go girl from outer space' porn-like style. Everyone agrees she is full of style. MM reports that she will make an appearence at the Pin-Up Girl Clothing booth Sat. 4/7/12 between 9pm and 6pm, and posted this poster via her Twitter at https://twitter.com/#!/masuimimax

MASUIMI MAX
IAMTROUBLE.COM
© 2012, frankietease.com. All rights reserved. All content copyrighted or used with permission. This content may not be distributed, modified, reproduced in whole or in part without prior permission from frankietease.com.