Discover more from Frankie Tease
Cults in the news. Cult Madness News is reports from a variety of sources by the Frankie Files Podcast host and writer Frankie Tease and Hot Takes of a Cult Kid Podcast.
Making Sense of Las Vegas Burlesque and Topless Shows (with a list)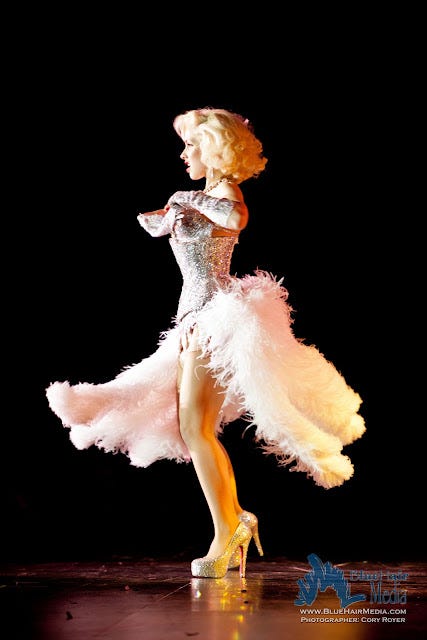 Miss Banbury Cross of England at BHOF 2012 by Cory Royer

What's Happening with Burlesque in Las Vegas?
The term "Las Vegas Burlesque" is one I recently heard used by a Producer to describe the brand that has become the norm for the art form on the Vegas Strip. This particular brand is more like the Victoria's Secret models than anything you may have seen in the 40's. There aren't always tributes to vintage characters, they might not even be stripping. Also, you may not always have the advantage of clarity about the shows from teaser ads. I'll try to help. While we can all be glad that it isn't amateur night on the strip and that you are guaranteed a high profile star with a hard body, some say it doesn't make sense to use the word Burlesque in a lot of cases to describe shows here on the Strip. It's a bit confusing, let's be frank. 
A Genre Struggling with Who it Is
Ever since the film "Burlesque" came out which brought Cher, Christina Aguilera, and Allen Cumming to the big screen in 2010, the film has furthered the confusion on just what this genre wants to be now. The film was rated PG, and two major retro stars who are still living felt it was a plagiarism of their own story coming to Hollywood back in the day. No lawsuits ensued, but also I was personally confused - though I haven't seen the film - on why Burlesque was being sold as PG. Wouldn't that be Vaudeville? No, not really because there was zero throwback element to the Vaudeville or variety format.
Burlesque Fusion?
I believe there is an audience somewhere for everything, and Vegas seems to have found the audience for Burlesque Fusion, which I think is was it should be called most times. You may wonder why there aren't any Abbott and Costello tributes or knife throwing acts, I do. The fact is that a variety show which offers a little bit of strip tease in the mix is much more a tribute to the original form of Burlesque popularized in the American 1940's. It's clear that Burlesque has been controversial since it came to our shores from Great Britain and remains so today. Some say it put the Opera out of business, just as TV killed Vaudeville in the nifty fifties. 
Industry Infighting
The controversy  recently here in Vegas continues as rumors of lawsuits run rampant on the strip that anyone using the word Burlesque in a show title or using elements similar to the 2010 film, were being engaged in a lawsuit. I am not able to report on which show producers were sued, nor what the outcome was. 
The Annual Burlesque Hall of Fame Weekend also had a legal issue in 2011 as excerpted here: "...Apcar and Littell have called the event the Sassy Lassy Burlesque and the Sassy Lassy Showcase thereby wrongfully incorporating marks owned by the Burlesque Hall of Fame..." [VegasInc.com]. Sadly Dixie Evans nor Tempest Storm were present at the 2012 Burlesque Hall of Fame Weekender which I attended as press, or I would have asked them for an update. 
Amateur Community vs. Professional Entertainer
There is a contrast between the amateur "community" shows (check out Live Burlesque in Las Vegas), and the high production value shows that casinos and hotels are putting on the Vegas Strip. There are several independent off-strip shows, but most popular are those by Cha Cha Velour, who's earned a place as an anchor for travelling performers and local community talent, as well as instruction. Even she still maintains a full-time unrelated job placing this in the hobby category. Local shows are in very short supply here in Vegas, to my surprise my first year here. People in the Burlesque Community and online chats across the country (and I've heard it here in Vegas) often snub their nose at higher level productions with no tribute or vintage element saying it's not "Real Burlesque". Many instructors nationally have also been quoted as saying "anyone can do Burlesque." While professional actors, dancers, and acrobats might not be too excited about the Amateur Night that has become a new standard for Burlesque as recently instructed Burlesque School Graduates across the country work out their not-so-tone body images on stage. Vegas only has one actual burlesque-dedicated school (run by Cha Cha Velour) which often presents classes from travelling stars, an obvious ace of spades.
Classic Burlseque
It's ironic to me that shows which are not being billed as Burlesque on the Las Vegas Strip seem even more about paying tribute to classic burlesque. Shows such as "Absinthe" featuring spectacular New York and international artists with a modern style throwback to the turn-of-the-century make you feel as though you are transported back in time where there are daring tricks with no nets, racy raucous humor and fleshy sexy views. It's almost become a drawback to have the word Burlesque in a show's name as it comes with the accompanying confusion for show goers who just want to see a great production and get their money's worth. There are some great topless productions here, and some great suggestive non-nude shows too. Some also may use the word Cabaret.
Frankie's Vegas Burlesque and Topless Show List 2012
In an effort to help readers and show-goers find what they want (really really want), here is my list of what and where to see Burlesque or Burlesque-like shows here in Las Vegas. There is also a note of where to take a few classes if that's one of your desires. Good luck out there fans, it's a desert jungle. 
High Production Value Topless Classic Shows
Absinthe (Caesars Palace)
Crazy Horse Paris (MGM) CLOSED
Jubilee (Bally's) has a non-topless show Saturdays
Viva Las Vegas Rockabilly Weekend (Orleans)

Annual Burlesque Hall of Fame Weekender (Orleans)


Contemporary Topless Shows
Peepshow (Planet Hollywood)
Crazy Girls (Riviera)
Fantasy (Luxor)
Bite (Plaza-Downtown)
X Burlesque (Flamingo)
Zumanity (New York New York)
Raack N' Roll (was Hooters reopened now the D Las Vegas)


Non-Nude Sexy Shows
iCandy Burlesque (Planet Hollywood)
Pussy Cat Dolls Burlesque Saloon (Planet Hollywood) CLOSED
Pin-Up (Stratosphere)


Neo and Amateur Burlesque
Live Burlesque in Las Vegas by Cha Cha Velour (Boomer's Bar)
Various Local Shows (http://burlesquelv.com)
Instrumental Burlesque Revival Characters in Vegas
Dixie Evans (Marylin Monroe of Burlesque, Chairman Emeritus BHOF)
Tempest Storm (Legendary Performer worked with Bettie Page)
Tiffany Carter (Teacher at Cha Cha Velour's Studio, Legendary Performer)
Dustin Wax (Interim BHOF Museum Director)

Laura Herbert (BHOF President)
Luke Littel (Who was one partner sued by BHOF '11)
Cha Cha Velour (Las Vegas Burlesque Classes, Live Burlesque in Las Vegas)
Stripping Instruction
Las Vegas Burlesque Classes (Cha Cha Velour's Studio)
Stripper 101 (Planet Hollywood)
Related Links
http://lasvegasburlesqueclasses.com/
http://vegasseven.com/feature/2011/06/02/burlesque

http://burlesquehall.com (18+)
http://www.frankietease.com/2012/09/cha-cha-velour-legends-and-las-vegas.html
http://www.frankietease.com/2012/06/interview-bites-with-frankie-tease_08.html
http://www.bluehairmedia.com
http://www.vegasinc.com/news/2011/apr/25/competing-las-vegas-burlesque-promoters-legal-batt/

Please send corrections or additions to this article to Frankie Tease who is the author


© 2012, frankietease.com. All rights reserved. All content copyrighted or used with permission. This content may not be distributed, modified, reproduced in whole or in part without prior permission from frankietease.com.