Discover more from Frankie Tease
Cults in the news. Cult Madness News is reports from a variety of sources by the Frankie Files Podcast host and writer Frankie Tease and Hot Takes of a Cult Kid Podcast.
The Love Grub Truck is Las Vegas's Vegan Hipster Food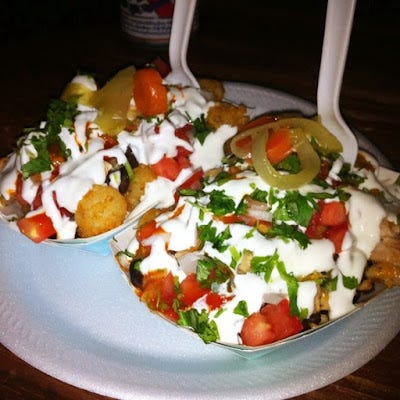 Love Grub's Infamous 'Sloppy Tots'
Photo courtesy of FoodSpotting.com

The Love Grub Truck is one part vegan Hipster, two parts groove, and three parts downtown Vegas. The truck's owner Zach Bartlett, stands in front of the truck and greets patrons on this balmy Las Vegas evening. Zach restored the classic vintage food truck in March 2011, and after two weeks in front of the thesaurus, Zach's girlfriend came up with the Love Grub Truck name because Zach loves to grub. He is a tall drink of water that food doesn't seem to stick to, with a huge smile and style. As you approach the truck which is painted extremely bright construction orange, you may have a flashback to any truck you may have visited across the U.S., because of it's modern yet classic taco truck style.

Zach has been working on the concept a lot longer than this year though. He told me that the Vegan Tacos (two for $6) are an item he recalls making at age thirteen, when he would entertain 'Mom' during the 'Cooking with Zack' show at home. "It's his dream come true, he has always loved to cook" she said about his entrepreneurial adventure. Zack grew up around downtown Las Vegas, and attended L.V.A. and has an obvious comfort with Downtown Vegas nightlife and style. 

The Love Grub Truck has received support from the Artiface bar, and Insert Coins and many other surrounding Downtown Las Vegas venues. This unofficial official native son and hipster of downtown Las Vegas takes pride in the "Sloppy Tots". This culinary creation stacks trusted American favorite 'Crispy tater tots', and continues with black beans, grilled chicken, sour cream, and is topped off with pico de gallo, to make-up their most popular dish, aka #slopptots ($6). Zack's truck hits the spot with the right price, and about ten food choice items that are top notch hits with Vegan and meat eater clientele alike. Keeping it simple has been a part of the truck's success, as he mixes American and Mexican favorite standbys with plain freshness and serves them up in bite-size little to-go boats. Available drinks include sodas, water, and the ever popular drink of the kitchen brigade, Red Bull. The mini-meals could stack up to some of the best local late-night treats, while the vintage taco truck just adds to the menu's appeal, it's shabby chic, all the way.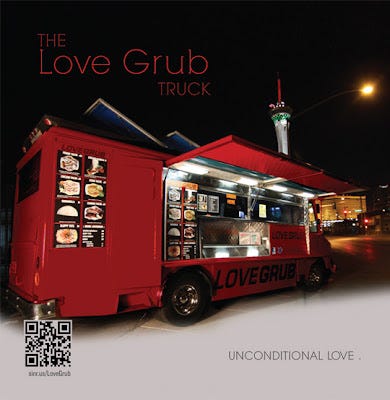 The Love Grub Truck: A Classic Taco Truck Revised
Photo courtesy of Sinnermag.com
The downtown area is experiencing a wave of development, and the Love Grub Truck fits right into the party atmosphere Fremont is famous for. Hit up the Love Grub Truck and tweet your review to @lovegrub, or like Love Grub Truck on Facebook. You may also want to use the ever popular 'downtown Las Vegas' hashtag #dtlv to share in the developing cultural phenomena. The Love Grub Truck will not just be easy on your wallet, your stomach will jump for joy too, with this 'happenin' late night delight in the desert. As an added bonus you can flirt with the owner and have a fun and inspirational conversation about how he ended up near Jackie Gaughn drive between Jillians and the El Cortez. The company is as good as the food. www.FrankieTease.com
© 2012, frankietease.com. All rights reserved. All content copyrighted or used with permission. This content may not be distributed, modified, reproduced in whole or in part without prior permission from frankietease.com.