Discover more from Frankie Tease
Cult Madness News, Frankie Files Podcast, Hot Takes of a Cult Kid Podcast, by Frankie Tease, writer & Morningland #LongBeachCult adult child survivor.
Las Vegas Memorial Day 2013 Wet 'n' Wild, Day Clubs, European Pools (list)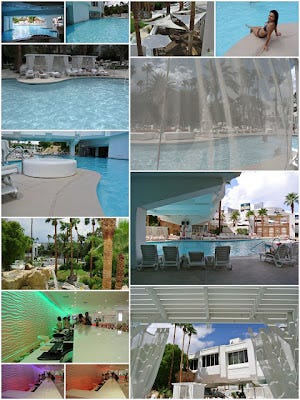 Photos of remodeled Tropicana by Frankie Tease

Last year we did a Pool Getaway article for Labor Day which made it into my ebook (See more about our Vegas ebooks, see Pool Getaways). This year I thought I'd get a list of topless and adult pools, as well as traditional resort pools for your decision making pleasure. The European Pool surge has continued and there are more topless option pools than ever before in Vegas. Go ahead, no one you know is here, and photos aren't allowed in topless areas, so get your strapless tan at the following pools (current May 2013).
European Style Topless Pools (in no particular order)
Moorea Beach Club at Mandalay Bay
Bare Pool at the Mirage
Sapphire Pool at Sapphire Strip Club *new*
Liquid Pool Lounge at Aria
Azure Pool at the Palazzo
Garden of the Gods Oasis at Caesars Palace
Venus at Caesars Palace
Daydream Pool at M Resorts
Naked Pool at Artisan
Tao Beach at the Venetian
The Voo at Rio 
Encore Pool at Wynn Las Vegas
The Hideout at Golden Nugget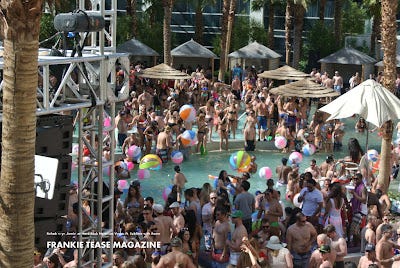 Photo of Rehab at Hard Rock Hotel by Frankie Tease
Most pools in Vegas are geared toward adults, but not all are adults only. Here is a mix of leisure and party pools for your decision making this Memorial Day weekend and summer, which are adult and all ages, some have special attractions like the Golden Nugget Shark Pool, and the wave pool at Mandalay Bay, as well as volleyball at Monte Carlo and Stratosphere, to name a few amenities. Some offer poolside gambling, and most offer cocktails and food menus. Check the hotel website for full listings and updates on entrance fees (usually free if you are a hotel guest, reduced for locals) and special events like dj and live music concerts, swimsuit contests, and volleyball  tournaments.
DJ, Day Club, Party and Leisure Pools (in no particular order)
Pool at Monte Carlo 
Wet Republic Ultra Pool at MGM
Palazzo Pool at the Venetian
Nirvana Pool at Hard Rock
Paradise Beach at Hard Rock
Breathe at Hard Rock see HRH pool map 
Orleans Pool at the Orleans
Go Pool at Flamingo 
The Tank at Golden Nugget 
Fortuna Pool at Caesars Palace
Jupiter Pool at Caesars Palace
Neptune Pool at Caesars Palace
Temple Pool at Caesars Palace
Level 8 Pool at Stratosphere
Pleasure Pools at Planet Hollywood
Boulevard Pool at Cosmopolitan
Palms Pool at the Palms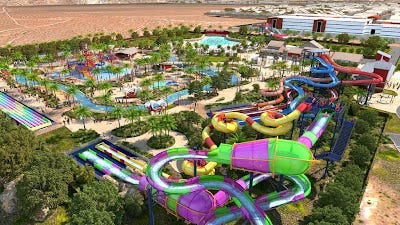 A special mention should be made of the brand new Wet 'n' Wild opening Memorial Day 2013 located near Red Rock Mountains in Las Vegas. Locals and visitors alike will be spending their time at the multi-pool multi-slide with wave pool Wet 'n' Wild. Many locals remember when there used to be one of these on the strip, and many are glad it's much more regional and off-strip and will take the whole family. Be one of the first to test out the attractions at this water haven grand opening Memorial Day weekend! 
Visit the site at http://www.wetnwildlasvegas.com/ 
for details and event passes, as well as seasonal passes. 
Please write Frankie Tease with corrections or additions to this list.
© 2012, frankietease.com. All rights reserved. All content copyrighted or used with permission. This content may not be distributed, modified, reproduced in whole or in part without prior permission from frankietease.com.